Sick of isolation? Oh boy, do we hear ya. We've missed having guests in our hostels these last few months just as much as we know you've missed being able to hit the open road. That's why we're so excited to start re-opening HI USA hostels across the country. But what will staying at one of them even look like? Will it be safe? Clean? Can you still use hostels' shared spaces, like kitchens and dorm rooms?
The short answer is, staying at a hostel will look a little different in the age of coronavirus. But we're doing everything we can to make sure you can enjoy all the best parts of hostelling while still staying safe. For answers to all your questions about how we're doing that, and what the hostel experience will be like for a while, read on.
Are all hostels open again?
Not yet, but we're working on it. To see if the hostel you're interested in booking is currently open and accepting reservations, please check that hostel's page on hiusa.org. Since local regulations across the country are still changing, we also urge you to research what kinds of local activities and sights are likely to be open during your stay.
What will check-in look like?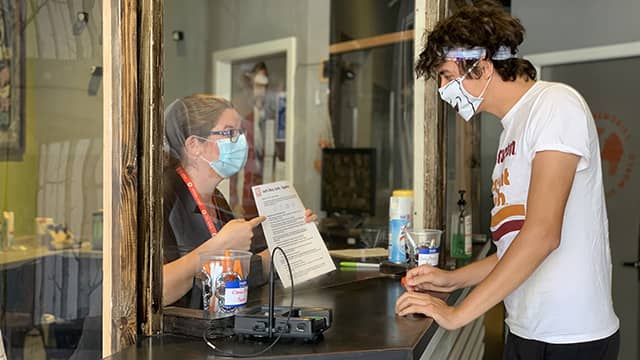 Most of the check-in process, while different from what you'd typically see in one of our hostels, should look pretty familiar at this point. When you enter the building, you'll need to wear a cloth face covering (you'll see our front desk staff wearing them, too, from behind protective plexiglass shielding). While standing in line to check in, you'll need to keep at least six feet of distance between yourself and anyone you're not traveling with.
We'll also take your temperature using an infrared (read: contactless) thermometer. Anyone with a fever over 100.4° F won't be allowed to check in. In some locations, we may also ask you for your e-mail address or cell number just in case local health officials need to conduct contact tracing.
What happens if a hostel guest shows up sick, or gets sick during their stay?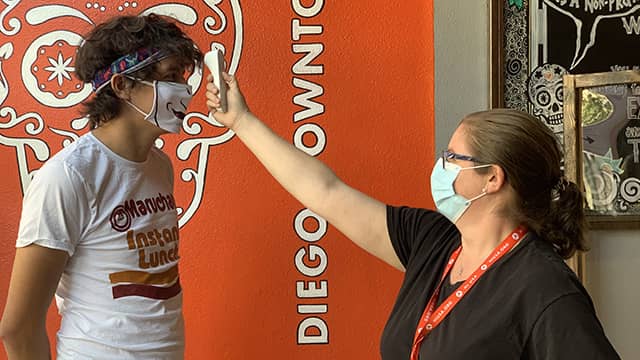 Anyone exhibiting symptoms of COVID-19 won't be allowed to check in. If a guest becomes sick during their stay, we'll quickly inform local health officials and work with them on whatever needs to be done, from isolating sick guests to assisting with contact tracing. Our top priority is keeping our guests and staff safe and healthy.
Can I still stay in a dorm room?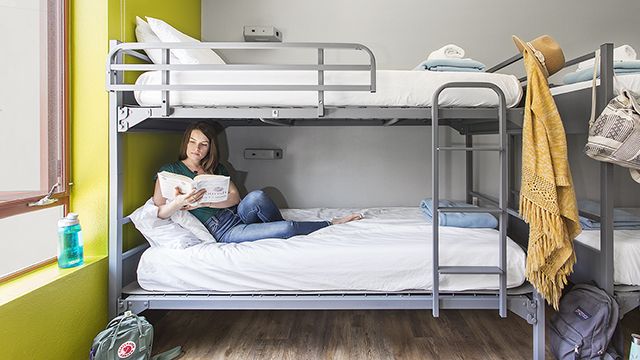 Sort of. Our dorm rooms will look a little different, but they're still available for solo travelers and groups of friends or families. To keep guests healthy, most of our locations will be offering two types of dorm rooms for a while: solo travelers can book a single bed in a dorm room like normal, but occupancy in the room will be significantly reduced to make sure guests have plenty of space; small groups traveling together will be able to book out an entire "private dorm" room for their party. For solo travelers and many small groups, dorms will still be the most affordable option (check out your desired hostel's main page for more details on pricing).
What if I'd rather stay in a private room?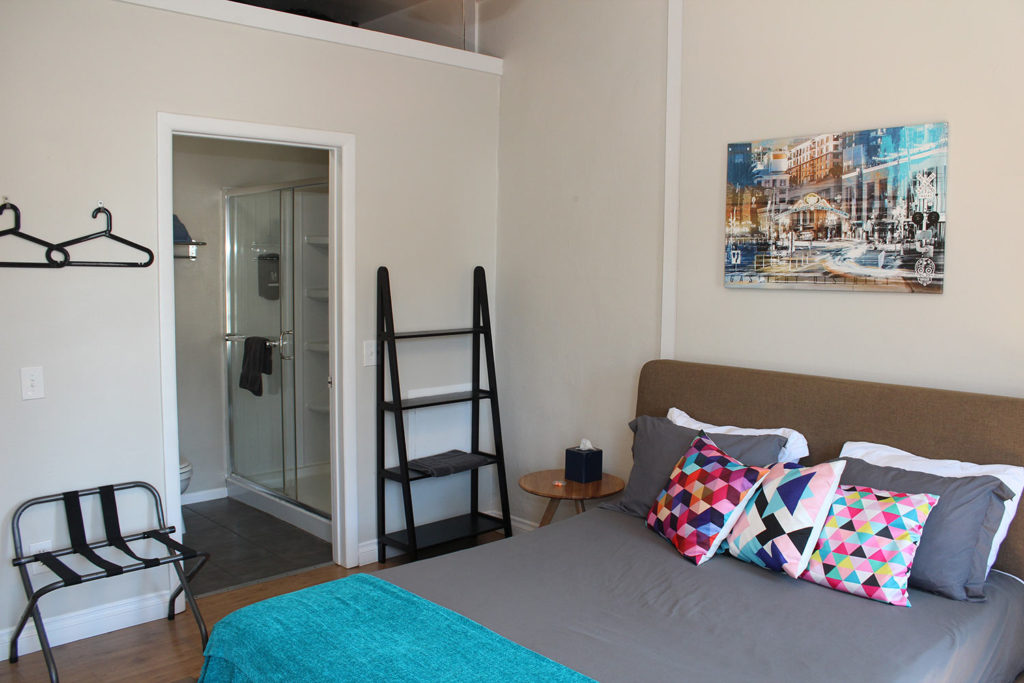 That's cool, too. Just like always, our hostels will continue to offer their standard private double and family rooms. Amenities vary by location, but in general these rooms offer added perks like larger beds, convertible work spaces, and sometimes even private en-suite bathrooms.
Will I still be able to use the kitchen, game room, and lounge?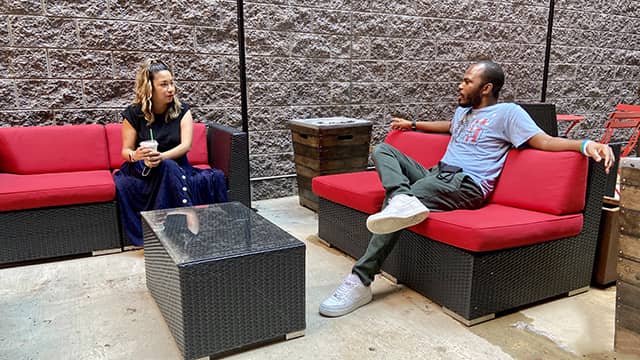 For the most part, yes. At hostels where we've determined there's enough space to do it all safely, you can still store your groceries and prep meals in the kitchen (though use of stoves and ovens will be off-limits for a while longer), play pool or board games with your friends in the game room, and hang out and chat in the lounge. But we'll be reducing max capacity in these spaces to help guests maintain a safe distance, so our staff may ask you to come back later if the kitchen's too crowded. And you'll need to check out stuff like pool cues and board games so we can sanitize them before and after each use.
In our lounges, you'll find chairs and couches spaced a bit further apart than usual so you can relax at a safe distance from anyone you're not traveling with. And, of course, our outdoor spaces will be open for fresh air and safe socializing.
How is HI USA keeping its hostels clean?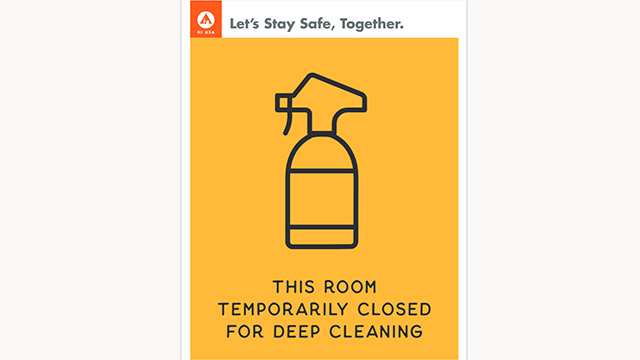 You'll see our staff wiping down high-touch surfaces, like counter tops and doorknobs, with disinfectants 'round the clock. They'll also be temporarily closing off shared spaces, like hallway bathrooms and kitchens, for sanitizing throughout the day. And any time a guest checks out of a dorm room, we'll leave it vacant for 24 hours so our staff can get in and give it a proper deep cleaning. When our cleaning staff come through, please help them out by vacating the room so they can have all the space they need to get the job done. They'll let you know when it's safe to return!
Behind the scenes, we've also enhanced our laundry protocol so you can rest assured your linens are being cleaned in accordance with CDC guidelines.
What about activities like walking tours and pub crawls?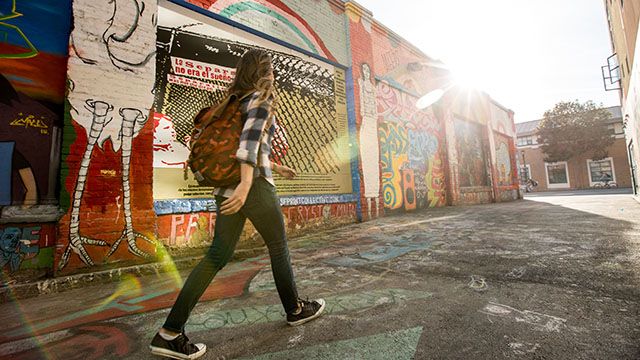 We're not gonna lie: this one stings a little. While we love being able to offer free social activities for our guests, for the time being, it's just not possible to do it safely. But while organized activities like pub crawls, walking tours, group meals, and movie nights may be on hold, we still want to help you get to know our cities and your fellow travelers. Once you arrive at the hostel, ask the front desk staff about self-guided walking tours and other local activities that will allow you to maintain a safe distance from others.
Do I need to bring my own hand sanitizer?
That's up to you. We're buying this stuff in bulk and will have hand-sanitizing stations throughout the hostel for guests to use as often as they'd like. You may want to bring a small bottle of sanitizer to take with you when you head to out to explore the city, though!
What about masks?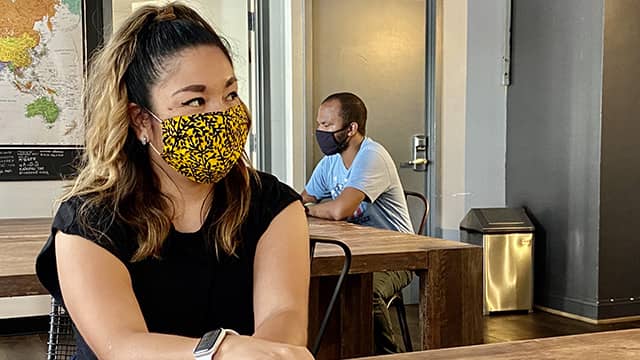 Pack at least one. You'll need to wear one when checking into the hostel and in common spaces in the hostel, so it's best to come prepared. When you're hanging out at the hostel, we hope you'll still strike up conversations with your fellow travelers and our staff. It may take a little extra effort to do it from six feet away and behind your mask, but we think it's worth the trouble! 
What are hostel staff doing to keep guests safe?
Putting in a lot of extra work! All our hostel staff have been trained in new safety and cleaning protocols. We'll provide them with plenty of masks, hand sanitizer, and space from each other throughout their shifts. And at the beginning of each shift, we'll conduct health and temperature checks to make sure no one's exhibiting symptoms of COVID-19.
What if I need to cancel or change my reservation?
If your travel plans have changed, you can find out what to do on our change and cancellation policies page.