Know before you go: Want to visit the places recommended in this article? With local regulations changing frequently, it's a good idea to check the web site of any attraction or business to make sure it's open before you go. 
With its year-round sunshine and wide range of outdoor activity options, Los Angeles is the perfect winter travel destination. And if you're looking for warm weather plus plenty of opportunities for social distancing, then look no further: LA has all that and more!
While there are still pandemic-related restrictions in place in the city, you'll find that there are lots of things that are open as well. There is still so much to do in LA in the winter, from those iconic experiences to seasonal events, outdoor adventures, and more.
Hit the beach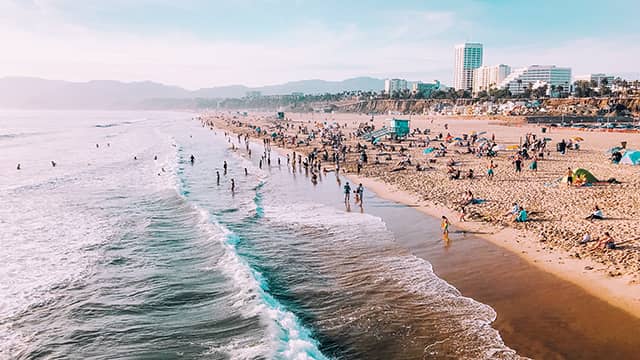 While the rest of the country experiences snow days, Los Angeles has beach days. With consistently mild temps, winter is the perfect time to soak up the sun and relax at one of LA's famous beaches. By visiting in the winter, you'll also be able to escape the crowds. Just know that the water temps are freezing cold, and remember to bring a sweater as it might get breezy!
Located just steps from HI Los Angeles Santa Monica hostel is the Santa Monica Beach, one of LA's most popular beaches. Just south of there is Venice Beach, with its iconic boardwalk (and interesting characters). If you feel like taking a mini road trip, cruise north up the Pacific Coast Highway towards Malibu (preferably in an open-top convertible) — the beaches there cannot be beat!
Go for a bike ride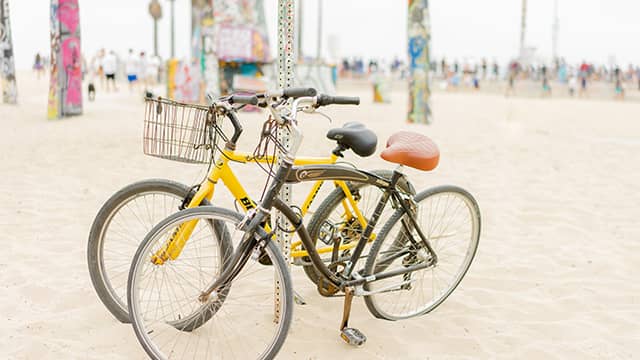 Grab a bike and go for a ride! This is one of the best things to do in LA in the winter to enjoy the mild temperatures and get some fresh air. You'll find no shortage of bike rental stands near the beach. From here, cruise down the Strand (or Marvin Braude Bike Trail), a 22-mile paved bike path that runs from Will Rogers State Beach in the north to Redondo Beach in the south.
If you're up for splurging on a unique biking experience, consider checking out Malibu Bike Tours, offered by Malibu Wines. Their two-mile tour takes you on a bike ride through the beautiful Saddleback Ranch vineyards, with plenty of ocean views, and a wine tasting at the end. The tour is limited to eight people to allow for plenty of social distancing.
Experience some holiday magic
While many of Los Angeles's annual holiday events have been cancelled this year, there are still a few light displays and (social-distancing-friendly) events to help you get into a festive mood!
One of the best places to see holiday lights (and to shop 'til you drop!) is at the Third Street Promenade, located just a few blocks away from HI Santa Monica. During the winter holiday season, the Promenade's illuminated with tens of thousands of magical lights, with storefronts doubling as art installations as part of the Winterlit festival. A self-guided art tour and augmented reality experience is available when you scan a QR code located throughout the Promenade.
There are also a number of drive-in holiday installations popping up throughout LA County this winter, including at Dodger Stadium and Six Flags Magic Mountain.
Hike to the Hollywood sign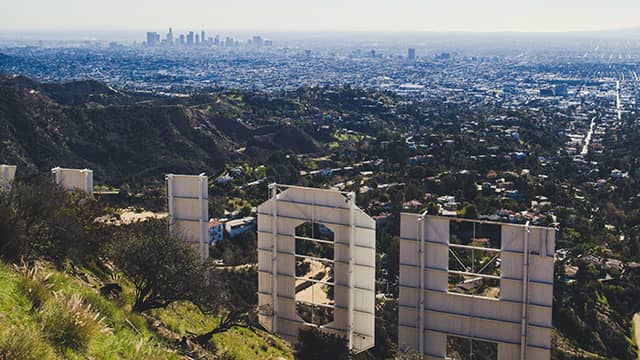 One of the best outdoor activities in Los Angeles is to hike to one of its most iconic monuments. Technically, you cannot actually hike up to the sign, but rather right above and behind it. Still, it's one of those quintessential LA experiences that everyone needs to do once in their lifetime!
To access the trail to the Hollywood sign, take the Brush Canyon Trail, which starts in Griffith Park. The hike is 6.5 miles round-trip, is rated moderate, and takes about 2.5-3 hours to complete. Because there is hardly any shade on the trail, winter's cooler temperatures make it the perfect time of year to do this hike.
Once you get to the top, you'll be rewarded with some epic views of the city and beyond! Winter brings the clearest days and the best views — perhaps you will even be able to spot Catalina Island off in the distance.
Check out LA's murals and art installations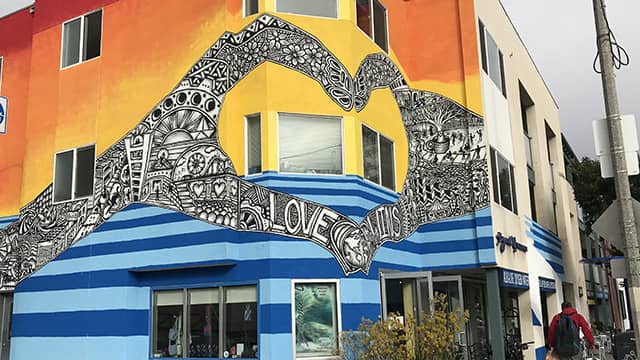 While most museums are still closed, LA has a vibrant street art scene that makes much of the city feel like an outdoor art gallery. You'll find no shortage of Instagrammable murals and art installations all over LA!
Some of the best areas for street art include Abbot Kinney in Venice, the Arts District in Downtown LA, and Melrose Avenue in West Hollywood. If you spend just a few hours wandering any of these spots, you'll find plenty of material for your Instagram feed.
And if you still need more places to snap some Instagram photos, check out the colorful Micheltorena Stairs in Silver Lake and the Urban Lights installation at Los Angeles County Museum of Art (LACMA): the museum may be closed, but the outdoor exhibits are still open.
Warm up with a bowl of ramen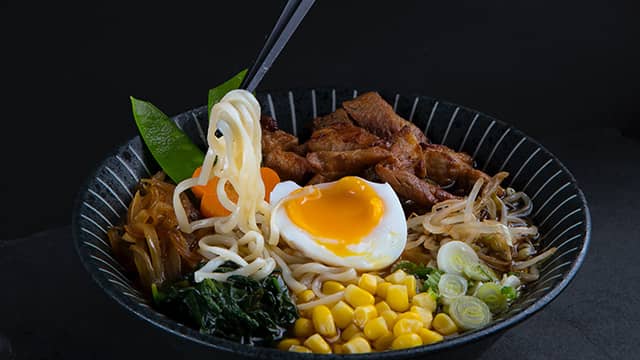 Ramen is the ultimate winter comfort food: there is nothing better than slurping your way through a bowl of noodles and warm broth on a chilly evening. If you associate ramen with those cheap, MSG-filled packets of noodles, you're in for a treat: real ramen is nothing like that!
There are tons of ramen joints all around the LA area, with the best ones concentrated in Little Tokyo and on Sawtelle Avenue in West LA. Some of my favorite joints are Shin-Sen-Gumi, Daikokuya, and Tsujita.