Thanks to a resurgence of local artists celebrating the cultures and identities of their hometowns, street art has popped up all around Austin, Texas. Around nearly every corner, you can find public art installations or murals that bring the vibrancy of this city to life.
From colorful abstract pieces to historic Texas tributes, taking in the street art scene in Austin is a great way to learn a little bit about the local culture of this creative city. The best way to see it all is by bike, and luckily, when you stay at HI Austin hostel, there's a bike share station right in front of the hostel. Rent one for the day and head to South Congress neighborhood or downtown where a lot of the street art is clustered.
Here are just five murals you have to visit while traveling in Austin.
1. "Willie for President"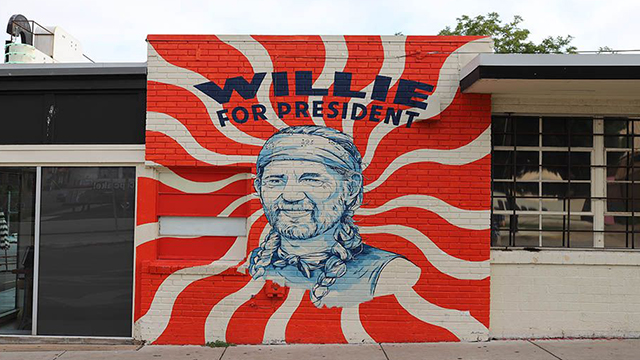 Willie Nelson, a native Texan and an American country and folk musician, is a hero in Austin. It's common to hear his music in local bars, and you can find a statue dedicated to him downtown. A longtime political activist, Willie has advocated for issues like environmental protection and same-sex marriage, which deeply bonds him with the politically charged local culture in Austin. The city loves him so much, there is even a street mural encouraging him to run for president! You can find this fun mural on the side of tasty late-night pizza joint Home Slice.
2. "I Love You So Much"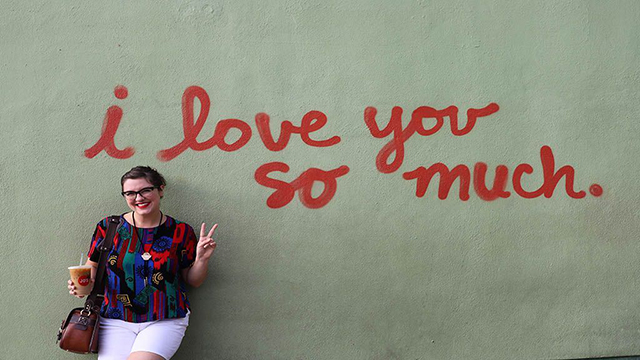 A small, unassuming mural on the side of Jo's Coffee on South Congress Ave., the I Love You So Much mural is a piece that warms your heart with its simplicity, but also with the story behind it. In 2011, a local musician named Amy Cook took a can of spray paint and wrote a message to her girlfriend Liz Lambert on the side of Jo's Coffee. The message immediately caught on and people have come to take pictures with their loved ones in front of the green and red mural ever since.
3. "Stay Classy Austin"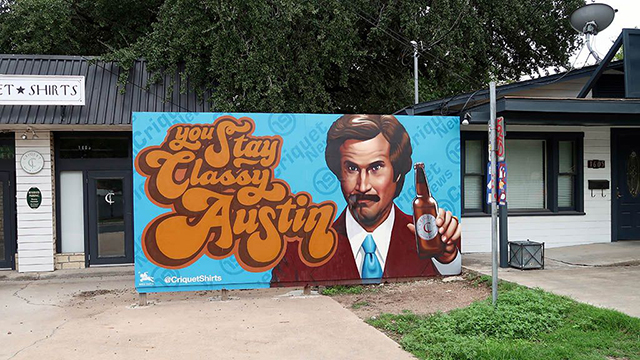 Inspired by the movie "Anchorman," the Stay Classy Austin mural sits on the main stretch of South 1st Street, making for an easy stop on your way to the next mural on this list. Local artist Mez Data painted this Technicolor design in his unique contemporary style. The colors of the mural draw you in and Will Ferrell's recognizable character makes you smile!
4. "Greetings from Austin"
One of the most iconic murals in Austin, Greetings from Austin draws thousands of visitors per year thanks to its very 'grammable colors and style. Adapted from a vintage postcard, the mural was originally painted by local business owner and artist, Todd Sanders, in 1998. The neighborhood has changed over the years, but the mural hasn't: neighborhood donors chipped in to restore it in 2013.
5. "Howdy Austin"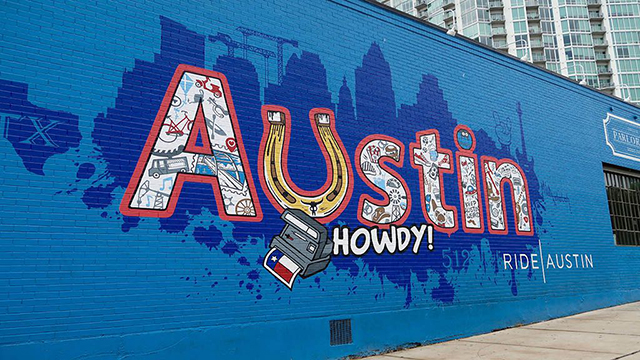 Located in downtown Austin, the colorful Howdy mural is a fairly new addition to the street art scene. The word Austin is painted over an outline of the city's skyline and are filled with details that bring to life famous parts of Texan life. This mural is well lit, so you can even visit it at night to snap a picture!
Dying for more awesome street art? Here are a few bonus murals for ambitious travelers:
"You're My Butter Half" at 2000 E MLK JR Blvd
Historic 6th Street Mural at 6th Street & I-35
"Austin Toads" at 600 San Jacinto