Know before you go: Want to visit the places recommended in this article? With local regulations changing frequently, it's a good idea to check the web site of any attraction or business to make sure it's open before you go.
Hey, we get it: these are strange times we're living in. Particularly in big cities, where so much of life is centered around gathering in groups and sharing experiences with friends and strangers, everyday life just feels different right now. But with "different" can come a lot more new and exciting stuff than you might think.
In San Francisco, which was one of the first cities in the U.S. to issue a shelter-in-place order last year, businesses are finally starting to open back up. But there's still plenty to do in San Francisco right now. Social activities, like grabbing lunch or a beer with your friends, have moved outside. And many of the city's top attractions have become far less crowded. Add in SF's year-round mild weather, and it's a great time to be outside enjoying everything the city still has to offer.
If you're wondering what to do in San Francisco during covid, here are a few of our favorite ways to get out there and enjoy the city safely.
1. Eat Pizza in a Park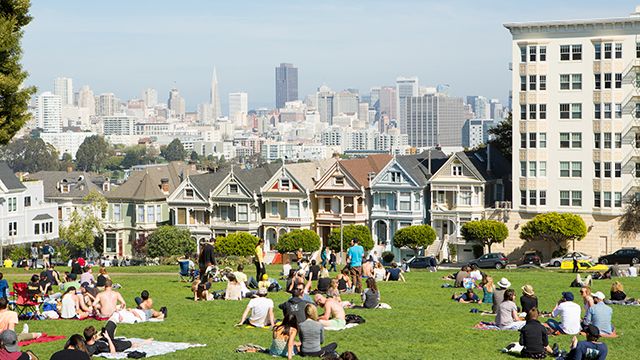 Seriously, is there anything better than pizza with a view? We think not, and right now is a great time to enjoy both in SF. In the trendy NoPa neighborhood, place your order online in advance at Che Fico Alimentari: in light of the times, they've started selling pizza at dinnertime from their sister restaurant, Che Fico, to go. Take your pie to nearby Alamo Square Park and eat with a view of the famous Painted Ladies. Just be sure to bring a friend; these pizzas are enormous.
If you're closer to Golden Gate Park around lunchtime, you can't go wrong stopping by Arizmendi bakery. Each day, they concoct a different vegetarian pie of the day, selling whole and half-pies from their storefront window on 9th Ave. From there, you're less than two blocks from Golden Gate Park, and an easy walk from its Conservatory of Flowers, which makes for one of the prettiest picnic backdrops in town.
2. Go to the Beach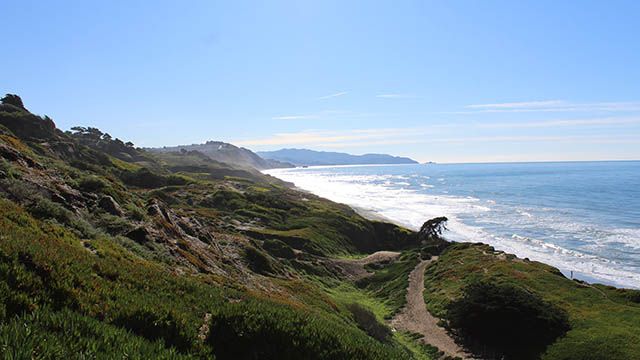 Yes, we realize some people thing the beach is just for the summer. But trust us: for much of the year, the weather at San Francisco's beaches is clear and temperate, if a bit windy. Head out to the coast to enjoy the sunshine, whether that means hopping on the N Judah bus or a city bikeshare cycle to Ocean Beach, getting a rideshare to Fort Funston, or taking in the epic Golden Gate Bridge views from Baker Beach.
3. Catch a Live Show
While regularly scheduled comedy club shows and annual music festivals like Hardly Strictly Bluegrass have been canceled this past year, you can still catch a live performance in the city if you know where to look. On Sunday evenings, swing by the Riptide bar, where you can grab a drink in the sidewalk "parklet" while you watch a live band perform from the back of a pickup truck (and watch the sun set over the Pacific Ocean just a block away). If you need a laugh (and who doesn't these days?), nab a ticket online before heading to the Upper Haight district to take in live comedy from your sidewalk seat at Milk Bar. On weekends, check out Amado's in the Mission District. The performance venue has adapted to pandemic life by setting up sidewalk seating where locals can relax with a beverage while enjoying shows from live bands behind a huge window just above street level.
4. Eat & Drink on a Pop-Up Patio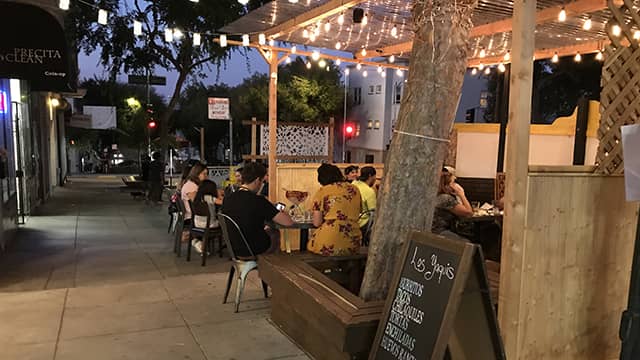 Believe it or not, SF doesn't normally have much of an outdoor dining scene. But restaurants and bars all over the city have recently been allowed to open up sidewalk seating, take over parts of the street blocked off from vehicle traffic, and install temporary outdoor booths and benches, giving the local dining scene an almost celebratory, block-party vibe. Thursday-Sunday nights, several blocks of the Mission District's uber-popular Valencia Street close down to vehicle traffic so diners and pedestrians get the whole street to themselves; on Saturdays and Sundays, several blocks in Chinatown do the same from 8 a.m.– 9 p.m.
5. Take an Urban Hike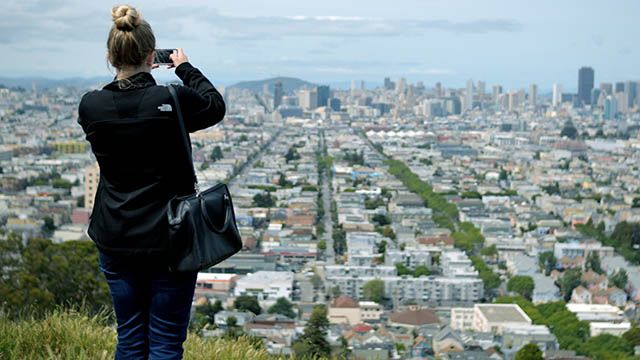 San Francisco's got plenty of beautiful hikes within city limits, hitting the trails is the perfect activity for our socially distanced times. Because the city has so many fewer tourists right now than it normally would, some of its most popular trails are way less crowded. Now's arguably the best time to visit typical tourist hot spots, like Lands' End and Twin Peaks, for panoramic views. Leave some extra time, too, for Bernal Heights Park and Mount Sutro, then take on some of the city's hidden staircases.
6. Walk or Bike Across the Golden Gate Bridge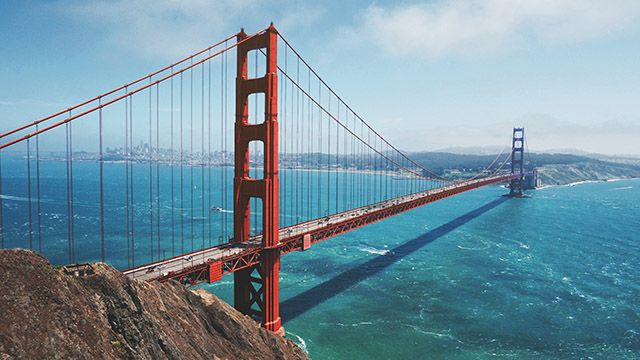 The bridge is still open to pedestrians and cyclists, and without the typical touristy crowds, you can maximize your chance of getting unobstructed city views from the bridge.
7. Take in the street art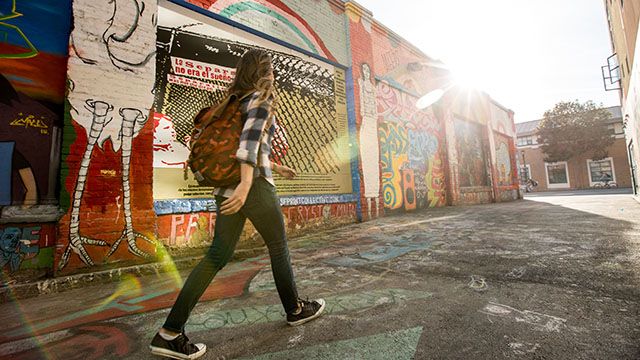 A walk around the Mission District to take in the neighborhood's famous murals is always a good idea, especially these days, when anything outdoors is a safer bet. No visit to the neighborhood would be complete without a stroll through tourist favorite Clarion Alley, where you'll find a constantly rotating showcase of colorful murals chronicling the city's past, present, and future. But once you've ticked Clarion off your list, be sure to walk further south to Balmy Alley. Scoping out its lesser-known murals before grabbing a scoop of ice cream (or three) at nearby Humphry Slocombe is one of our favorite non-touristy things to do in San Francisco.
8. Stay at HI SF Downtown or HI SF Fisherman's Wharf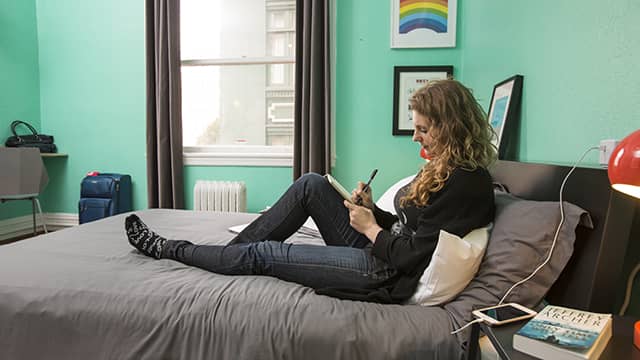 HI San Francisco Downtown hostel, right near Union Square, and HI San Francisco FIsherman's Wharf hostel, in the gorgeous Fort Mason waterfront park, are re-opening for travelers to the City by the Bay. And even though hostelling may look a little different right now, we're still here to help you have an affordable, fun, and above all, safe stay. Learn more about the health and safety measures we've implemented to protect our guests and staff so you can rest easy.