Hey there – long time, no see! Our doors are finally back open, and we couldn't be more excited to welcome you back to our hostels.
When you arrive at any of our HI USA-operated hostels, you'll notice things look a little different. To get an idea of what you can expect, take a look at how we're protecting our guests and staff from the spread of COVID-19. And, learn what you can do to protect yourself and others during your visit. Let's stay safe, together.

At Check-In
Masks
In all HI USA hostels, our staff will be required to wear masks. In most locations, they'll also check you in from behind a protective Plexiglass window. All HI USA hostels are following current CDC recommendations, meaning guests will need to wear masks inside all hostel shared spaces regardless of vaccination status. This applies  in all HI USA locations, even where local mandates do not require masks.
During Your Stay
Enhanced Cleaning
You'll notice our staff frequently cleaning high-touch surfaces, like countertops and door handles, with EPA-registered disinfectants effective against the coronavirus. Throughout the day, bathrooms, lounges, and other shared spaces will be temporarily closed for deep cleaning. Deep cleaning of dorm rooms will be performed after any guest checks out, and en-suite bathrooms will be cleaned at least daily. Need extra cleaning in your guest room during your stay? Just ask the front desk.
Amenities
Most amenities are still available at our hostels, including guest kitchens, game rooms, and luggage storage. However, our on-site cafes and breakfast services are will remain closed for the time being. Our staff will be happy to point you in the direction of great local coffee shops and the best spots for take-out nearby. Services and amenities vary by hostel so check the hostel's page on hiusa.org or email the hostel with questions about what may be available to our guests there. 
Suspended Activities
We're just as bummed as you are that we won't be able to offer regular social activities like pub crawls, guided tours, or full breakfasts until further notice. But there are still plenty of opportunities to get to know your fellow travelers. Where available, guests can still check out board games and pool cues & balls to use in our game rooms. Hostel staff are also happy to offer suggestions for self-guided walking tours and other local activities.
Behind the Scenes
Staff Training
All our hostel staff have received special training in new safety and cleaning protocols.
Staff Health
Our staff members monitor their own health and are instructed not to come to work if they are feeling ill. We're also providing them with plenty of masks, hand sanitizer, and space to keep a safe distance from each other on shift and during breaks.
Industry Safety Standards
HI USA is proud to join other accommodations providers around the world in declaring that we adhere to the WYSE Travel Confederation COVID-19 safety standards, in addition to the standards issued by our national, state and city authorities.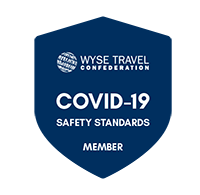 Before Your Trip
Be sure to check local advisories prior to your trip, as local conditions can change rapidly. If you're wondering whether your destination has local mask or vaccination mandates in place, here are some helpful resources to consult before your trip:
For general questions about what the Centers for Disease Control (CDC) recommends for travelers, please review the CDC's guidelines for domestic travel and international travel.
Also, we understand your plans may change! If you need to change or cancel your reservation at a HI USA hostel, learn about your options based on your type of booking and how you made it.