Hey there – long time, no see! We've missed you this past year, but we've been busy getting ready to welcome you back to our hostels safely. And now that it's finally time, we couldn't be more excited.
When you arrive at one of HI USA's hostels, you'll notice things look a little different. To get an idea of what you can expect, take a look at how we're protecting our guests and staff from the spread of COVID-19. And, learn what you can do to protect yourself and others during your visit. Let's stay safe, together.

At Check-In
Physical Distancing
We've rearranged furniture in our lobby areas so you can still hang out and meet other travelers, but from a safe distance. Likewise, we'll have floor markings indicating where you should stand while waiting in line to check in.
Personal Protective Equipment
In all HI USA hostels, our staff will be required to wear masks. In most locations, they'll also check you in from behind a protective Plexiglass window. Guests will be required to wear a mask, too.
Temperature Checks
When you check in, hostel staff will take a contactless temperature check. Anyone exhibiting a fever over 100.4 degrees Fahrenheit, or any other symptoms of COVID-19, won't be allowed to stay in the hostel.
Contact Tracing
Just in case local health authorities need to conduct any contact tracing, we may ask for your phone number and e-mail address at check-in. This is for your safety as well as the safety of our staff, other guests, and our communities.
During Your Stay
Occupancy Limits
To help with physical distancing, we've temporarily reduced the maximum occupancy of shared spaces in HI USA's hostels, including kitchens, lounges, dining areas, even elevators. New limits are clearly posted in all shared spaces. For our guests' comfort and maximum distancing, occupancy in dorm rooms has been reduced. Small groups traveling together (think: friends and families) will be booked into their own exclusive dorm rooms. Private guest rooms are also available at all properties.
Enhanced Cleaning
You'll notice our staff frequently cleaning high-touch surfaces, like countertops and door handles, with EPA-registered disinfectants effective against the coronavirus. Throughout the day, bathrooms, lounges, and other shared spaces will be temporarily closed for deep cleaning. Deep cleaning of dorm rooms will be performed after any guest checks out, and en-suite bathrooms will be cleaned at least daily. Need extra cleaning in your guest room during your stay? Just call the front desk.
Personal Safety
You'll find hand-sanitizing stations throughout the hostel. We also require you to wear a mask in common spaces.
Amenities
While amenities are available at our hostels, we're limiting access temporarily for everyone's safety. Many hostels' kitchens are open for simple meal prep, refrigerator access and storage, but the cook-top range and oven are not currently available. Our on-site cafes and breakfast services are also closed for the time being. Our staff will be happy to point you in the direction of great local coffee shops and the best spots for take-out. Services and amenities vary by hostel so check the hostel's Web page or email the hostel with questions about what may be available to our guests there.
Suspended Activities
We're just as bummed as you are that we won't be able to offer regular social activities like pub crawls, guided tours, or full breakfasts until further notice. But there are still plenty of opportunities to get to know your fellow travelers, even if it's from 6 feet away. Where available, guests can still check out board games and pool cues & balls – sanitized before and after each use, of course! Hostel staff are also happy to offer suggestions for self-guided walking tours and other distanced-friendly local activities.
Behind the Scenes
Staff Training
All our hostel staff have received special training in new safety and cleaning protocols.
Staff Health
We're checking staff members for fever and any other COVID-19 symptoms at the beginning of every shift. We're also providing them with plenty of masks, hand sanitizer, and space to keep a safe distance from each other on shift and during breaks.
Laundry Protocol
In accordance with CDC guidelines, our staff's using masks and gloves to wash all bed linens and towels using EPA-registered detergents and extremely hot water.
Industry Safety Standards
HI USA is proud to join other accommodations providers around the world in declaring that we adhere to the WYSE Travel Confederation COVID-19 safety standards, in addition to the standards issued by our national, state and city authorities.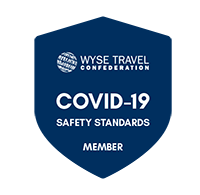 Before Your Trip
Have questions about what the Centers for Disease Control (CDC) recommends for travelers? Visit the CDC's Coronavirus Situation Summary site. Be sure to check local advisories prior to your trip, as local conditions can change rapidly.
Also, we understand your plans may change! If you need to change or cancel your reservation at a HI USA hostel, learn about your options based on your type of booking and how you made it.