Hostels have provided some of the most unique accommodations and best local experiences I've had while traveling. Yet, I still meet people who believe the unflattering rumors they've heard about hostels. You probably know the cautionary tales I'm talking about: the ones that say you'll end up staying some place dirty, cheap, noisy, and full of 18-year-olds on gap years, and that you'll have your valuables swiped and pawned by morning.
But if you buy into these rumors, you miss out on so many benefits of staying in hostels, like taking a dip in the cliffside hot tub at HI Pigeon Point Lighthouse hostel, enjoying Manhattan's largest private greenspace HI New York City hostel, or simply making some new friends in the guest lounge at any of countless hostels around the world. So to dispel your fears, and start you on your hostelling journey, I'm here to bust some hostel myths.
Myth 1: Hostels are super cheap… in all senses of the word.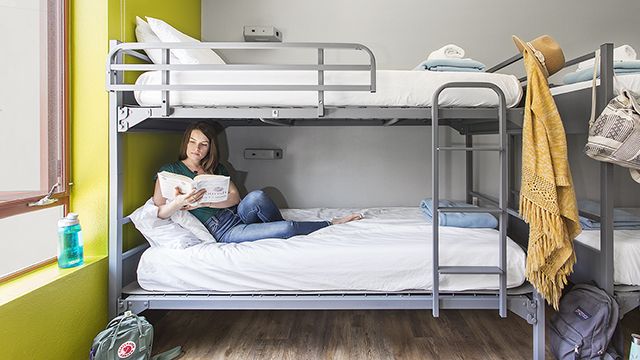 Hostels can have a reputation of being dirt cheap, which often comes with the connotation of being dirty or run-down. But hostels and hostel brands around the world vary in quality just as much as hotels or Airbnbs do, so just be sure you do your research in advance. Most review sites will show guest ratings based specifically on cleanliness, and you can always look for photos taken by real guests to see what a hostel looks like on any given day. (Pro tip: if you don't have the time to do the research, staying at a HI hostel is always a safe bet, since each hostel in the network has to live up to a strict set of cleanliness standards).
And while it is true that hostels are one of the most affordable accommodation options out there, their prices fluctuate like any other type of accommodation based on location, room type, season, and other factors. If you want a low-priced hostel room, choose a dorm bed in a remote town during the slow season. But if you're hoping for a private room in Los Angeles in summer, be prepared to pay a little more.
Myth 2: You have to stay in a room with strangers instead of your friends.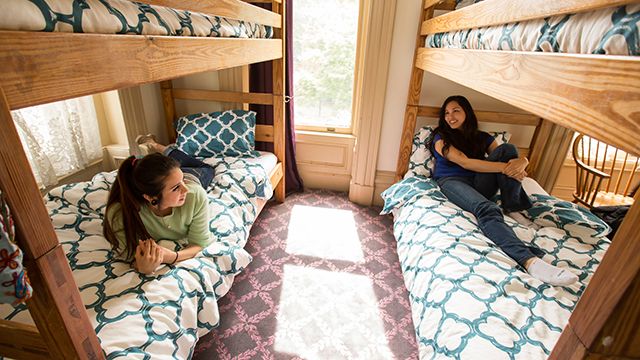 If you're traveling with a group of friends, it's understandable to want to stay in the same room. The good news is that most hostels will do their best to keep you together as long as you book all of your beds at the same time instead of each person in your group making an individual booking. If you're particularly concerned about staying in the same room, you can always contact the hostel directly to confirm.
Want the whole room just for your group? Your best bet is to book out every bunk in the room you're choosing, though leaving a bunk or two available for other travelers isn't necessarily a bad idea: the very first time I ever stayed in a hostel, I was traveling with two friends to Rome. We booked a four-person room and crossed our fingers we'd have it to ourselves. But on our arrival, we met our new roommate: a fellow travel-lover from Italy. Strangers turned into friends and I found that staying with a stranger wasn't so bad after all (and I still got to stay with my friends).
Myth 3: You have to sleep in a dorm room.
If you've never actually stayed in a hostel, the image that probably pops into your head is of a massive dorm room filled with bunk beds. But while dorm rooms are a hostel staple, and usually the most affordable option, they certainly aren't your only choice! When you book your hostel stay, you can choose what kind of room you want to stay in. Options include fully private rooms, small group rooms, single gender dorm rooms, and dorm rooms of various sizes that might have anywhere from just a few bunks, to more than a dozen. As a general rule, you'll pay a little more for dorm rooms that are smaller or have added perks like ensuite bathrooms, and can save a few bucks if you opt for a larger room shared with more travelers.
Myth 4: Hostels are only for partiers.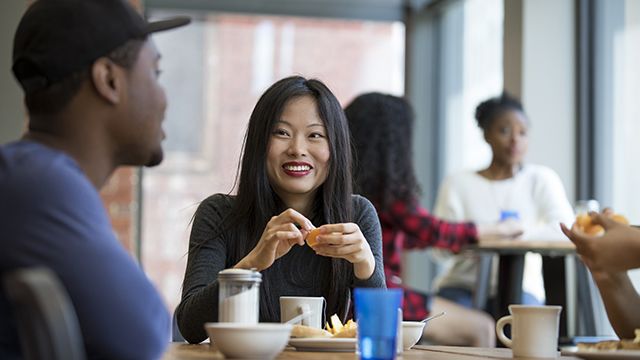 The notion that hostels are only for partiers is just false. Yes, some hostels are geared toward partiers, but there are many other hostels out there that are not (or that encourage guests to do their drinking and dancing off hostel premises). If you're not interested in the party scene, check online reviews of the hostel before booking: partying and noise level are often mentioned if that's what the hostel is known for. If you're more concerned with a good night's sleep than an all-night party, it's also a good idea to look for hostels that don't have their own in-hostel bar. Season can also play a role: some hostels that are party-heavy in the summertime may be much calmer off season. Again, reading online reviews posted during different seasons before you book can help you find the kind of experience you're looking for.
Myth 5: Hostels are only for 20-somethings.
Travelers come in all shapes, sizes, and ages, and the same is true of hostellers! Many hostels are appropriate for every age group, from grandparents, to college students, to parents traveling with young kids. Internationally, some hostels have age minimums or maximums, so check before you book. And if you're at an age where you feel like your party days are behind you, refer to myth #4 above. One reason hostels are special is that they bring together a diverse range of people – which includes different ages and life experiences – and what connects you is a common love of travel.
Myth 6: Your belongings won't be safe in a hostel.
Don't worry: hostels are generally very safe places. Almost all hostels will give you a room with a lockable door, as well as a private locker if you are staying in a shared room. It's a good idea to travel with your own padlock, but you can also rent or buy one at many hostels' front desks to keep your items secure. Many hostels also have 24/7 concierges who monitor the lobbies and act as security. I can't count the number of hostels I've stayed in over the years, and I've never once had an item stolen or damaged.
The reality is, staying in hostels can open your eyes to the world around you, from connecting with other travelers to immersing yourself in the local community. They are one of the most affordable ways to travel and are welcoming to all kinds of people.