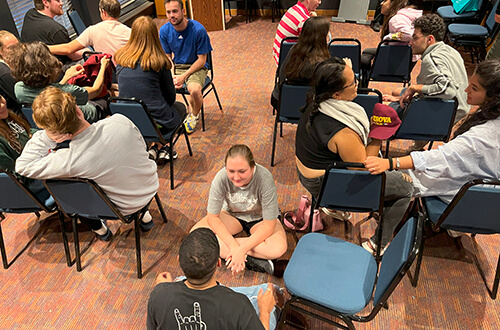 Educational Programs
Travel is learning by doing. Meeting people from places you haven't (yet) visited. Diving head-first into novel experiences. Tasting different flavors. Learning about other cultures. And learning about yourself along the way.
HI USA's mission is to help all gain a greater understanding about the world and its people through hostelling. We offer unique experiential learning opportunities to travelers, so they can learn about themselves while gaining a deeper understanding of the world around them.
In 2018, we were honored when the United Nations World Tourism Organization recognized HI USA as a world leader in travel-focused learning programs. We have been integrating education into our hostel stays and activities for decades, and we strive each year to make our offerings even more meaningful. Today, each of our programs is designed to align with the Association of American of Colleges and University VALUE rubrics in intercultural knowledge and competence, civic engagement, and global learning.
And because the hostel stay is our widest-reaching program, we apply the same care to designing it: we've put intentional thought into designing our hostel spaces, activities, and amenities, so they create the perfect setting for guests to interact with fellow travelers, share perspectives, and their own worldviews. For groups, particularly school groups, our hostels serve as "travel classrooms," providing endless, organic opportunities for learning about other people, places, and cultures.
Our Signature Educational Programs
IOU Respect
IOU Respect is a two-week intensive cultural exchange program bringing together participants from six counties in order to explore their cultural differences and appreciate their undeniable similarities. HI USA, along with its sister organizations in France, Germany, Egypt, Lebanon, and Tunisia developed this unique program in an effort to bridge divides after the 9/11 terrorist attacks.
This deep-dive program is professionally facilitated, with discussions and group learning exercises designed to foster attitudes of mutual respect, understanding, and tolerance while helping participants hone their skills in intercultural communication. Over the course of the program, participants form long-lasting friendships that span countries and cultures.
Applications for our 2022 IOU Respect program are now closed. Please subscribe to our "Programs and Events" mailing list to be alerted when applications for the next IOU Respect program open.
Travel Scholarships
We believe travel is a great teacher, but we know that not everyone has the financial means to make it possible. That's why each year, HI USA offers two life-changing scholarship programs for young Americans who might not otherwise have the opportunity to travel. For novice travelers, Explore America offers $1,500 travel awards and 4-7 free overnight stays in select HI USA hostels across the country. Explore the World awards $2,000 scholarships to help young adults finance international trips incorporating a service or educational component.
Our Explore the World Scholarship program is currently on hold. Please subscribe to our "Programs & Events" mailing list to be alerted when we can relaunch again!
Valued Voices
Valued Voices is an on-demand immersive two-day program designed to help participants engage with members of their community around timely social issues. HI USA provides a trained facilitator to lead a series of dialogues and interactive workshops exploring the program topic with participants. It's a unique opportunity to explore sensitive, timely topics in a safe space and find common ground between differing perspectives. For more information on Valued Voices, please contact education@hiusa.org.
Say HI for Peace
Each year on September 21, HI USA (along with a growing number of HI hostels around the world) celebrates the UN's International Day of Peace by hosting intercultural exchange activities in our hostels and in their surrounding communities. We call this annual program "Say HI for Peace" in recognition of hostelling's power to facilitate the intercultural interactions that lead to the spread of tolerance. Through Say HI for Peace programming, we encourage our guests and community members to reflect on how each one of them is empowered to promote tolerance and understanding in the world through their own actions. We are honored that this has become a worldwide initiative supported by the UNWTO.
Ongoing Educational Programs
Cultural Education
One of the best ways to learn about a culture is through its cuisine. In select HI USA hostel kitchens, guests and locals come together in our Cooking as a Second Language workshops to learn about the languages and cultures of different countries through food, dining and often preparing meals together. These interactive classes are led by chefs representing their native countries and cultures. Previous Cooking as a Second Language classes have featured Thai, Jollof, and Spanish cooking, as well as regional cuisines such as African-American and Southern food that help participants better understand our own diverse country.
HI USA also offers standards-based experiential learning programs in Chicago that inspire young local students to gain a greater understanding of their community and cultural identity while making a positive impact in their own neighborhood. In HI Chicago hostel's Community Expressions workshops, students create and present an original painting, dance, or other creative interpretation of their neighborhood. HI Chicago's Cultural Kitchen program helps students appreciate their own and others' cultural identities by preparing a meal from another country and learning about that country's cultural norms. The hostel's Exchange Neighborhoods program brings together high school students from Chicago's different neighborhoods, helping the students to build pride around their own cultures while opening their minds to other local cultures.
Travel Education
At its hostels across the country, HI USA offers fun, informative seminars and workshops designed to help would-be travelers kickstart their journeys. In addition to providing practical tips on topics such as packing, budgeting, and getting the best rates on airfare and lodging, our seminars prepare participants to be responsible travelers who explore the world with cultural sensitivity and open minds.
While specific topics vary by hostel, our travel seminars generally fall into one of several categories. In Destination Travel seminars, expert workshop leaders provide tips about traveling to specific locations. Perspective Travel seminars explore travel and self-discovery through the lens of different personal identities; common themes include Women Traveling Solo, African-American Travel, and LGBTQ+ Travel. Seminars are open to guests and members of our local communities and are tailored to audiences of different ages and travel experience level, from youth and high school students, to college-aged and adult travelers.
Environmental Education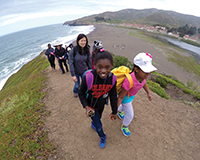 In the San Francisco Bay Area, HI USA offers naturalist-led outdoor educational programming for youth and adults through its Outdoor Hostel Adventures Program. Participants learn about teamwork, self-confidence, and how to become more effective environmental stewards.
We also work with Girl Scouts USA to create custom multi-day travel packages and cultural education workshops for Girl Scouts troops. Learn more about an educational program for your Girl Scouts troop.
Want to learn more about any of HI USA's educational programs? Contact education@hiusa.org today.