Know before you go: Want to visit the places recommended in this article? With local regulations changing frequently, it's a good idea to check the web site of any attraction or business to make sure it's open before you go.
Chicago is an urban hub in the heart of the Midwest that offers travelers countless opportunities to explore local food, art, and culture. But while the city itself could easily consume most of your visit, there also some great places to visit near Chicago. And plenty of them are accessible using inexpensive public transportation options like the metro (or "L" train), buses, or regional trains. Here are the best day trips from Chicago to build into your next Midwestern adventure!
1. Milwaukee, Wisconsin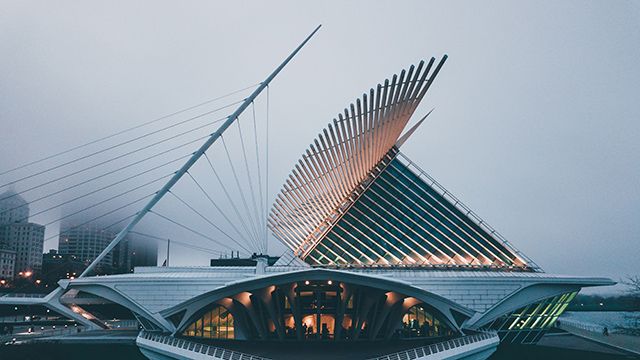 A city that loves cheese, beer, and sausage, Milwaukee is a foodie destination that is an easy train trip from Chicago via the Hiawatha Amtrak train. Milwaukee is home to several microbreweries worth trying, like Milwaukee Brewing Company, MobCraft, and Urban Harvest. You'll also want to stop at the 'grammable Milwaukee Public Market, where you can sample local cheese, chocolate, and food. While you could spend your whole day just eating and drinking, we recommend visiting the Milwaukee Art Museum, an architectural wonder overlooking Lake Michigan, as well as the Harley Davidson Motorcycle Museum, where you don't even have to like motorcycles to enjoy your visit!
2. Frank Lloyd Wright Home and Studio
Chicago is a city famous for its architecture, and one of its most legendary hometown heroes is Frank Lloyd Wright. Wright was known for his distinctly modern and American prairie home style. His own personal home, now a museum, is located in Oak Park, a suburb only 45 minutes from downtown Chicago via the green line L train. Daily tours of the home are lively and informative. While in Oak Park, try a famed Chicago dog at Felony Franks, a socially conscious fast food joint serving up all manner of gourmet sausages, or enjoy an afternoon of Latin food on the patio at Maya Del Sol.
3. Indiana Dunes State Park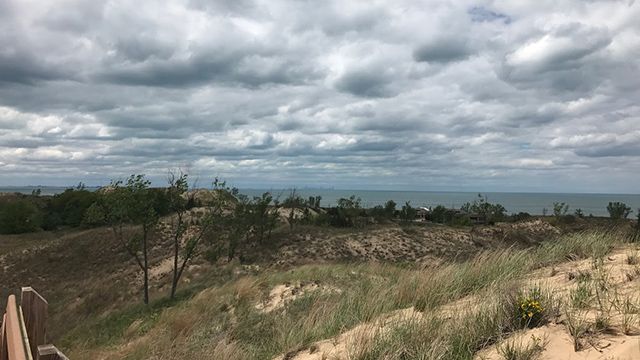 If you're looking for outdoor things to do near Chicago, Indiana Dunes State Park is a good bet. Best reached by car, the Indiana Dunes is a stunning state park an hour from downtown Chicago on the southern shores of Lake Michigan. The Dunes is one of Indiana's most popular state parks, thanks not only to its close proximity to Chicago, but also because of its beautiful lakefront scenery. When you arrive at the park, you can choose to bike or walk along trails that meander through the marsh and woods, or you can opt for a day at the beach. If you're looking for more than a day trip from Chicago, the park even offers campsites so you can spend the night under the stars!
4. Evanston, Illinois
Home to Northwestern University and a thriving downtown area, Evanston is a simple 50-minute L train ride from downtown Chicago on the Red or Purple line. Evanston feels like a small-town oasis within the big city, and you can spend a whole day wandering down its adorable Main Street and exploring its charming small businesses. Start with a coffee and pie at Hoosier Mama Pie Company, then pop into cute shops like the Mexican Shop, an affordable jewelry and accessory boutique, or Comix Revolution, an inviting comic book store for even the most novice of comic readers. You can also take a walking tour of the Northwestern campus, which offers beautiful views of Lake Michigan.