San Francisco is a city with a lot of unique qualities. But if you ask this local, SF's best quirk is how much natural beauty it encompasses within its city limits. There are so many one-of-a-kind spots here for urban hikes, quiet reflection, and moments of outdoor awe. Whether you're looking for urban hikes in SF, a breath of fresh air, or just a spot to sneak away to when you need a break from the fast pace of the city, San Francisco has the perfect place. Here are a few of my favorite places to get truly lost in nature in San Francisco.
Strawberry Hill
Ironically enough, one of the best places to get lost in nature in San Francisco actually sits in the middle of a man-made lake. But don't take that as a reason to skip a hike up Strawberry Hill. Surrounded by Golden Gate Park's Stow Lake and connected to the "mainland" by two stone bridges, this 400-foot-tall hill is an island unto itself. Follow its trails through trees and wildlife up to the peak, a wonderful place to enjoy a sunset or just a few moments of peace and quiet above the world.
Heroes Grove and National AIDS Memorial Grove at Golden Gate Park
Within the borders of the city's largest park you'll find several groves of redwoods – no drive to Muir Woods necessary. Opened in 1919 in memory of San Franciscans who died in World War I, Heroes Grove offers a tranquil detour from the busier sections of Golden Gate Park. It's located not far from the DeYoung Museum near the northern edge of the park.
A bit southeast of Heroes Grove, the National AIDS Memorial Grove began in the 1990s when local activists and volunteers began working on a place where the community could remember and pay tribute to those lost to the AIDS epidemic. In 1996, it became the first federally recognized memorial to those who have died of AIDS, and it's still the only one today. The grove offers 10 acres of redwoods, ferns, streams, flowering plants, and quiet spots for reflection.
Fort Funston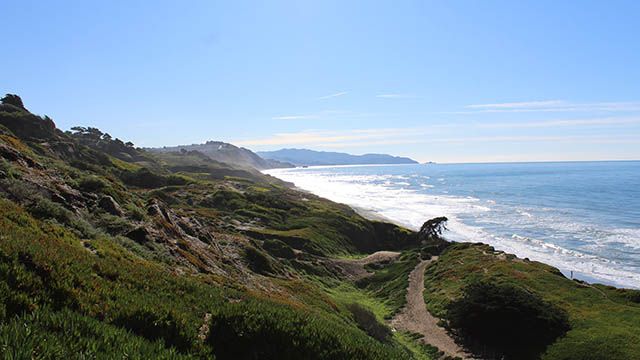 Even though Fort Funston is at the edge of the city of San Francisco, a visit here always makes me feel as if I've magically transported to the coast of Ireland or, at the very least, a more rural part of California. From the parking lot, you'll need to hike down about 10 minutes to get to the beach. Once you arrive at the shoreline, it's all crashing waves to the west of you and 200-foot-tall sandstone bluffs to the east. This is truly a place where you can look in any direction and not see any sign of civilization – except, that is, for the beach's many canine fans, who come here to play off-leash with their owners.
Mount Sutro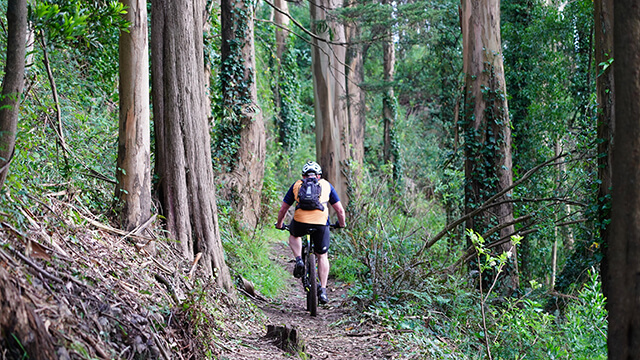 One of the best urban hikes in San Francisco feels surprisingly un-urban. As you climb Mount Sutro, accessed easily from the city's Ashbury Heights and Parnassus Heights neighborhoods, you'll quickly feel lost amidst the eucalyptus trees and hovering fog. Choose from several trails winding their way through this Open Space Reserve, but be sure to dress accordingly: because of the peak's misty conditions, the dirt trails can get muddy even when the rest of the city is warm and dry.
Glen Canyon
Hike down to the bottom of Glen Canyon, inside a 67-acre park tucked up against San Francisco's Glen Park neighborhood, and you'll be surprised how quickly the natural world takes over. The canyon is hundreds of feet deep, with a creek running down the middle and loads of flora and fauna to look out for all along the way. You may spot one of the canyon's resident hawks, owls, lizards, or coyotes, and you'll almost certainly encounter some more familiar animals: lots of locals bring their dogs here to explore and enjoy the neighborhood's sunny microclimate.