Elected to the WYSE Travel Confederation Board of Directors in 2016, I have been honored to serve as Board Chair since 2018. WYSE is the sole global membership organization serving the entire youth, student, and educational travel industry; that's why HI USA has been a long-time member. In late September 2022, over 400 WYSE members from more than 60 countries gathered at the annual World Youth and Student Travel Conference (WYSTC) to conduct business with each other, hear organizational reports at our Annual General Membership Meeting, and participate in educational sessions.
My prepared remarks, which opened the conference, challenged complacency around the idea of "revenge travel":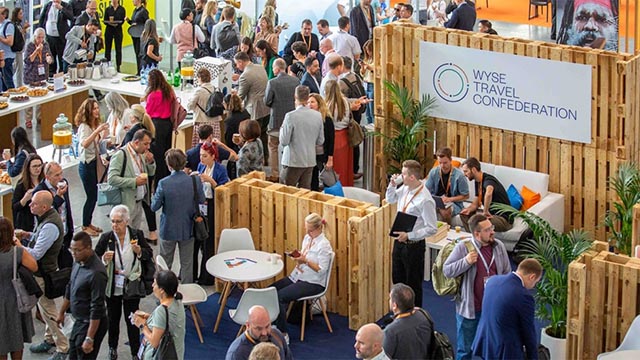 "On behalf of the WYSE Travel Confederation Board of Directors, I'd like to welcome you to WYSTC 2022.
This year our industry has faced some very different challenges than 2021. In most of our countries, COVID has now largely receded as a public concern, and travel has exploded. Our stance as an industry has shifted from cautious optimism to busily gathering staffing and other resources to meet unexpected demand. But it's a constantly shifting market, and those of us working in the youth and student travel industry know that nothing is assured in 2023. We need to constantly cultivate business and relationships for future success, and that's why we are here.
This past summer we've been through a period the media describes as "revenge travel," a term that's come to describe consumers taking revenge against COVID for being pent up so long. Of course, the problem with revenge is that we end up hurting ourselves, in this case being distracted from addressing the impacts of massive travel – on our cities, our environment and the marginalized. If we think about it, before COVID, climate action was picking up pace within the industry. The impacts of over-tourism were front and center. Inclusiveness was gaining some real momentum.
COVID interrupted that focus, but it must not for long. Programs such as WYSE Up!, a new confederation grant program announced at yesterday's Annual General Meeting that encourages young talent to enter our industry with a purposeful focus, is an example how. Individually and as an industry we must rapidly re-focus our actions to address our larger challenges. Otherwise, far from taking revenge on COVID, we will be compounding its damaging legacy.
I want to thank WYSE Travel Confederation staff for the educational workshops this year designed to refocus us, and for a conference that will help us all to rebuild. Few things are certain in this world, but one seems in undeniable: when we learn from each other, we become stronger together."