Updated May 2023
With its near-perfect weather and big-but-small-city vibes, Sacramento is the perfect place to get a bit of natural beauty, history, and great food all in one trip. Known as the City of Trees, California's capital has tons of great spots where you can unwind surrounded by beautiful scenery, whether it's in a city park or out along a never-ending stretch of highway. Either way, it's all accessible from downtown and HI Sacramento hostel, where you're guaranteed a good night's rest after a day of exploring.
1. Capitol Park
One of the city's most iconic pretty spaces is only a few blocks away from HI Sacramento. The city's Capitol is surrounded by beautiful gardens perfect for picnicking after you've taken a tour of the Capitol building itself. The green lawns are dotted with benches, historical statues, and trees from all over the world, and on a warm day this is a great spot to relax and do some people watching.
2. Highway 49
Pack some snacks and songs and set out early for a day trip cruising along Highway 49, which not only features panoramic vistas of wild California and the Sierra Nevada foothills, but is also dotted with historic towns and sights from the Gold Rush era. Head east from Sacramento to the towns of Sutter Creek and Jackson to immerse yourself in history, or just drive along the route and stop somewhere pretty for a picnic.
3. Sutter's Fort State Historic Park
Sutter's Fort Historic Park, which is located in Midtown about a 12-minute bicycle ride or half-an-hour walk from downtown, is a staff favorite at HI Sacramento. The park not only has a historic fort associated with California's Gold Rush and the establishment of the city of Sacramento, but there's also a nice pond where you're likely to encounter turtles, ducks, and geese.
4. Old Sugar Mill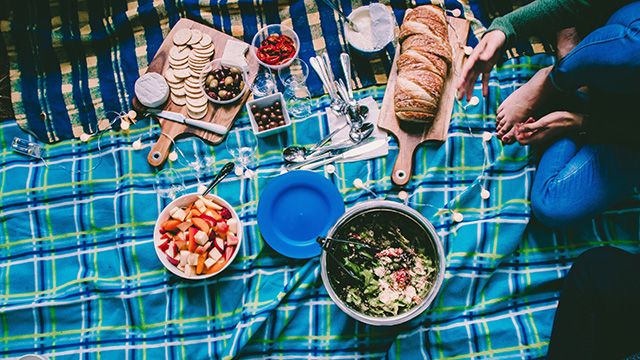 Take the scenic 20-minute drive from downtown Sacramento to the Old Sugar Mill, a former beet-sugar refinery that is now home to a collection of wineries. Here you'll get to taste some delicious featured wines from all over Northern California, and once you've picked your favorite bottle, you can enjoy it with a picnic on the pretty grounds. Bonus points if your picnic spread includes fresh goodies from one of Sacramento's many farmer's markets or roadside produce stalls.
5. Capay Valley
Just about an hour northwest of Sacramento, you can experience the farm part of Northern California's farm-to-fork culture with a drive to the Capay Valley. Orchards, vegetable fields, and vineyards will pass by your window against the backdrop of the Blue Ridge Mountains, with the Cache Creek meandering alongside for ultimate road trip pleasure. Stop at one of the small towns on Highway 16 and pick up something fresh.