Know before you go: Want to visit the places recommended in this article? With local regulations changing frequently, it's a good idea to check the web site of any attraction or business to make sure it's open before you go.
Spring is a great time to travel, because what better reason to hit the road than chasing the rainbow-colored wildflowers blooming across the country? We've put together a collection of some of the best places to see spring wildflowers that are conveniently close to HI USA hostels, so you can make a proper adventure out of it. Wherever you go, just remember to be mindful and respectful of nature so future travelers like you can experience the beautiful blooms, too.
Antelope Valley California Poppy Reserve, California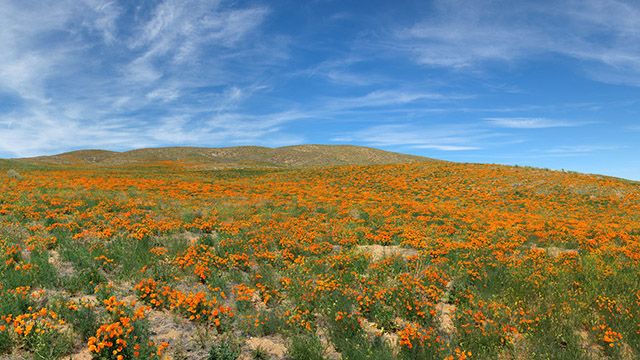 One of the most spectacular places to appreciate the California poppy is at Antelope Valley, which becomes a riot of orange in the early spring. Located two hours from Los Angeles, this spot is truly a must-see and tends to get really crowded on weekends, so if you can, go during the week. Otherwise, if you'd like fewer crowds, try Point Dume in Malibu or Chino Hills State Park, which have pretty, flower-filled hikes.
Where to stay: Get some beach time in after your flower adventures and stay at HI Los Angeles Santa Monica hostel.
Anza-Borrego Desert State Park, California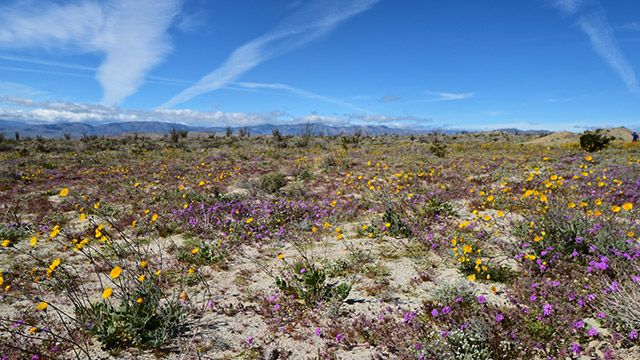 The desert may be the last place you might be expecting to see carpets of colorful flowers, but when the combination of sun, rain, and temperature in winter is just right, Anza-Borrego Desert State Park is one of the best places to see wildflowers in Southern California. Hike or bike your way along the trails through desert lavender and Apricot Mallow blooming between the desert cacti and shrubs. The park is about two hours from San Diego, so you can cool down at the beach after a hot day of exploring.
Where to stay: HI San Diego Downtown hostel is in the heart of the Gaslamp Quarter, so you can easily grab dinner and drinks after your big day out.
East Glacier National Park, Montana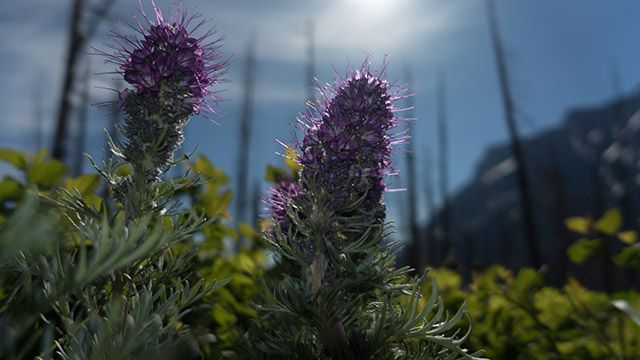 You'll find some of the heartiest wildflowers in Montana, where harsh alpine conditions make it challenging for the plants to reproduce. It makes seeing the kaleidoscope of colors on an avalanche slope or one of the meadows within East Glacier National Park in Montana feel extra magical, knowing how difficult it was for the glacier lilies, purple asters, and Indian pipes to blossom. There are miles and miles of trails you can take to be treated to views of the thousands species of wildflowers that bloom across the park.
Where to stay: HI East Glacier hostel is the perfect cozy cabin escape for wildflower chasing.
Point Reyes National Seashore, California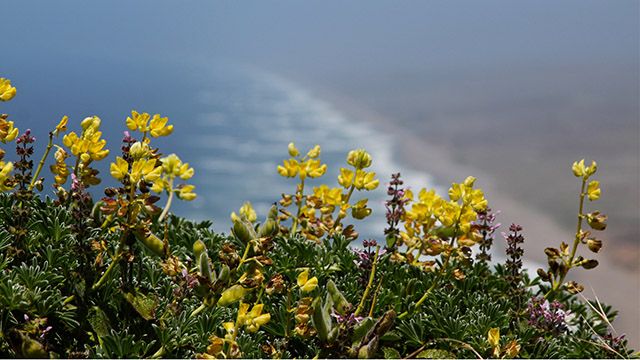 After wintery rains, the hills of Northern California come alive with green grasses and a host of colorful flowers. Those in the know head to the Point Reyes National Seashore, specifically to Chimney Rock in the northern edge of the park, where the flowers are plentiful. You'll see bright orange California poppies and purple coastal larkspur from March to about August, depending on the rain. As a bonus, spring time at Chimney Rock is also a great time to see elephant seals and migrating whales.
Where to stay: HI Point Reyes is a tech-free retreat and the only non-camping accommodation within the park. Until the pandemic lifts, it's offering private vacation-rental-style units so you and your pod will have plenty of space to relax safely.
North Table Mountain Ecological Reserve, California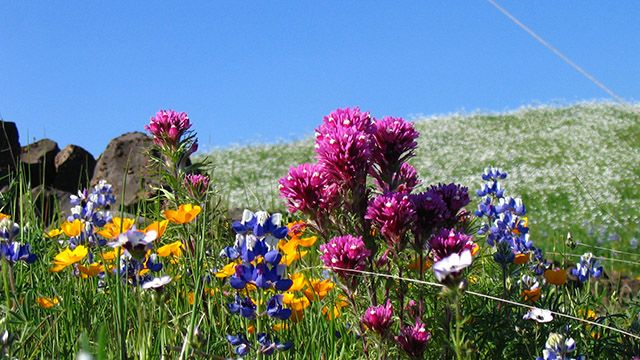 North Table Mountain Ecological Reserve is one of the places you've probably seen in pictures when people talk about California's spectacular spring flowers. The reserve comes alive from February to April, with hikers trekking the trails to see waterfalls and vernal pools along with the bright and beautiful flowers that blossom near them. In March and April, reserve staff are on site during the weekends to provide deeper insight into the park and its flowers.
Where to stay: The lovely HI Sacramento hostel is an hour and a half from the reserve.