Updated May 2023
Looking for the best beaches to visit in San Diego? The county has about 70 miles of coastline, so there's plenty of sand and surf no matter what you're in the mood for. Here are a few favorite San Diego beaches from the local staff at HI San Diego Downtown hostel.
Best Beach for Thrill-Seekers: Mission Beach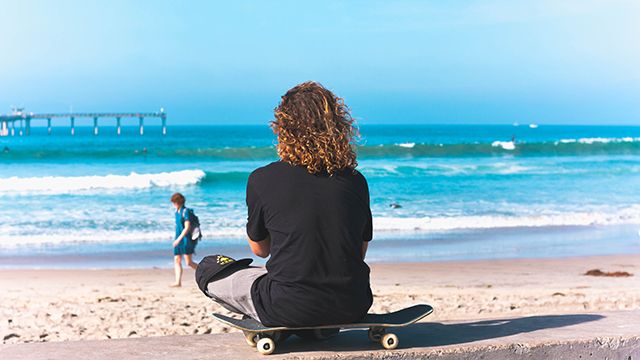 Mission Beach's most prominent feature is its old-school amusement park, which offers a bit of classic Americana along the Pacific Ocean. Belmont Park's got bumper cars, a zipline, and of course the legendary Big Dipper roller coaster. The beach itself is a great place to learn to surf, grab a drink in between catching waves, and stay past sunset sitting around a beach bonfire.
Best Beach for Instagrammers: La Jolla Shores Beach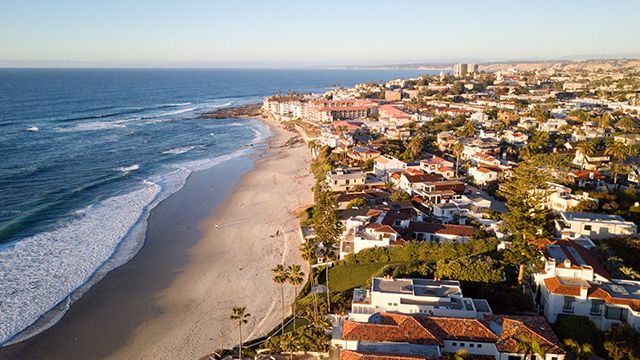 La Jolla's often called the Jewel of San Diego, and it's no wonder: this posh beachside community's packed with cute shops, upscale restaurants, and a jaw-dropping beach that's consistently ranked as one of America's best. Plus, depending on the time of year, you might spot whales, dolphins, or sea lions playing in the waves. This beach is 15 miles from downtown San Diego, but it's well worth splitting a ride share with some fellow hostellers to get out and spend a full day there.
Best Beach for People-Watching: Ocean Beach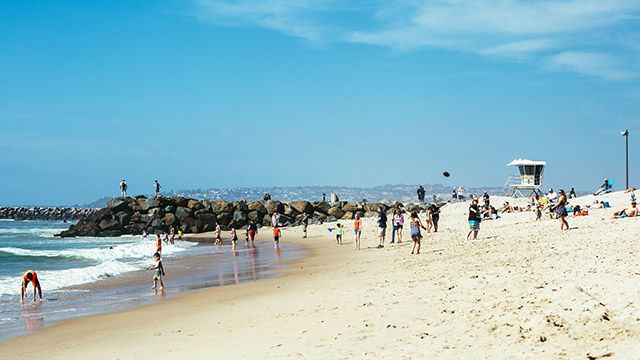 With its long pier, free beach volleyball courts, surf culture, and colorful shops and restaurants, Ocean Beach can keep you entertained all day and well into the night. In addition to surfers and volleyball players, you'll likely see roller-bladers, jugglers, and pairs of people practicing acro-yoga. Want to join in on the fun? Rent a surfboard from a nearby shop, claim a volleyball court (they're first-come, first-served), or just sit yourself down on the beach and take in the sunshine.
Best Beach for Families: Coronado Beach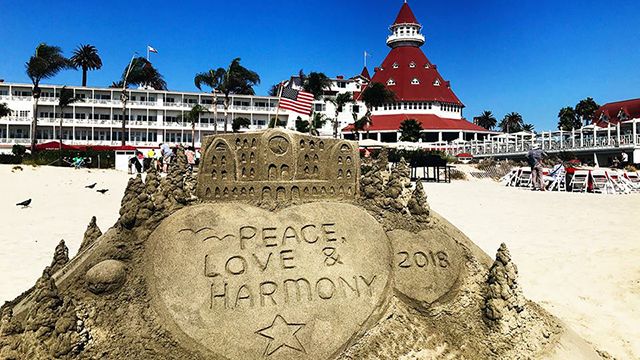 About six miles from HI San Diego Downtown, Coronado Beach is the most famous beach on its namesake island, and chances are you've seen it featured before on a postcard or two. This pristine beach is lined with sparkling white sand, and the stunning Hotel Del Coronado, with its white façade and red roofs, serves as a picture-perfect backdrop. Because the beach is very well maintained, it's popular with families, but its epic sunsets and chilled-out vibes make it perfect for anyone looking to spend the day relaxing. Even though Coronado's technically an island, it's still easily accessible by public transportation when you're staying downtown: just hop on the ferry near the San Diego Convention Center or catch the M901 bus.