Updated May 2023
While we love Chicago in the winter, there's something magical about this city in the sunnier months. Sure, you've got Chicago's famous museums, its glassed-in skyscraper viewing decks, and its legendary jazz clubs year 'round. But the warmer months offer unique opportunities to get outdoors and enjoy the city's natural landscapes and local hang outs before the chill sets back in. Here are a few of our favorites.
1. Kayak on the Chicago River
Cutting through the city's downtown, the Chicago River offers 360-degree views of some of the most impressive architecture in the world. The best way to take it all in is from the water, and while many people prefer to take a guided tour aboard a motorized boat, you can also go by kayak. Stop by Urban Kayaks, right on the Riverwalk, and paddle out on the river on your own, or go with a group on a guided architecture tour.
2. Bike the Lakefront Trail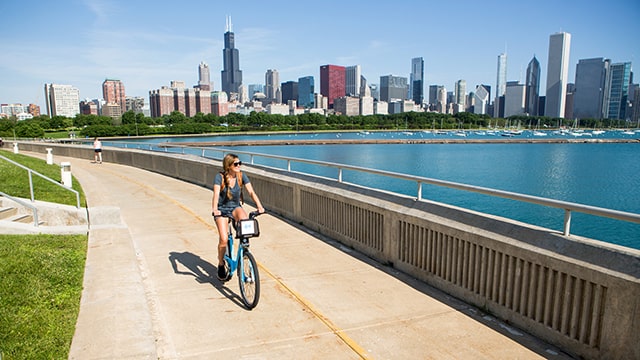 Whether you want to rent a bike for the whole day or just grab and go from Chicago's Divvy bike share stations, don't skip a ride along the city's Lakefront Trail. The paved, shared-use path is over 18 miles long and hugs the western shore of enormous Lake Michigan. Look in one direction and it's water as far as the eye can see; look in the other and you'll see a backdrop of Chicago's city skyline and parks.
3. Swim or Sunbathe at the Beach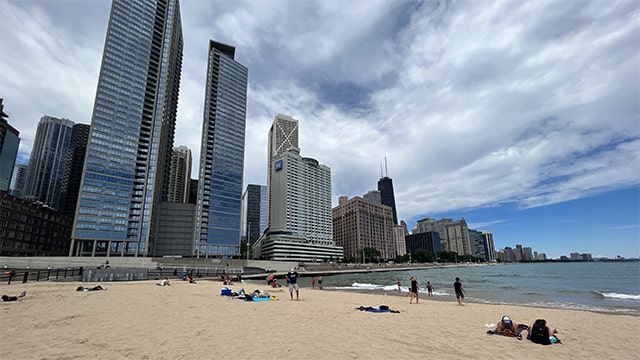 No, Chicago's not on the ocean – but you wouldn't know it by looking out over Lake Michigan. In Chicago, this Great Lake offers sandy shores for relaxing by the water. Beachgoers can also go for a swim in the lake (when lifeguards are on duty) or grab a bite or a drink at an outdoor beach bar. There are lots of beaches accessible via the Lakefront Trail including Oak St. beach, the best place for views of skyscrapers while you work on your tan.
4. SUP on Lake Michigan
Standing on the shore of Lake Michigan and looking out at the horizon will feel a lot like looking out at an endless ocean. Because it's a lake, though, the waters are less choppy and easier for stand-up paddle boarding. Rent a board at Chicago SUP at North Avenue Beach, or, for something a bit more low-key, head to their location at Diversey Harbor on the Lincoln Park Lagoon.
5. Walk, Run, or Bike the Bloomingdale Trail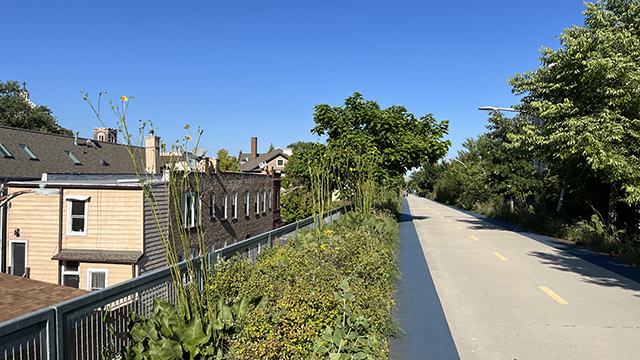 Also known locally as "the 606," this elevated former rail line has been transformed into a 2.7-mile-long path for cyclists and pedestrians. It's lined on either side by trees and flowers, and several cool old architectural features, like bridge arches, pop up along the pathway. The trail connects a series of ground-level parks as well as several neighborhoods you'll want to check out for food, drinks, coffee, shopping, street art, and more. While you should try to get down to street level and explore the neighborhoods of Wicker Park, Bucktown, Logan Square, and Humboldt Park, you can still get a bird's eye view of neighborhood life from the trail.
6. Cool Off in the Crown Fountain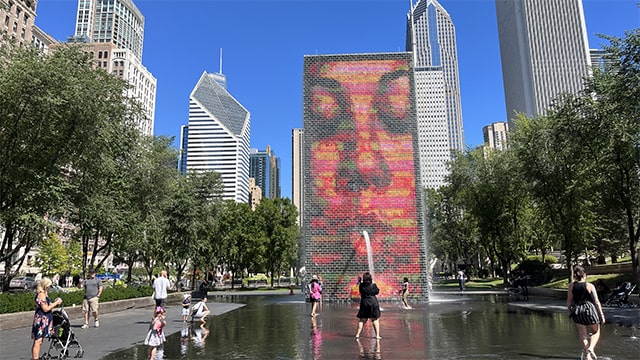 When you need a quick break from the heat, head straight to Crown Fountain in Millennium Park. Kick off your shoes and splash around in the fountain's long, shallow pool with a bunch of small children and adults who don't take themselves too seriously. At either end of the pool, there's a tall column covered in LED lights that displays close-up videos of the faces of actual Chicagoans. An arc of water periodically spouts from the "mouth" of each image, and you may hear some people refer to the piece as the "Spitting Fountain." The water's turned on from May through October, so get there before the weather turns chilly.
7. Explore Lincoln Park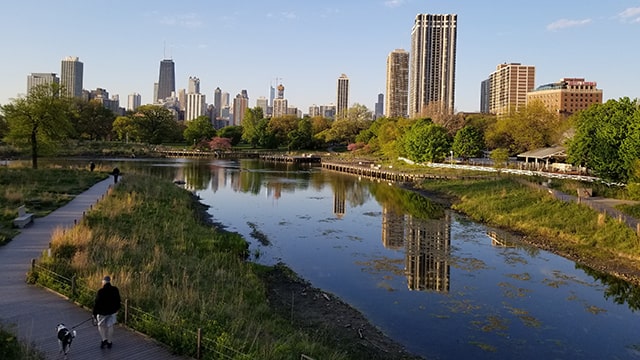 The city's largest park is 1,200 acres and backs up right against Lake Michigan. Within the park there's a lagoon, several ponds, a hidden garden complete with lily pool, and a large zoo that's free and open to the public. Take a free guided tour of the zoo's gardens or stroll along its nature boardwalk leading through a fully functional ecosystem full of native plants and wildlife right in the middle of the city.
8. Visit a Dog Park
Just because you're traveling doesn't mean you have to miss out on hanging with furry friends. There are dedicated dog parks (and even a few dog beaches!) all over Chicago where you can take a break and watch the unbridled joy of playing pups for a while. It's a guaranteed mood-booster and energizer, and a great way to see parts of city life that most tourists don't.