Updated May 2023
Summer is arguably the best time of year to visit New York City. Here, from June through August, the weather stays warm late into the night, the locals come out to celebrate the end of the cold, and the city opens up an endless array of seasonal events, parks, bars, and more for New Yorkers and visitors alike. Best of all, you don't need to spend a lot to enjoy the scene. Check out our locals' guide to the best things to do in the summer in NYC on a budget.
Get Cultured
Plenty of cities put on free or cheap public entertainment in the summertime, but in NYC, the talent is world-class. Locals line up by the hundreds outside Central Park's Delacorte Theater each summer for the Public Theater's Shakespeare in the Park productions, in which award-winning directors and big-name actors put on evening performances of classic Bard plays. Shows take place almost nightly under the stars in the open-air Delacorte, and all you have to do to get your free tickets is get to the theater early and camp out until noon, when tickets are distributed on a first-come, first-served basis for same-day shows. The Delacorte's easy to access from HI New York City Hostel; just hop on the subway and head south a few stops, then enter the park at 81st Street and Central Park West.
If you're more in the mood for music, make your way to Brooklyn's Prospect Park for a Celebrate Brooklyn! Festival concert. Held throughout the summer at the bandshell in Brooklyn's impossibly scenic answer to Manhattan's Central Park, this series features a diverse line-up of musicians from all eras, languages, and backgrounds. All shows are free; just get there early to claim your spot!
For a classic NYC experience, try watching a free movie outdoors under the stars. Spend a warm evening at a screening in Bryant Park, Brooklyn Bridge Park, or any number of other city parks throughout the five boroughs. Bring a blanket, a picnic, and a bottle of wine for the full experience.
Get Outdoors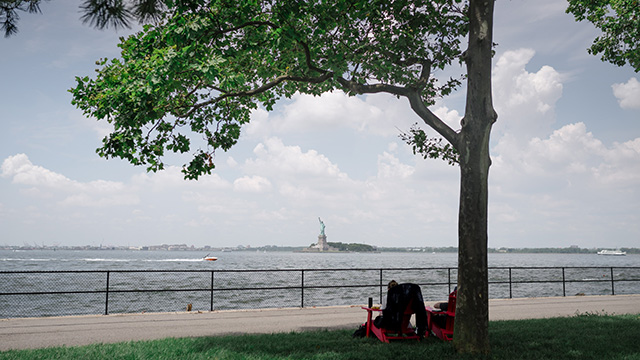 Though it's open year 'round, Governors Island is one of New Yorkers' favorite summer-weather playgrounds. Hop on the ferry downtown (tickets are $4) and in a matter of minutes, you'll be transported to this island park with panoramic views of NYC's skyline, the Statue of Liberty, and more. You can spend hours walking or biking around the island, lazing around the hammock grove, and exploring the outdoor art installations.
On summer weekends, you can also get out on the water by renting a free kayak from one of the community boathouses on the Hudson river. It's a great way to cool off and get a unique view of the west side of the city.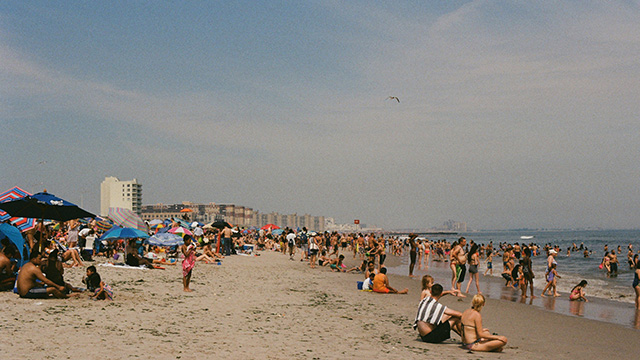 For a real slice of Americana, and a refreshing dip in the Atlantic, hop on the A train (it picks up just a few blocks from HI NYC hostel) or, if you're downtown, a public ferry boat, and take it all the down to Rockaway Beach in Queens. You'll find New Yorkers enjoying a respite from the heat, surfers riding the elusive NYC waves, and a classic boardwalk with food, drinks, and endless people-watching.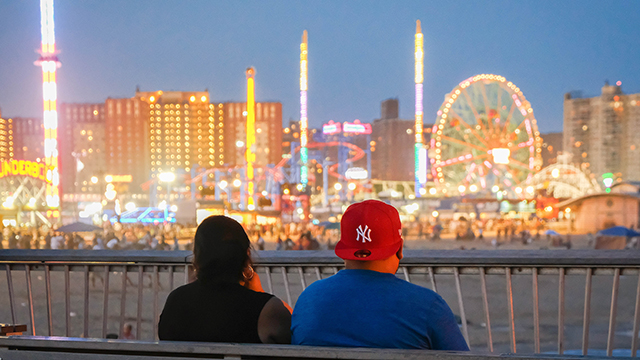 You can also head to Brooklyn's Coney Island for a different kind of beach day full of carnival rides and games, a sideshow, and a famous Nathan's hot dog.
Get Social
NYC's got a ton of outdoor bars and restaurants that are perfect for meeting new people, especially in the summer. From May through October, don't miss the Frying Pan, an old Coast Guard ship docked on the Hudson river at Pier 66, where you can enjoy drinks, dancing, and epic sunsets on summer evenings.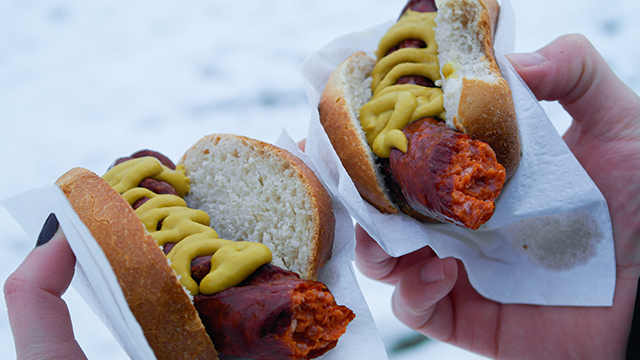 For something old-school, head out to the Bohemian Hall and Beer Garden in Astoria, Queens. This historic outdoor venue was built in the early 1900s; today it's still the best place to dance to live polka music, feast on bratwurst and pretzels, and make new friends over a stein of beer at a communal picnic table. Bohemian Hall is open year 'round, but it's warm, loud, and crowded in all the best ways on summer nights.