Updated May 2023
"The biggest mistake people make when visiting Martha's Vineyard," a manager at HI Hyannis hostel recently told me, "is not having a plan when they get there." She was referring to a common predicament that I had found myself in just the day before: it's easy to assume the Vineyard is a small island, but once you get there (or, you know, look at a map ahead of time), you realize there's a ton of ground to cover. So, while it's totally possible to get a feel for the island on a quick day trip from mainland Cape Cod, you'll need to stay overnight and have a general understanding of all the Vineyard has to offer if you really want to make the most of your visit.
Here's a by no means exhaustive guide to uniquely Martha's Vineyard experiences. Book a dorm bed or private room at HI Martha's Vineyard hostel during its summer season; rent a bike or a car, or pick up a local bus pass; and get started with these 9 great things to do on Martha's Vineyard.
1. See the Gingerbread Cottages in Oak Bluffs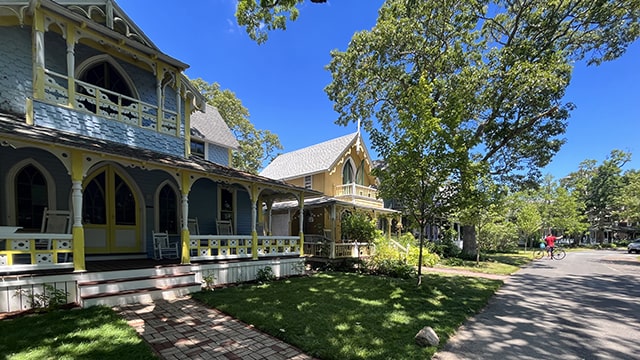 After the American Civil War, a Methodist summer camp set up shop in what's now the town of Oak Bluffs. While participants originally stayed in canvas tents, more permanent housing was eventually built for the attending families around the Martha's Vineyard Campmeeting Association grounds. While the architecture of the houses was originally meant to mimic elements of tent-camping, elaborate Victorian-style touches were also added to the homes. At some point, the cottages took on vivid coats of paint, and today you'll find 300 or so brightly colored and intricately trimmed homes. They're known as the "gingerbread cottages" because they're reminiscent of candy-covered houses in old fairy tales, and they represent just about every color imagineable.
2. Get Donuts After Dark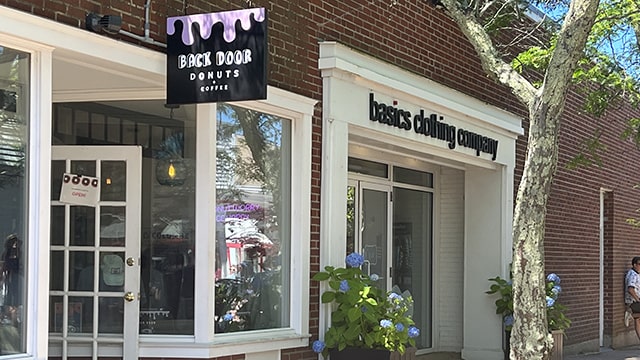 While the Vineyard's favorite donut shop is open during the morning and afternoon, you'll have to stop by after dark to get the real Back Door Donuts experience. From 7 p.m. to midnight, hop in line at the bakery's namesake back door, where you can score the very freshest Boston creams and apple fritters straight out of the fryer.
3. Cannon Ball off the Jaws Bridge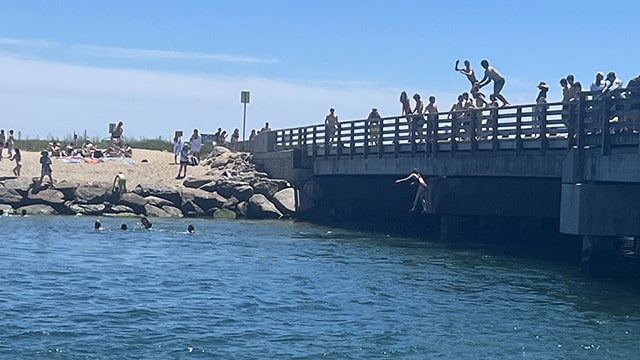 As you approach Joseph Sylvia State Beach, you'll see a low bridge crowded with dozens of beachgoers prepping to leap off into the water below. Officially, it's the American Legion Memorial Bridge, but its role in the 1975 movie Jaws, which was filmed on the Vineyard, earned the bridge its more commonly used nickname. The jumping-off point is popular with adults and kids alike; just be sure to keep an eye on the tide and the local conditions if you're considering joining their ranks.
4. Tour the African-American Heritage Trail of Martha's Vineyard
With over 30 stops all around the island, the African-American Heritage Trail celebrates the contributions of people of color on the Vineyard throughout history. The trail includes stops at historic Black-owned inns that helped to make the town of Oak Bluffs an early haven for African-American travelers, homes of famous Black island residents including Harlem Renaissance writer Dorothy West, sites of religious significance including historic churches and cemeteries, and more. Access the trail map for a self-guided tour, or book a guided walking or driving tour of the trail, at https://mvafricanamericanheritagetrail.org/.
5. Visit a Farm Stand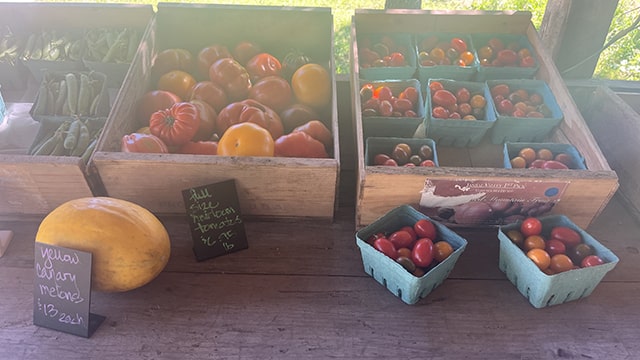 Score local fruits, veggies, flowers, and more at one of the island's many farm stands and markets. Some, like Whippoorwill Farms, have modest roadside structures full of produce where you can choose what you like and leave cash in an honor-system box. Others, like Morning Glory Farm, offer full-scale markets where you can shop for produce grown on- and off-site as well as local bread, eggs, and more.
6. Take a Bike Ride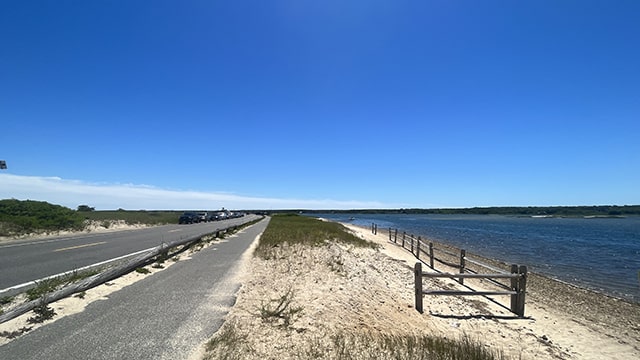 The Vineyard has 44 miles of dedicated and shared-use bike paths hugging the beach, meandering through towns, and winding through forests. The ride from Oak Bluffs to Edgartown is especially picturesque, with continuous views of the ocean on one side and Sengekontacket Pond on the other. Continue cycling towards West Tisbury and you'll enter Manuel F. Correllus State Forest. The 5,300-acre forest has 14 miles of wooded, paved paths for pedestrians and cyclists to get away from island traffic.
7. Relax on the Beach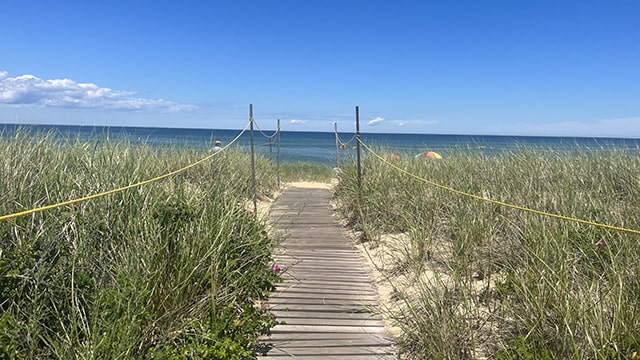 No visit to Martha's Vineyard is complete without an afternoon on the beach, enjoying the summer sunshine and the calm waters of the Nantucket Sound. In Oak Bluffs, Town Beach is an easily accessible and welcoming stretch of shore. This was an early de-segregated beach, and today, it's still a popular destination for the Vineyard's Black community, local and visiting alike. The water here is protected by a seawall, making it ideal for swimming. In fact, a group calling themselves "polar bears" gathers here for a dip in the chilly morning waters each day; head out to the beach early enough and you can join them (or stay dry and cheer them on from the land).
Further down the road in Edgartown, Joseph Sylvia State Beach offers two miles of sandy shore and clear, shallow waters. Here you'll find rainbow-hued beach umbrellas, sunbathers, and beachgoers of all ages enjoying the gentle waters.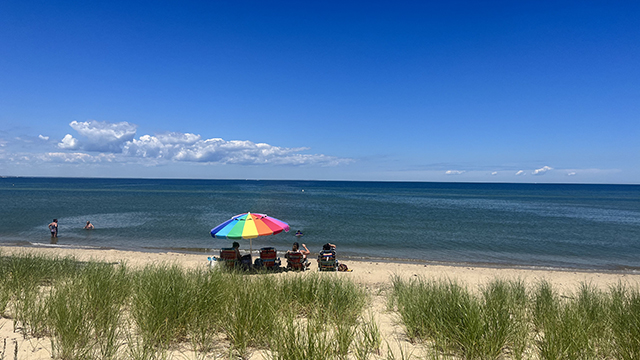 Katama Beach is the largest public beach on the island and offers something for everyone. Thrill-seekers can take to the waves on the Atlantic Ocean side of this three-mile barrier beach; those looking for a more laid-back day will prefer the Katama Bay side, which opens up onto a large, protected saltwater pond.
8. Rent a Kayak or SUP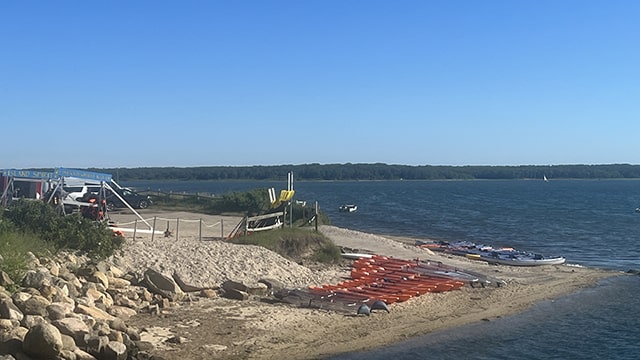 Whether it's the island's inshore ponds or its offshore bays and coves, the water is a big part of life on the Vineyard. Rent a kayak or stand-up paddle board to get an up-close view of the water and the wildlife teeming below it. At Island Spirit Kayak in Oak Bluffs, you can rent a kayak or SUP for just a couple of hours or for the entire day, or opt to take a guided tour with a group and instructor (options include a sunset tour and a nighttime tour with glass-bottomed kayaks or SUPs).
9. Visit the Aquinnah Cultural Center and Watch an Epic Sunset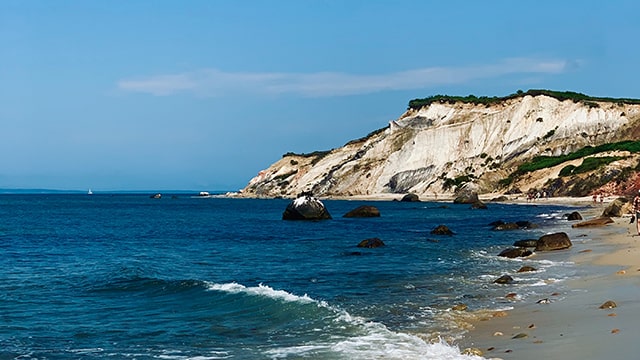 On the western tip of Martha's Vineyard sits the small town of Aquinnah, known for its breathtaking scenery and its continued ties to the region's indigenous Wampanoag people. The Aquinnah Cultural Center, which "strives to preserve, interpret, and document the Aquinnah Wampanoag self-defined history, culture and contributions," is open to the public and hosts exhibits and cultural events.
Nearby, the Aquinnah Cliffs Overlook is the place to take in sunsets with sweeping views of the area's clay cliffs and its 18th century Gay Head Lighthouse.