Updated May 2023
It's no secret that when it comes to low-stress vacations on Cape Cod, we're big fans of Hyannis. There's so much to do in this little coastal village that it's a worthy destination in and of itself. But it's also a perfect base camp for adventures all over the Cape and Islands. The best part? Exploring the rest of the region from Hyannis won't cost you an arm and a leg, and you won't even need a car to do it. Here are four of our favorite easy day trips from Hyannis, no driving required.
Truro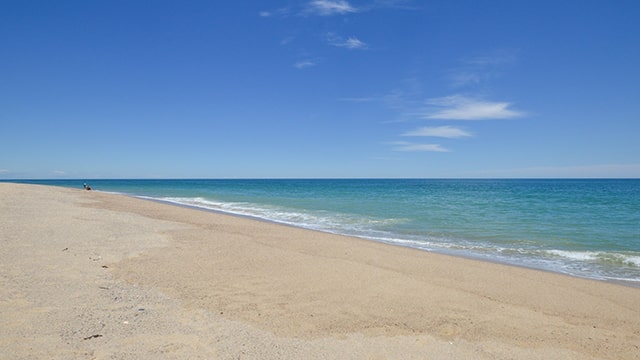 Located on the Outer Cape, the quiet town of Truro is known for its peaceful, pristine beaches. Take the bus into town and you'll be 10-minute walk to Cold Storage Beach, a locals' favorite where you can swim in the serene bay and take in views of the Provincetown Harbor.
A 10-minute walk from the bus stop in the other direction will get you to Truro Vineyards. While you might not think of Cape Cod as a wine-producing region, Truro Vineyards has been perfecting the art of maritime grape-growing since the early 1990s on a historic property that's served as a working farm for two centuries. Stop by for a tasting flight or a glass at their on-site wine bar, or pop over to South Hollow Spirits distillery (located on the same property) for spirits and cocktails made on site.
Getting there: From the Hyannis Transportation Center, take the Peter Pan bus to Truro (there are several stops in Truro, so be sure to get off at 2 Highland Rd, sometimes also referred to as "Salty's Market," for easy walking access to Cold Storage Beach and South Hollow Spirits). The ride is less than an hour and a half and about $5 each way.
Provincetown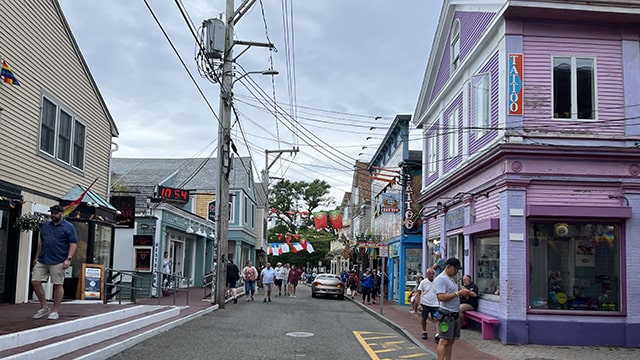 Whether you're a foodie, an art enthusiast, or the type of person who just wants to go where the party is, P-Town is for you. This charming seaside haven offers endless restaurants and cafes, museums dedicated to art inspired by the area's beauty, and more entertainment options than you might expect from a small town at the tip of the Cape. A longtime favorite destination for LGBTQ+ travelers in particular, Provincetown is home to plenty of of welcoming bars, nightclubs, and cabarets. You don't have to wander very far in P-Town to find a celebration just about any day of the week.
Getting there: From the Hyannis Transportation Center, take the Peter Pan bus to Provincetown. It's about an hour and a half each way and tickets start at just $3.
Martha's Vineyard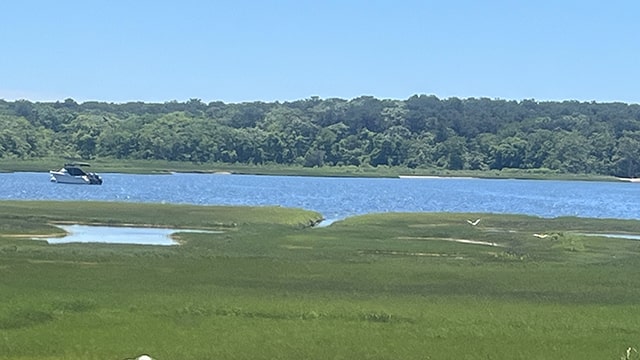 Martha's Vineyard is an island oasis 40 miles off the coast of Cape Cod. Long popular with celebrities and politicians, the Vineyard's known for its stunning beaches, cutesy towns, and inland forests and farms. In fact, there's so much ground to cover here that you may find yourself wanting to stay for more than an afternoon. But if all you've got is a day, grab the ferry from Hyannis to Oak Bluffs and set off by bus (an all-day pass is just $8), bike (local bicycle rentals start around $30 a day), or foot.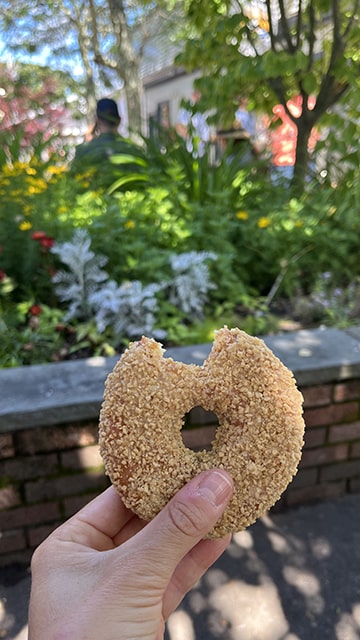 The ferry drops you in the middle of Oak Bluffs, where you'll want to snag a treat at Backdoor Donuts before setting off to see the town's historic Gingerbread Cottages and Flying Horses Carousel. Down the road in Edgartown, take your pick of beaches for sunbathing, swimming, and kayaking. Joseph Sylvia State beach is just a short bus or bike ride from Oak Bluffs and is home to the iconic "Jaws Bridge." While it was the setting for some terrifying action in the 1975 movie Jaws, in real life you'll find the bridge crowded with kids and adults alike waiting their turn to do cannon balls into the water. In the island's interior, walk, hike, or cycle around Manuel F. Correllus State Forest.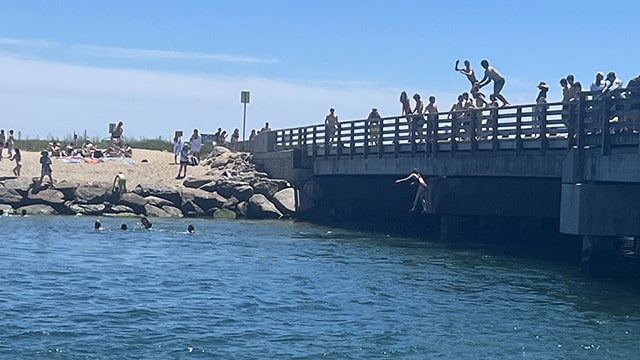 The island's a lot bigger than you might think, so if you're only there for one day you'll want to stick to the parts of the island immediately accessible by bus or bike from the harbor (Oak Bluffs, Vineyard Haven, and Edgartown). If you're hoping to travel to further reaches of the island, you may want to stay overnight at HI Martha's Vineyard Hostel.
Not far from the hostel, you can pick up the #5 bus, which will take you west to Aquinnah. Famous for its historic lighthouse and stunning red clay cliffs, Aquinnah is known as one of the most beautiful parts of the island. It's also home to the Aquinnah Cultural Center, where you can learn about the area's indigenous Wampanoag people, who've been living on this land since thousands of years before European colonists arrived.
Getting there: Take the Hy-Line ferry (the terminal at the harbor is just a few minutes' walk from HI Hyannis hostel) to Martha's Vineyard. The ride takes about an hour; as of this writing, round-trip tickets are $70 for adults.
Nantucket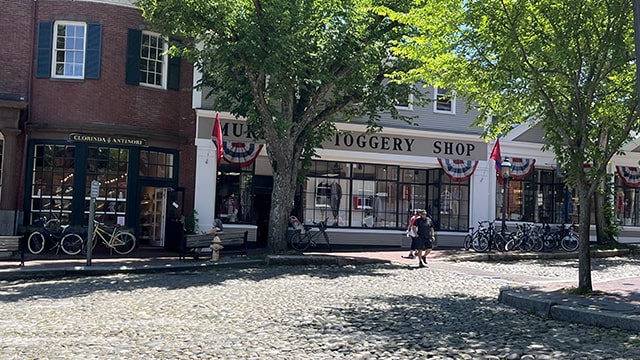 Nantucket is significantly smaller than Martha's Vineyard, so a day trip here will give you time to explore much of the island. Also accessible by ferry from Hyannis, Nantucket offers visitors a chance to stroll its impossibly cute and historic downtown, lounge on its dreamy beaches, and gawk at the incredible vacation homes of the rich and famous.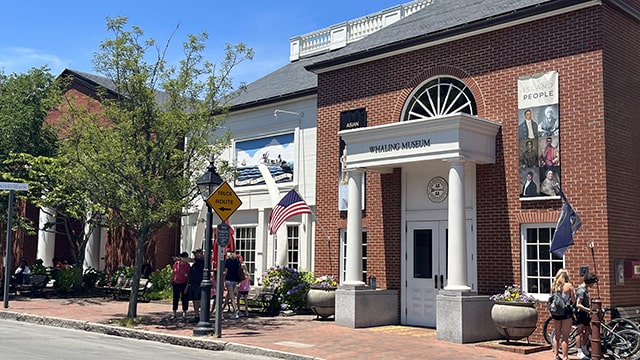 The island is extremely walk-able and bike-able, and you'll feel transported back in time after just a few minutes wandering its quaint cobbled streets. Nantucket became a part of Massachusetts in 1692, and you can still find historic structures here pre-dating the American Revolution. History buffs also love visiting the island's three unique lighthouses and spending hours at the Whaling Museum. But if you'd rather spend your day eating locally made ice cream, window shopping downtown, and cooling off in the Atlantic Ocean, we certainly wouldn't blame you.
Getting there: Take the Hy-Line ferry from the harbor in Hyannis to Nantucket. The ride takes about an hour; as of this writing, round-trip tickets are $89 for adults.