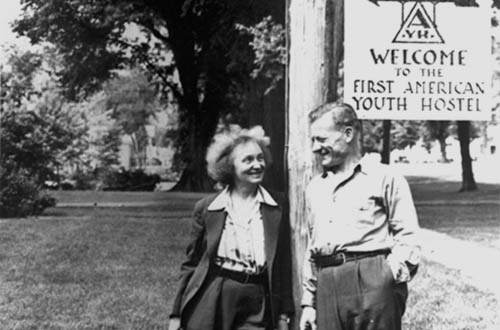 The History of HI USA
HI USA's history is closely tied to the international hostelling movement and to trends in global travel. In 1934, the first American hostel was opened, and we've been welcoming travelers from all over the world ever since.
The history of hostelling is also the story of travel and global expansion. Journey through the six major eras in hostelling:
1909-1934: Origins The idea of hostelling is conceived in Germany, embodied in the International Youth Hostel Federation, and brought to the United States.
1935-1944: Shadows of War A thriving hostelling movement in Europe and North America is stalled by the advent of World War II.
1945-1964: Rebuilding and Renewal Hostelling rebounds with the new value placed by governments on international travel as an answer to isolation and misunderstanding, and national hostelling associations proliferate worldwide.
1965-1979: An Explosion of Global Travel Economic prosperity, low-cost jet travel and Baby Boomers spur interest in foreign travel and hostelling.
1980-1999: Growth and Transformation Record numbers of young people are served in hostels worldwide as large urban hostels are developed with high quality standards and program offerings.
2000-2019: Tragedy and Renewal While September 11th causes sharp travel declines worldwide and lingering financial pressures, it also prompts a bold new commitment to cross-cultural exchange and with time, an innovative new organizational structure.
Today in the US, HI USA is a network of 30 hostels hosting more than 1 million overnights annually. Worldwide, there are nearly 3,400 Hostelling International hostels recording over 33 million overnight stays in more than 75 countries.
Origins: 1909-1934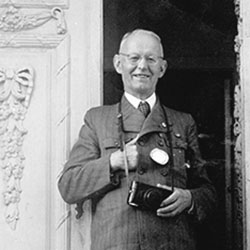 The youth hostel idea was conceived in 1909 by Richard Shirrmann, an elementary school teacher living in the industrial center of Germany. He created a "wandering school" on weekends by taking students on field trips into the countryside for fresh air and exposure to nature. Students unrolled their bedding each night in school buildings. The concept of student "youth hostels" was created.
The movement flourished in Germany and the rest of Europe soon followed. Permanent hostels were established by gifts of hiking and recreation clubs, wealthy patrons and local communities. By the early 1930s nearly 3,000 hostels had sprouted across Europe. In 1932 the first international meeting of hostelling organizations was held in Amsterdam to develop common standards, and the International Youth Hostel Federation was formed.
Americans Isabel and Monroe Smith attended the second international meeting in 1933. Shortly afterwards, they opened the first US youth hostel in Northfield, Massachusetts in 1934. American Youth Hostels (AYH) was born.
Shadows of War: 1935-1944
A year after its formation, the AYH network featured more than 30 hostels throughout rural New England primarily to serve cyclists and recreational enthusiasts. Its growth received the endorsement of the president of the United States. "I was brought up on this sort of thing and realize the need for hostelling," declared president Franklin D. Roosevelt in 1936, when he was honorary AYH president. "This was the best education I ever had, far better than schools."
Pre-war European political currents overshadowed much of the international movement in the late 1930s. Hostels were closed and even appropriated by governments for military purposes. The operations of many European hostelling associations were suspended, though a small network of hostels continued operating in the US and Canada.
Rebuilding and Renewal: 1945-1964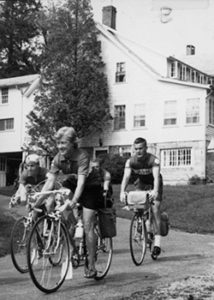 The end of the war brought a time of rebuilding and reflection worldwide. Groups of American youths went to Europe to help rebuild hostels. International youth travel, while still nascent, was embraced by governments to encourage understanding and avoid future conflict. The International Youth Hostel Federation grew to include Africa, Asia, Australia and South America. In the USA, John D. Rockefeller III recognized the value of hostelling and agreed to serve as president. The organization was incorporated as a nonprofit organization in 1949.
USA hostelling grew through the 1950s with a continuing emphasis on rural hostels in bicycle vacation areas. The end of the 1950s brought with it the end of the steamship as the most economical route for travel to Europe; the age of affordable commercial airline travel began.
An Explosion of Global Travel: 1965-1979
Hostelling prospered in the 1960s and 1970s. With a growing economy, the advent of jet travel, and "Baby Boomers" coming of age, international travel was within reach of growing numbers. Public awareness of hostelling became widespread. AYH purchased its first hostel in Pennsylvania in 1961, setting the stage for other nationally owned facilities. Paul Dudley White, a globally recognized cardiologist, served as honorary president and espoused international exchange among young people, including underprivileged youth. The US bicentennial celebration led AYH to develop its first large urban hostel in Washington, DC. Its popularity exceeded expectations, and AYH began to shift its focus towards large urban hostels. While the travel boom was briefly interrupted by the Arab oil boycott in the 1970s as high oil prices increased airfares, the globalization of travel could not be turned back.
Growth and Transformation: 1980-1999
The year 1980 was marked by the opening of a large urban hostel in San Francisco, in partnership with the National Park Service. By decade's end, major hostels were opened in Boston, Santa Monica, Seattle and Washington, DC. Growth continued throughout the 1990s, as major hostels opened in Chicago, New York, Orlando, San Diego and San Francisco. A strategic plan adopted in 1994 set an ambitious vision of developing hostels in major cities and offering programs nationwide.
The International Youth Hostel Federation positioned the international movement for growth in the mid 1990s with the adoption of new hostel quality standards. It also embraced a common global name, "Hostelling International," and the blue triangle logo. AYH followed by incorporating Hostelling International into its brand name.
Tragedy and Renewal: 2000 – 2019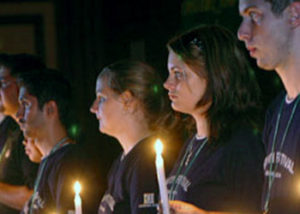 In 2001, the tragedy of the September 11th terrorist attacks in the US shocked the world. Persistent terrorism concerns and the onset of Severe Acute Respiratory Syndrome (SARS) continued to depress international travel through mid-decade.
In the face of hardship, HI USA volunteers and staff became more resolute about the need for hostelling in global society. HI USA embraced a bold new commitment to broadening cultural exchange that started in 2002 with "Opening Doors, Opening Minds" and over time led to a programming commitment that served more than 120,000 people annually.
HI USA's regional chapters decided to consolidate into a single national organization in 2011. The new structure gave HI USA the resources to expand the hostel quality and programs throughout the decade. For the first time, overnights exceeded 1 million annually. By 2019, hostel guests consistently rated the HI USA hostel network as one of the top three in the world.