Editor's note: As the coronavirus pandemic has thrown the world of travel (and the world in general) upside down, travelers have had to adapt to a reality in which things look a whole lot different. At the same time, there's an increased focus on longtime racial inequalities in the U.S. and in the travel industry. In our new interview series, "The View from Here," we're bringing you diverse perspectives on what it means to be a traveler now from some of our favorite bloggers and influencers.
Next up is Lola Méndez, a journalist who writes about sustainable travel on her blog missfilatelista.com and, together with her sister, runs the Instagram feed @LatinasLoveTravel. In this interview, Lola talks about being an American living overseas during this very eventful year, taking local adventures in Uruguay, and tackling racism in the travel industry.
HI USA: To start off, how would you describe your work and @LatinasLoveTravel and its mission for any of our readers who might not be familiar with it?
Lola Méndez: Latinas Love Travel was born out of my desire to connect with more Latina travelers overseas. I had been globetrotting full time for several years and rarely encountered other Latinas. The majority of the traveling Latinas I knew were through my personal Instagram feed, @LolaAnnaMendez.
I realized there's a lot of misinformation and fearmongering about safety and access and wanted to create an inspirational Instagram feed that showcased that there are Latinas of all backgrounds out there exploring the world. My sister helps me manage the account and our intention is purely to inspire, unlike other similar travel Latina Instagram accounts that sell products, have sponsors, and organized ticketed events. We're not trying to make it a capitalistic venture.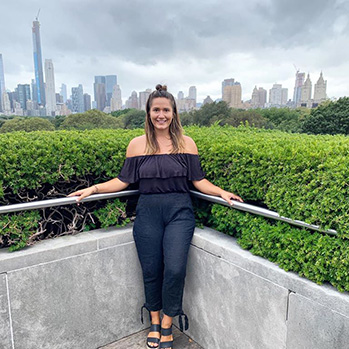 HI USA: Have you discovered any new favorite places to visit this year that you wouldn't necessarily have tried pre-pandemic?
LM: Absolutely! I was so fortunate to have been in Uruguay visiting my parents for six days between work trips when the pandemic began here and our airport closed. After several months of sheltering at home, I started to venture out to get to know more of my fatherland. Many of my Uruguayan friends tease me that I've now seen more of the country than they have.
For instance, most of them swore Uruguay didn't have any waterfalls. I was desperate to get in nature and have been very spoiled in the waterfall department after spending several years in Southeast Asia and visiting the Caribbean and Central America.
Some research pointed me to Rivera, a department of Uruguay in the northeast of the country that shares a border with Brazil. I rented a car and drove six hours at night to trek to the tallest waterfall in the country the next morning. It's only about 60 feet tall but left me speechless in adoration of mother nature. It was a very healing experience.
Once our borders reopen I hope to write more about these hidden gems in Uruguay to spark interest amongst national and international travelers.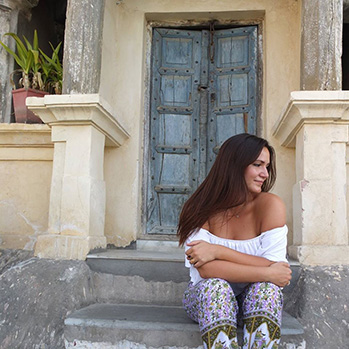 HI USA: What kinds of experiences have you found to replicate the feeling of travel in your everyday life these days?
LM: I'm vegan in an extremely meat-centric country. So, needless to say, I cook at home often. It took some searching but I eventually was able to find Indian spices like garam masala and rare ingredients like tamarind, so now I can recreate the dishes I tried around the world from the safety of my kitchen.
I'm also a serial back poster on Instagram on @LolaAnnaMendez. I'm like a year behind. Fortunately, this means I have lots of content to share during the pandemic! Revisiting past trips has been a joyous experience. I'm currently sharing travels around the Caribbean and LATAM and expect my feed to stay over in this part of the world for the next year or so. I'm posting about Guatemala now and will soon post about Costa Rica, Jamaica, Dominica, the Dominican Republic, Peru, Argentina, Brazil, and of course, Uruguay!
HI USA: It's been a very tumultuous year in terms of not only the pandemic and the election, but also increasing attention on racial, financial, and so many other kinds of inequality in America. How has this year shaped your outlook on travel in terms of what travel means, its importance, who gets to travel, and why we travel?
LM: It was such a strange year to be an American citizen living overseas. If anything, I've become more of an activist and more outspoken about my left-leaning beliefs since leaving the States for good five years ago. My heart has broken for my country so many times this year and I longed to be marching in the streets amongst my friends.
Fortunately, as a journalist, I can write about current events and share my perspective with a wider audience. For years I've felt that travel is almost always neo-colonial, but this year has allowed me to hone in on the subject. One of the articles I'm most proud of writing this year is a piece on racism in the travel industry.
HI USA: What kinds of experiences will you be looking for when you start traveling again?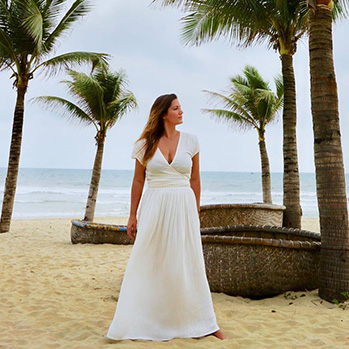 LM: As always, I will focus on sustainable tourism that is regenerative and doesn't harm the local population or environment. When I relocated back to LATAM almost two years ago I intended to travel this region extensively visiting community-based tourism projects and travel social enterprises, so I hope to pick that back up once it's safe to travel again and a COVID-19 vaccine has been widely distributed.
HI USA: The hostel life is a lifestyle! What is your favorite hostel memory and what do you miss the most about staying at hostels?
LM: I love staying in hostels as a solo traveler, as booking one is a sure thing that you'll make some travel buddies that you can explore the destination with. I travel full-time and usually work along the way, so I tend to book private rooms but then partake in activities so I can meet other folks staying in the hostel who may want to go sightseeing or out to eat together.
HI USA: What travel advice would give to your younger self that you wish you knew when you were just beginning to travel and see the world?
LM: Just go! I never thought travel was possible for me as I didn't grow up in a family that had expendable income. We traveled to visit family members or for my father's job. I went to Europe for the first time when I was 21 as a graduation gift and back again when I was 24 to visit my sister who was on a scholarship studying abroad in London. When I was 25 I quit my job and became a full-time traveler.
HI USA: Any projects you're working on that you think our readers should know about?
LM: I'm a self-taught independent journalist with work published in many top-tier publications including CNN, Oprah, Cosmopolitan, InStyle, and more. I cover a variety of beats including travel, sustainability, wellness, veganism, social justice, food/drink, health/fitness, fashion/beauty, and more. I offer a freelance writing consultation service to teach writers how to improve their pitches, crystalize story ideas, find editorial contacts, or whatever else they may need to enhance their journalism career. You can learn more about the consultation service here.