Updated May 2023
Sometimes, while you're staying at a hostel, you'll find it a little challenging to connect with your fellow travelers beyond the usual "where are you from?" conversation – maybe the language barrier is particularly strong or it's extra difficult to find the flooring for common ground. That is, until someone name drops their favorite TV show or starts singing along to the familiar tune that's playing in the hostel common area, and next thing you know you're re-enacting famous scenes and performing impromptu karaoke with a brand new lifelong friend. American movies, music and TV have permeated the cultures of the world, and people have even used films and shows to learn a new language (hooray for subtitles!), which is why pop culture can be a strong tool for breaking barriers.
Part of the reason that San Francisco is such a beloved city worldwide is that its beauty and people have served as inspiration for artists, writers, and creators. Along with the legendary Golden Gate Bridge, which has been mentioned in books, blown up in movies, and immortalized in songs, the city's streets, houses and parks are monuments for fans who have seen them on screens and in their imaginations. If you find yourself geeking out over classic episodes and favorite songs with a fellow fanatic, you might want to take a look at our guide to famous addresses and locations so you can share the thrills and celebrate finding common ground while visiting these iconic spaces.
For the TV Fans
1. Alamo Square Park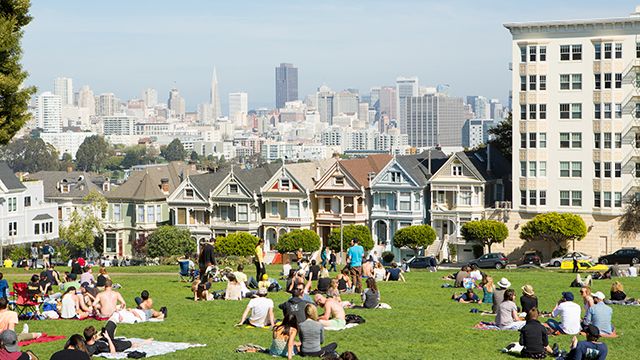 This park in downtown San Francisco and its famous view of the Painted Ladies probably has the status it does because of the show Full House, which aired from 1987 to 1995 and kick-started the careers of the Olsen Twins. During the show's title sequence, the main characters frolic about on the Park's lawns, and also go on family trips to Fisherman's Wharf, across the Golden Gate Bridge and down zig-zaggy Lombard Street.
2. Party of Five House – 2311 Broadway
While we're talking '90s nostalgia, you can head north from the Painted Ladies toward Broadway Street where the five Salinger siblings of Party of Five lived from 1994 to 2000. The gorgeous Victorian house in Pacific Heights was the setting for the life and times of the orphaned youngsters and was featured in the show's opening credits and establishing shots.
3. Columbus Tower – 916 Kearny Street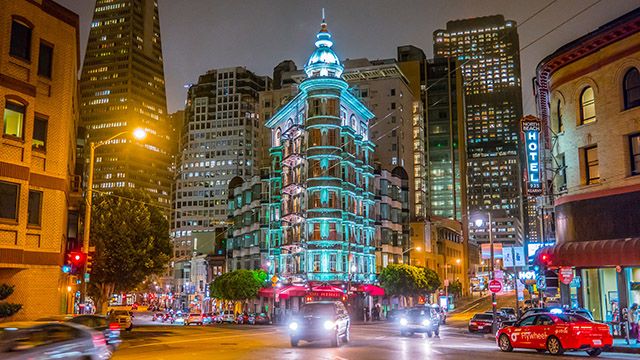 Though this is technically a movie, we'll let it slide since Star Trek is a TV show. Live long and prosper by visiting the Columbus Tower on the corner of Kearny Street and Pacific Avenue, which features in the 1986 movie Star Trek IV: The Voyage Home. In this full-length caper, the crew return to the '80s to kidnap some humpback whales, and in the scene featuring the green flatiron building, they are trying to navigate the old-school public transport of the day.
For Movie Buffs
4. Mrs. Doubtfire's House – 2640 Steiner Street
Robin Williams dressing up as the title character in Mrs. Doubtfire may be San Francisco's most famous cross-dressing situation, and in a rare case of movies mirroring reality, Sally Fields' character actually says the address of the house where the family lives. The front steps of the house became a memorial for Robin Williams after his death in 2014.
5. Mission Dolores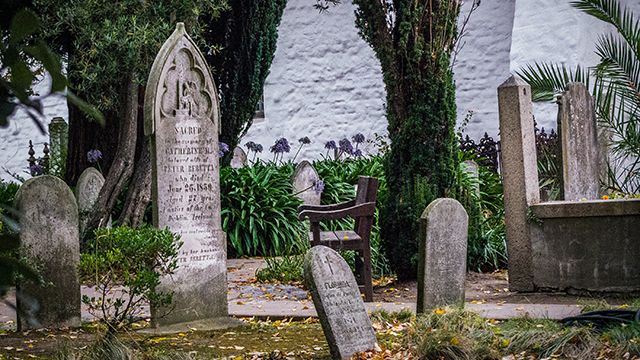 Alfred Hitchcock's Vertigo is often billed as one of the greatest movies ever made, and the film features many San Francisco landmarks, including its oldest surviving building, Mission Dolores. In the movie, Inspector Scottie Ferguson follows Madeleine Elster into the property's cemetery. In real life, you can visit Mission Dolores before or after exploring the rest of the surrounding Mission District, known for its top-notch tacos, shopping, and people-watching at scenic Dolores Park.
6. Russian Hill
Animated movies also like to take inspiration from San Francisco's streets, and they even get to take artistic liberties to make the city fit a story line. Though Pixar's Inside Out mostly takes place inside main character, Riley's, head, the parts that are in the real world happen to be in San Francisco (Riley's home is in Russian Hill). Distinguishable landmarks appear alongside fictional buildings that were inspired by real-life ones in the City by the Bay.
For Music Fanatics
7. Jefferson Airplane House – 2400 Fulton Street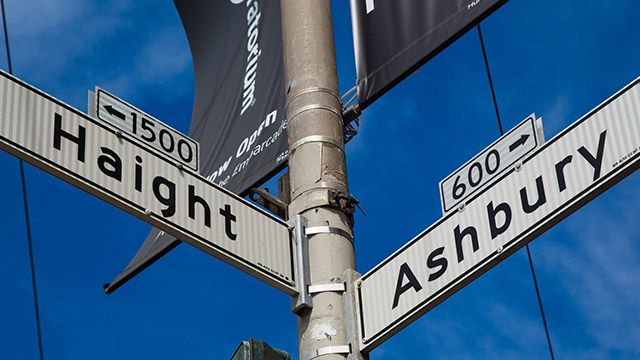 This mansion in the Haight-Ashbury area once served as the home and recording headquarters for iconic psychedelic '60s band Jefferson Airplane; today it's one of the hippie-haven remnants of the Summer of Love. The group installed a studio in the basement and the rest of the house was a like a clubhouse where fellow bands and musicians, like the Grateful Dead and Janis Joplin, and their groupies got to hang out.
8. Black Hawk Plaque – 200 Hyde Street
Today, the corner of Hyde and Turk Streets in San Francisco is just a nondescript parking lot in the Tenderloin, but between 1949 and 1963 this was home to the hopping jazz club called the Black Hawk. The little spot attracted up-and-coming musicians and fans alike, with greats like John Coltrane, Thelonious Monk, and Miles Davis using the space for live recordings. There's a bronze plaque at this address for audiophiles who would like to make the pilgrimage to the famous site.
9. Hyde Street Studios – 245 Hyde Street
Yes, the Tenderloin has more than one musical monument within a few blocks' radius! Hyde Street Studios, originally known as Wally Heider Studios, still functions as a recording space for musicians today and has been the birthplace of great albums from acts including Creedence Clearwater Revival, Green Day, Cake, Tupac, Willie Nelson, Train, and many more. If you hang outside long enough, you might even spot a famous (or soon-to-be-famous) artist.