Updated May 2023
Planning a trip to Boston? Great idea. There's so much to do and see in this modern-meets-historic capital that you'll want to spend at least a few days exploring the city itself. But if you have an extra day or two to spare, it's well worth sticking around and experiencing more of New England. Boston's got tons of public transportation options to get you all over the region quickly and affordably. In fact, it's so easy to access much of New England by train, bus, or boat that you can spend an entire day someplace new and still be back at HI Boston for dinner.
Here are a few of our favorite easy day trips to take from Boston, no car needed.
1. Gloucester, MA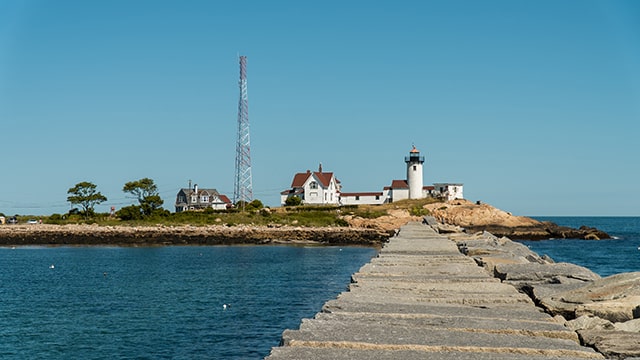 You've probably never heard of this little town on Massachusetts' Cape Ann, and that's OK – there are just two things you need to know before you visit Gloucester: It's pronounced "Glah-ster," and it's overflowing with history and cutesy seaside charm.
Window shop and eat your way through Gloucester's adorable downtown, take your pick from endless beaches for sunbathing or swimming, and stop by one of the area's five historic light houses for a photo op – there's plenty to keep you busy for a full day in town. Gloucester's about 400 years old and got its start as a fishing port; today you'll find the scenic harbor is still a big part of the town's draw. Take it all in on a casual stroll, or hop on a boat for a whale-watching tour or fishing excursion.
Getting there: From Boston's North Station, take the MBTA commuter rail to Gloucester (the ride is about an hour). For $10, you can get an unlimited commuter rail pass that's good for the entire weekend; on weekdays the trip to Gloucester will cost you about $11 each way. Once you arrive at Gloucester Station, catch the Stage Fort Park shuttle to the beach or downtown. An unlimited day pass for the bus is just $3.
2. Salem, MA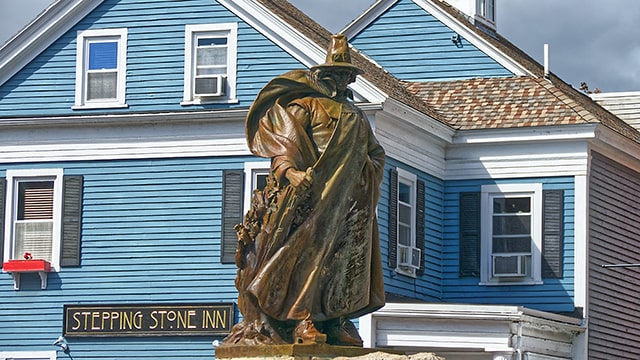 If you've heard of this historic coastal town, it's likely due to its dark past: this was the site of the infamous Salem Witch Trials of 1692. Today, the U.S. commonly uses these brutal witch trials as a reminder of the necessity of due process in our justice system. All in all, it's a complicated, tragic history, but it doesn't mean a visit to Salem is all doom and gloom.
These days, you may hear Salem referred to as "Witch City." It's home to a witch museum and a memorial to the victims of the 1692 witch hunt for serious reflection. Around town, you'll find local "witch shops" selling mystical potions, offering psychic readings, and more. In addition to its haunted history, Salem's also a beautiful example of a historic New England seaside town, complete with colonial-era buildings and, in the autumn, plenty of brilliant fall foliage.
Getting there: The MBTA commuter rail from Boston's North Station will get you to Salem in just 30 minutes, so take advantage of that same $10 all-weekend pass we recommended for trips to Gloucester. You can also take a ferry straight from Boston to Salem; at 45 minutes and about $60 roundtrip, it's a longer and more expensive option but gets you great views of both cities from the water.
3. Spectacle Island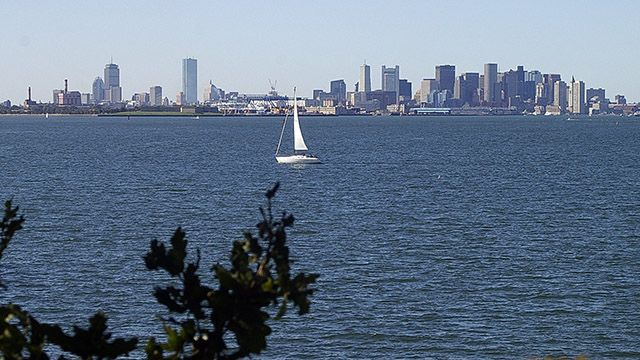 One of Boston's Harbor Islands, Spectacle Island is one of our favorite non-touristy places to visit while you're in Boston. Located four miles off the mainland, this island is the best place for panoramic views of the Boston skyline. It's also a local favorite for easy hikes, picnics, and swimming. The island hosts special events throughout the summer, like free concerts, brewery and restaurant pop-ups, yoga classes, and historical walking tours.
Getting there: Ferries to Spectacle island leave from Boston's Long Wharf and run May through September, with more frequent service during peak summer season. Book a ticket for the departure time of your choice (about $25), then hop on whichever return ferry you like, no additional ticket necessary.
4. Hyannis, MA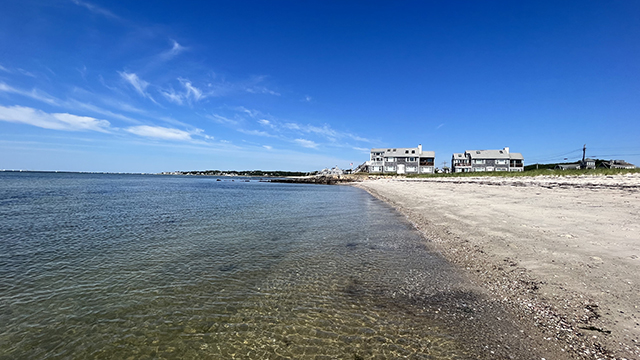 Believe it or not, you can spend a day on Cape Cod and still stay the night in Boston. The trick is just to choose the right destination. Our pick is Hyannis, a lovely little Mid-Cape village with beaches galore and a walkable downtown complete with plenty of options for outdoor eats and drinks. For the historically inclined, there's the Cape Cod Maritime Museum and the John F. Kennedy Hyannis Museum. Overall, Hyannis is the perfect choice for a beachy summer daytrip from Boston, but be warned: you may fall in love with the area and want to stay longer. If that does happen, you'll want to check out HI Hyannis hostel.
Getting there: Peter Pan bus lines runs roundtrip service to Hyannis from Boston's South Station during the summer. It's about an hour and a half and $21 each way. The bus drops off right off Hyannis's Main Street, walking distance from the harbor, beaches, and more.
5. Providence, RI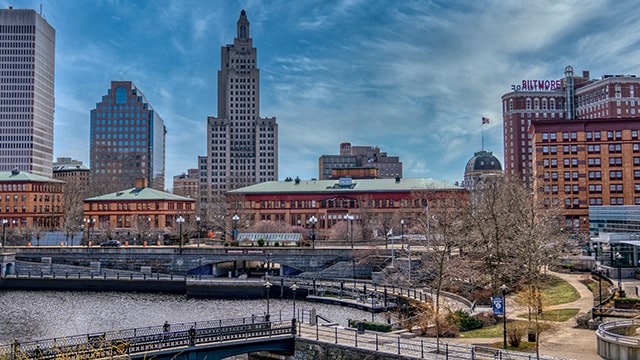 Rhode Island is the smallest state in the country, and its capital, Providence, offers a unique combination of small-town charm and big-city culture. While you're there, take a self-guided walking tour of the campus of Brown University. Founded in 1764, the campus still houses several buildings that pre-date the American Revolution. The Rhode Island School of Design, better known as RISD (pronounced "riz-dee"), also calls Providence home, and its museum displays a huge array of art ranging from ancient Greek sculptures to contemporary paintings.
Downtown Providence is super walkable and is your best bet for local shopping and dining. From May through November, you can try to time your visit with a showing of WaterFire, a stunning evening art installation with bonfires hovering just above the surface of the three rivers running through Downtown Providence.
Getting there: From Boston's South Station, take the Amtrak Northeastern Regional line to Providence. It's about a 40-minute train ride and tickets start at $7 each way.
6. Provincetown, MA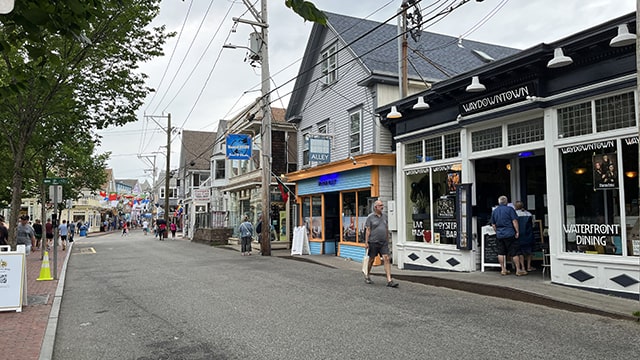 P-Town, as it's better known, is a splurge to get to for a day trip. But if you're visiting the area in the summer and can swing it, it's well worth the cost. This little city on the Northeastern tip of Cape Cod is known for its natural beauty, quaint buildings, cute downtown, and booming LGBTQ+ scene. Whether you want to relax at the beach, take in some art and history, or get into serious party mode, this is the place to do it. As a bonus, the fastest way to get there from Boston is by ferry, so you'll get gorgeous city views from the water on both legs of the journey.
Getting there: Take the Provincetown Fast Ferry from the Long Wharf in Boston. It's about a 90-minute trip each way, and a round-trip ticket will set you back about $100. We recommend taking the ferry one-way from Boston to P-Town and then spending some time exploring the rest of Cape Cod by bus. But if you've only got one extra day and need to stay in the Boston area, a daytrip is totally do-able.