Updated May 2023
New Orleans is a city famed for its iconic buildings, soul-filled jazz music, and delicious Creole and Cajun food. Whether you're a history buff, a foodie, a music lover or anything in between, the Big Easy has something for you to enjoy. While there are tons of unique experiences in New Orleans, in can be helpful to narrow down your list to where to start if it's your first time in New Orleans. Here's what to do in New Orleans if you're looking to make the most of your first visit.
Best Time of Year to Visit New Orleans
Winter and spring are the best times to visit New Orleans because you don't have to deal with the scorching temperatures and high humidity of the summer, or the hurricane threats in the fall. Popular times to visit New Orleans tend include Mardi Gras (which falls in February or March each year) and Jazz Fest (most years at the end of April/beginning of May). If you want to avoid premium hotel rates and huge crowds, you may want to avoid traveling the New Orleans during its festival season.
Where to Stay in New Orleans
There are several areas with distinctive vibes suitable for visitors to stay during their trip.
French Quarter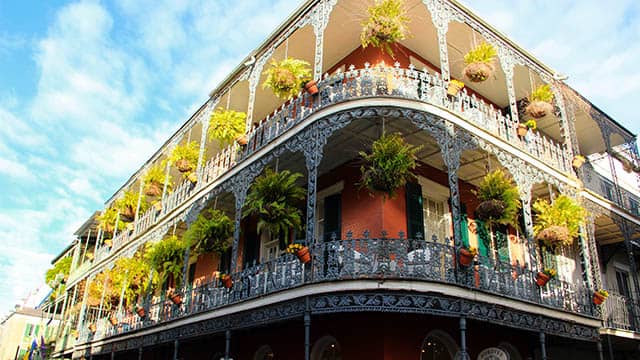 The French Quarter is the oldest neighborhood in the Big Easy. Stay here if you want to be in the center of the majority of the main attractions, be surrounded by historic buildings, and have quick access to top-notch restaurants and bars. HI New Orleans hostel is just minutes away from the area's must-see sites.
Garden District & Uptown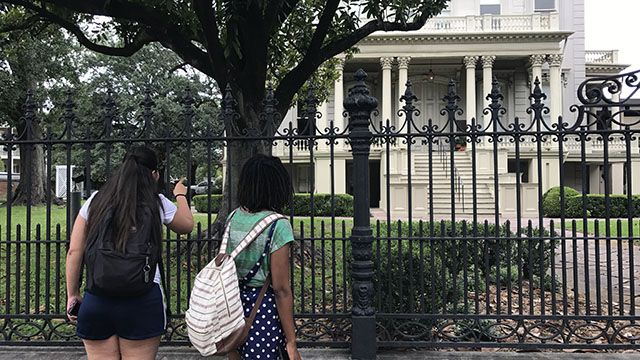 While you can find good food in every neighborhood in New Orleans, the Garden District and Uptown are neighborhoods are especially good for local-approved dining options. Stay in the Garden District if you like to wander around aimlessly. Its iconic Greek revival mansions and slew of live oak trees make for a perfect romantic stroll.
Tremé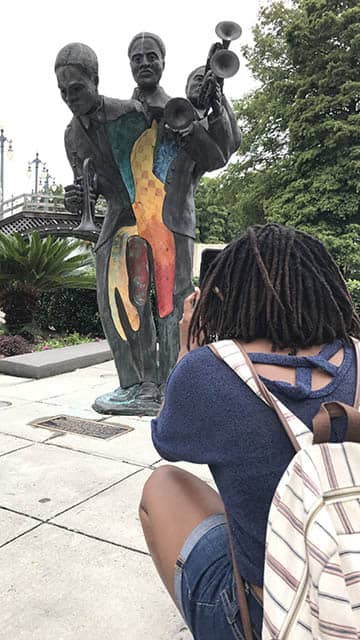 Tremé is America's oldest historically Black neighborhood. Here you will find multi-cultural museums and authentic New Orleans music and food. While you're in the neighborhood, don't miss visiting Louis Armstrong Park, dedicated to the legendary NOLA-born jazz musician, and the Backstreet Cultural Museum, where you can learn about the history (and ongoing traditions) of the city's Mardi Gras Indians.
Central Business District
Stay in the Central Business District (CBD) if you're looking for a family-friendly area in New Orleans. The CBD has lots of accommodation options with rooms and amenities catering to the needs of families. Although there are no major attractions in this area, it is a good hub for traveling throughout the city because all four of the city's streetcar lines stop here.
Places to eat in New Orleans
Mission one while visiting New Orleans: Eat all the food! There is so much delicious, unique food to try while in NOLA, but start with gumbo, po' boys, jambalaya, crawfish, and red beans and rice. For dessert, beignets and snoballs! Here are a few local-approved restaurants where you can check these items off your foodie bucket list:
For crawfish: Cajun Seafood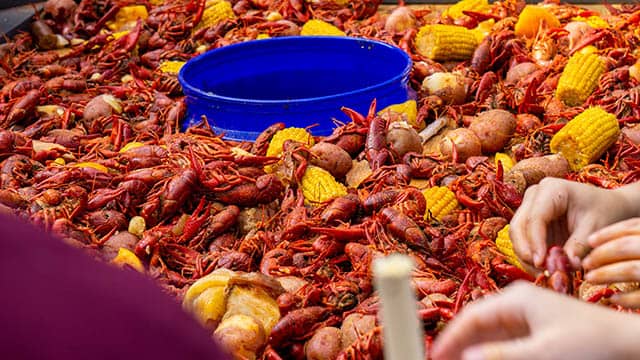 Crawfish are an integral ingredient in Cajun dishes. This traditional New Orleans seafood is served boiled, sautéed, baked, or fried. Try it at one of the several locations of Cajun Seafood around town.
For Po' Boys: Parkway Bakery & Tavern
The Po' Boy is the recognized New Orleans sandwich. Po' Boys are served on toasted New Orleans-style French bread, dressed with lettuce, tomato, and mayonnaise, and filled with anything from fresh gulf seafood, to smoked pork, to meatballs. You can't go wrong ordering from Parkway Bakery & Tavern in New Orleans' fun Mid-City neighborhood.
For Jambalaya and red beans and rice: Mother's Restaurant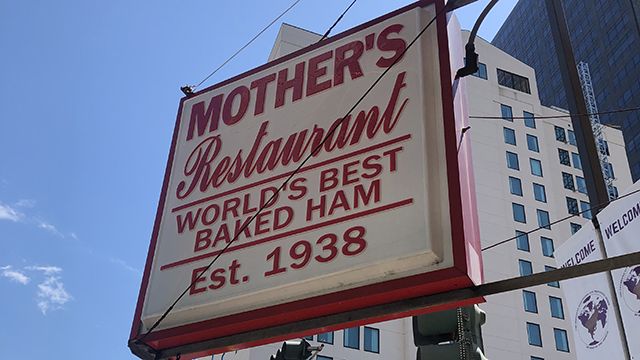 Jambalaya is a rice and pork, or rice and seafood, dish cooked together with fragrant ingredients like onion, celery, pepper, herbs, and spices. Try both the Cajun and Creole versions while in NOLA. The main difference between the two is that Cajun versions of jambalaya are not cooked with tomato, and the Creole versions of jambalaya are.
Red beans and rice is a slow-cooked dish mixing pork, kidney beans, rice, and spices, and pays homage to the legacy of the African and Caribbean arrivals to the city.
For Gumbo: Gabrielle
Gumbo is a boiled or stewed dish containing a roux, a common French flour-and-fat mix, and filled with chicken and other fowl, sausage, seafood, and seasoned with salt and spices.
For New Orleans snoballs: Hansen's Sno-Bliz Shop
New Orleans Snoballs differ from traditional snowcones because they're made with fine and fluffy shaved ice, asopposed to coarse and crunchy ice. Snoballs are customizable and flavored with a variety of sweet syrups and toppings.
For Beignets: Café Du Monde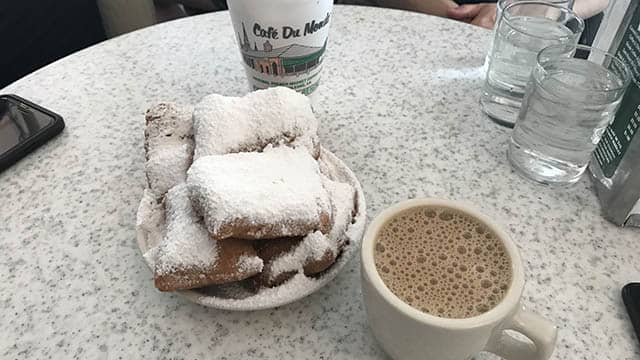 Beignets are powdered, fried donuts. While a beignet's exterior is golden brown, its inside is light and airy.
Must-do things in New Orleans
Here are a few must-do activities in New Orleans for a well-rounded first visit.
Go live-music show hopping on Frenchmen Street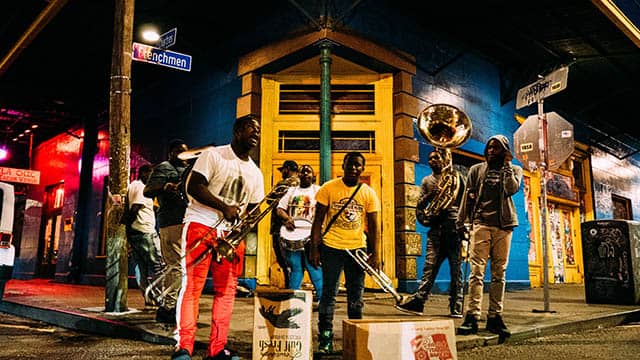 New Orleans is the birthplace of Jazz, and Frenchmen Street in the Marigny neighborhood is the heart of the nightlife and live music scene in the city. Be sure to spend time wandering Frenchmen Street being called into bars by the hypnotizing sounds of the bands.
Ride the St. Charles Street Car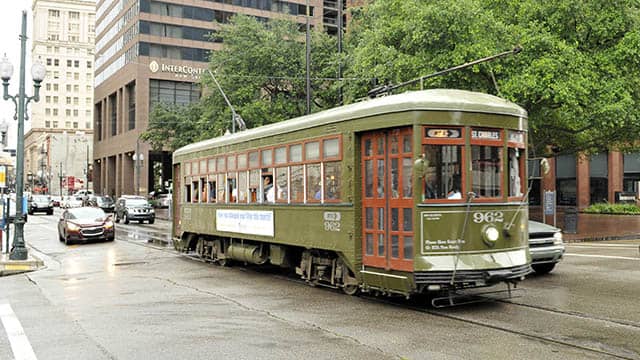 The historic St. Charles Street car line opened in 1835 and is the oldest continuously running street railway system in the world. For $1.25, buy a one-way ticket and take a 45-minute ride from the French Quarter to the Garden District (and beyond). This is a great way to take in beauty of some of New Orleans' most interesting homes and other iconic sites while relaxing your week. The St. Charles line is one of five streetcar routes. Buy an all-day unlimited pass for $3 if you plan on hopping on and off throughout the day.
Learn about the experiences of enslaved people at the Whitney Plantation
There's an abundance of plantations surrounding New Orleans, however the Whitney Plantation is the only one dedicated to sharing the stories of the enslaved people. This powerful, interactive exhibit is not to be missed. It's about an hour's drive west from New Orleans, and well worth the trip.
Marvel at the beauty of St. Louis Cathedral and Jackson Square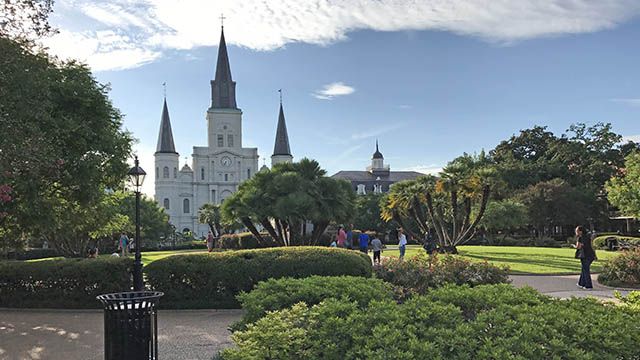 The St. Louis Cathedral and Jackson Square is postcard NOLA. This beautiful backdrop is made even more magical by the jazz musicians and artists that line the area.
Join in on a Second Line Parade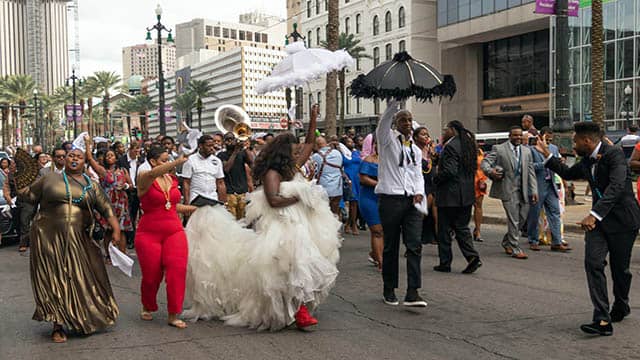 A second line is a foot parade led by a brass band. They tend to be organized for funerals, weddings, festivals, or protests. It's beautiful to see the community dancing and singing to celebrate a joyous occasion or shake off stress. Second lines are held by different social organizations weekly on Sundays for the majority of the year. Visitor-friendly second lines are publicized through local jazz and heritage radio station WWOZ's program In the Streets. Keep in mind, if you do decide to join in on a second line it's proper etiquette to join in on the back of the line.
Take a Swamp Tour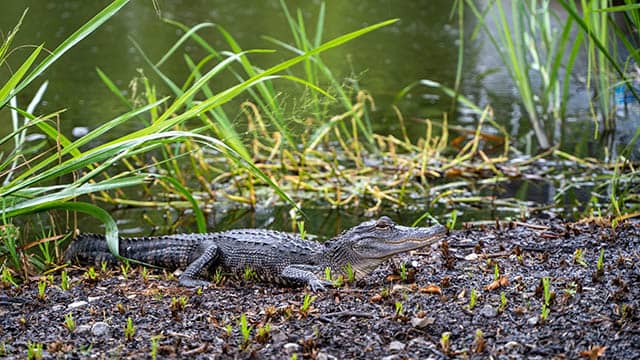 Swamp Tours are a fun, immersive way to learn about the history of the New Orleans' swamps and bayous. You'll also spot alligators and other wildlife during this tour. Swamp Tours are typically held on air boats or pontoon boats and take place at Honey Island Swamp or the Jean Lafitte National Historical Park and Preserve, which are both about a 30-45 minute drive from the French Quarter. Pro-tip: Buy your tour on Groupon for a discount!
You're guaranteed to have a good time in New Orleans and undoubtedly will want to come back!