Updated May 2023
Want to experience off-the-beaten-path New Orleans? It's a worthy goal in the Crescent City, where lively communities and unique local experiences are hiding in plain sight just outside the French Quarter. So, go ahead: venture way off Bourbon Street with seven of our favorite non-touristy things to do in New Orleans.
1. Walk through Crescent Park
This newer 20-acre park, which runs alongside the Mississippi River, is the perfect place for a chill morning or afternoon stroll. Crescent Park is full of colorful flowers, and its centerpiece, the Piety Street Bridge, makes an excellent backdrop for photos. Best of all, the 1.4-mile-long park runs between two of our favorite NOLA neighborhoods: the Marigny, where live music spills out of every bar door, and the Bywater, where you can get your fix of everything from NYC-style pizza at Pizza Delicious, to wine-and-cheese pairings at Bacchanal.
2. Explore Mid City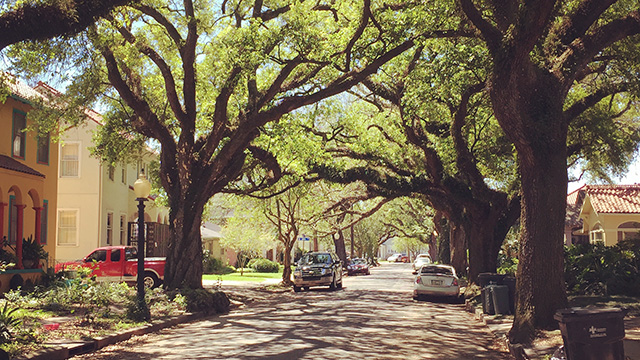 As a mostly residential neighborhood, Mid City doesn't get a lot of tourist traffic, so it's the perfect spot to live like a local in New Orleans. Pop into an outdoor beer or wine garden, meander through City Park and the New Orleans Museum of Art, or grab a bicycle and hop on the Lafitte Greenway, which starts in Mid City and ends just a few blocks from HI New Orleans hostel.
3. Paddle Along Bayou St. John
Rent a kayak or stand-up paddle board and get out on the Bayou St. John, a four-mile waterway where you can catch glimpses of egrets and even sometimes alligators! New to paddling? Bayou Paddlesports offers lessons every Saturday morning.
4. Visit Oak Street
Not far from Tulane University and Loyola University of New Orleans, this Uptown area is popular with students and professionals alike. Come by day to visit its unique shops and restaurants; come by night for live music at the legendary Maple Leaf bar.
5. Take the ferry to Algiers
The only New Orleans neighborhood located on the west bank of the Mississippi River, Algiers feels like a quiet village where you can escape the noise and crowds of the French Quarter and the Central Business District. For just a couple of bucks, you can hop on the ferry at the foot of Canal Street and score panoramic views of the city skyline as you cruise across the river to Algiers Point. Once you land, there are plenty of waterfront walking trails, hidden gem cafes, and streets lined with colorful houses to explore.
6. Visit the Lower 9th Ward Living Museum
Tucked away on a residential street in the city's Lower 9th Ward, this small museum is chock-full of photographs and artifacts bringing the rich history of this part of New Orleans to life. Today, the Lower 9th Ward is perhaps best-known outside of New Orleans for the losses it suffered in Hurricane Katrina, and this museum handles those tragic events with the respect they deserve. But it also takes great care in detailing the long, vibrant history and culture of this largely African-American neighborhood both before and after the Hurricane. If you're looking for a deeper understanding of New Orleans' people and culture, this is a great place to start.
7. Check out the Gambit
When in doubt, look to the New Orleans locals' source for events and happenings around town. From farmer's markets, to live music, to food festivals, this website puts everything happening in in NOLA right this minute at your fingertips.