Many first-time visitors to New York feel like they've already been there before, gathering that familiarity through TV shows and films set against a backdrop of the city's most famous attractions. However, there are plenty of places to see in this world-famous metropolis beyond its iconic Times Square, esteemed museums, and Brooklyn Bridge. Here are seven overlooked places worth checking out during your visit to the Big Apple.
1. Go to a museum inside a bodega
About seven miles from Manhattan's "Museum Mile" is Williamsburg, the popular riverfront neighborhood in north Brooklyn usually associated with hipsters that's morphed over the years from its gritty,industrial roots. Once a neighborhood of Italian and Jewish immigrants, it saw an influx of starving artists in the '80s and 90s, paving the way for the hipsters and then the yuppies. And then —when the word got out —plenty of tourists. But there are still some hidden treasures that haven't changed. One is the City Reliquary, a museum and community organization fashioned inside a small, unassuming corner bodega between the Bedford and Lorimer L train stops. Here you'll find "relics" from the five boroughs, some dating back over a hundred years.
2. Take the aerial tramway to Roosevelt Island
Not quite Manhattan, not quite Queens, Roosevelt Island is the narrow island in the middle of the East River between those two boroughs. This self-contained island community is accessible via the F train or, for an awesome cheap thrill and scenic views, the aerial Roosevelt Island Tramway. The island offers an unexpected little residential town in the middle of New York, with parks, new housing developments, and a lighthouse on its northernmost point. On the other end, south of the ruins of the Smallpox Hospital —once the stage of the final showdown in 2002's Spider-Man-is Franklin D. Roosevelt Four Freedoms Park. It's a tribute to New York's own Governor turned 32nd U.S. president, complete with city skyline views.
3. Visit the "real" Little Italy in the Bronx
Skip Manhattan's touristy Nolita neighborhood and head up north to the Bronx, where Italian-American culture thrives around Arthur Avenue. Here the breads, espresso, pastas, and pizzas are as authentic as can be, prepared by a proud Italian-American community. Wander the "real Little Italy's" streets, knowing you're in the footsteps of Robert DeNiro, Joe Pesci, and Frank Sinatra.
4. Experience the "other" Chinatown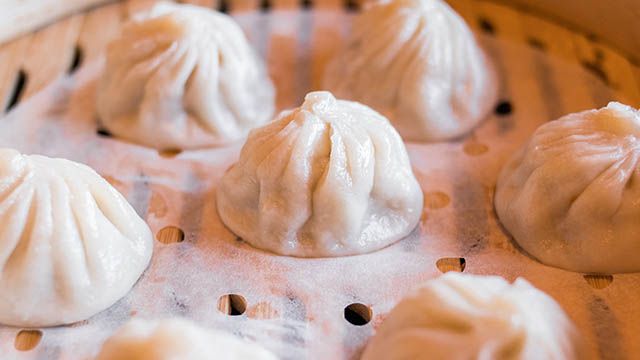 Lower Manhattan's famous Chinatown is home to a thriving and essential community of Chinese immigrants, but it's also become a big tourist draw and is largely known today for being a place to buy cheap souvenirs. But up at the end of the 7 train in Flushing, Queens, there's a more modern Chinatown with plenty to experience and far fewer tourists. Walking its streets is almost like walking through an urban area in Asia, with shops and restaurants serving a community of Chinese, Korean, and southeast Asian residents. The cuisine here is more than just "Chinese food;" it's regional: think Cantonese, Taiwanese, Sichuan, Hunan, Henan, Yunnan, and Lanzhou (to name a few).
5. Get down at the Central Park roller disco
Each weekend in the warmer months, the blacktop near Central Park's bandshell and Bethesda Fountain is transformed into a free and fun-lovin' roller disco, hosted by the Central Park Dance Skaters Association. DJs pump house, funk, and disco tracks for the crowd of varied ages, all dancing to the beat in old-school roller skates. Don't fret if you don't have your own skates; the people-watching is some of the city's best, and you'll still feel the energetic vibe on the sidelines.
6. Take the commuter ferry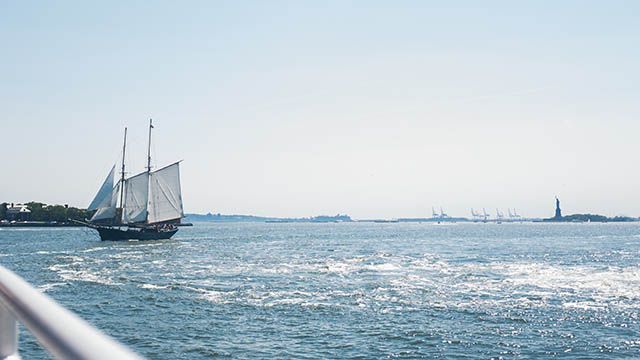 Skip the touristy sightseeing cruises that take you around Manhattan. Locals take the NYC Ferry service to get places — even to Rockaway in Queens, home of New York's surfer scene. The city's public ferries are about as inexpensive as riding the subway, but they're much more relaxing and scenic. In the summer months, the ferry can also take you to Governor's Island, a daycation destination for locals with green spaces, galleries, a hammock grove, and views of the Manhattan skyline and Statue of Liberty.
7. Grab an old-timey sandwich
Avoid the lines at tourist hot-spot Katz's and head to another locals' favorite old-school sandwich shop, Eisenberg's, which has been proudly "raising New York's cholesterol since 1929." Things are always bustling in this narrow, luncheonette-style space that feels like a step back in time. Check out the celebrity diner photos on the wall as you eat rubens and tuna melts, and wash them down with with egg creams and lime rickeys. You'll find Eisenberg's behind the "Sorry, we're OPEN" sign, across the street from the iconic Flatiron building in Manhattan.