New York City in autumn is a sight to behold. The city transforms into a colorful wonderland as the leaves change, and the crisp air brings in a season of coziness and festivity. While NYC can be expensive, you'll be happy to know that there are plenty of budget-friendly activities to make the most of your fall adventure in the Big Apple. In this budget traveler's guide, we'll explore the best things to do in NYC in the fall without breaking the bank.
Soak up the Fall Foliage
There's no better time to explore the picturesque parks and neighborhoods of New York City, which truly come alive with fall beauty.
Central Park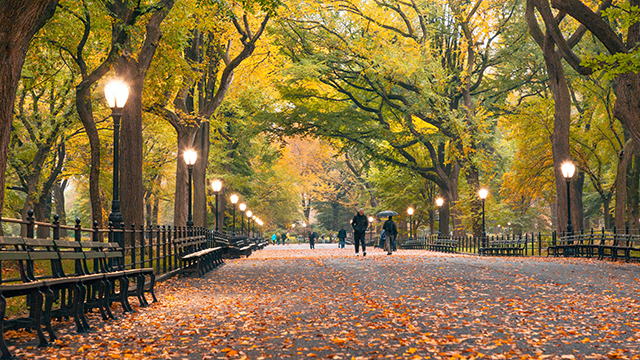 Central Park is the crown jewel of New York City. The best time to witness the glory of Central Park's fall foliage is typically from late October to early November. Be sure to bring your camera and snap photos of the picturesque Bow Bridge, the Bethesda Terrace, and other iconic Central Park photo spots surrounded by the fiery hues of autumn. If you're looking for a more active way to enjoy Central Park's fall foliage, try signing up for a yoga class in the park.
High Line Park
The Highline offers a unique and scenic way to experience the city. It's also free to visit, and the fall foliage along the old railroad tracks is stunning. While at the Highline stop by the nearby Chelsea Market to indulge in their fall treats like apple cider donuts and pumpkin lattes.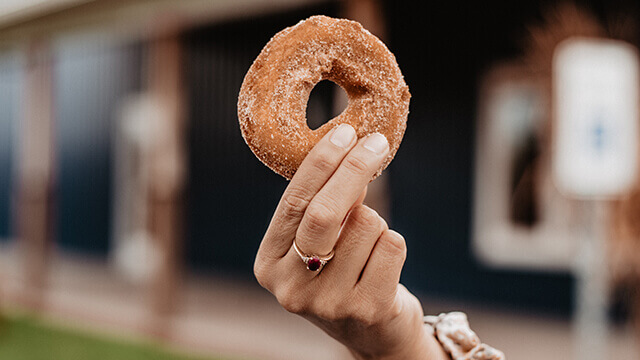 Besides the popular Central Park and High Line Park, additional New York City parks you should consider visiting to experience NYC fall colors include Battery Park, Washington Square Park in Greenwich Village, and Brooklyn Bridge Park (by the Promenade).
Brooklyn Heights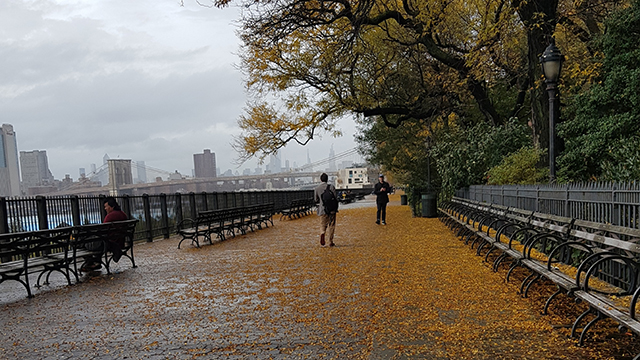 Brooklyn Heights, one of Brooklyn's most charming neighborhoods, is a dream to explore in the fall. Its tree-lined streets are adorned with historic brownstones that seem to glow in the soft autumn light.
Greenwich Village
Greenwich Village's tree-lined streets, historic townhouses, and cobblestone lanes make it a perfect fall destination. The neighborhood's Washington Square Park takes on a new charm with its changing trees.
Prospect Park
Prospect Park in Brooklyn rivals its Manhattan counterpart in autumnal beauty. The Long Meadow transforms into a golden wonderland, and the Prospect Park Boathouse reflects the colorful foliage in the little lake on which it sits.
Riverside Park
The Upper West Side's Riverside Park offers a serene escape from the urban bustle. Along the Hudson River, this park's tree-lined paths are perfect for a fall stroll.
Fort Tryon Park
Escape to Fort Tryon Park in Washington Heights, where the Heather Garden comes alive with fall colors. Enjoy panoramic views of the Hudson River, the George Washington Bridge, and the Palisades.
Enjoy Fall Blooms at a Botanical Garden
If you enjoy botanical gardens, go experience the fall blooms of Brooklyn Botanical Garden in Prospect Park and the New York Botanical Gardens in the Bronx.
Check Out a Halloween-Inspired Bar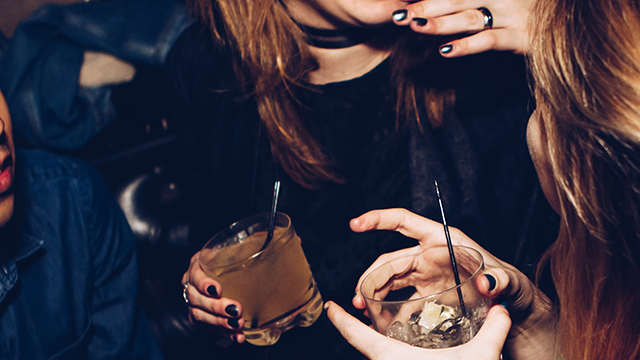 During the fall, many of NYC's bars undergo a haunting transformation in preparation for the spookiest night of the year. Here are some of the best Halloween bars in NYC.
Beetle House
Step into the whimsical and eerie world of Tim Burton at Beetle House. This East Village Halloween-themed bar pays homage to the iconic director's films.
The Cauldron NYC
Located in the Financial District, The Cauldron NYC is an enchanting bar providing a magical experience inspired by the world of Harry Potter.
The Headless Horseman
Nestled in the heart of Greenwich Village, the Headless Horseman brings a colonial twist to Halloween. Housed in a historic building, this bar exudes a classic and eerie charm.
Death & Co.
For those seeking a more refined Halloween experience, Death & Co. in the East Village offers an elegant and spooky ambiance.
Enjoy a Pumpkin Experience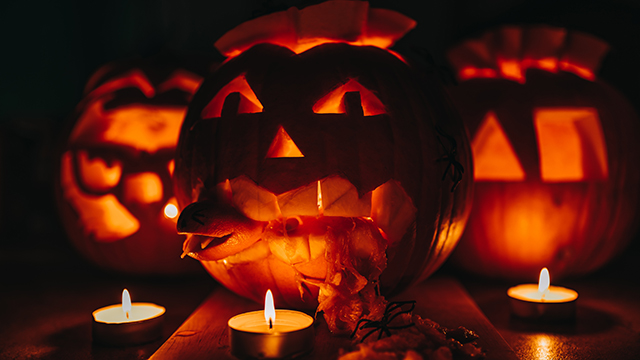 Discover the mesmerizing Rise of the Jack O'Lanterns at Old Westbury Garden in Long Island, featuring 5,000 hand-carved Jack O'Lanterns along a walking path with eerie music. It's a must-do fall activity. Long Island (accessible via public transportation from NYC's Penn Station) also offers several haunted houses and U-Pick pumpkin patches.
Attend NYC Fall Festivals and Holiday Events
New York Film Festival
If you're a film enthusiast, consider catching a screening at the New York Film Festival, which typically takes place in September and October.
Halloween Parade
If you're in the city on October 31st, don't miss the Village Halloween Parade in Greenwich Village. It's a spectacle of costumes and creativity.
Thanksgiving Day Parade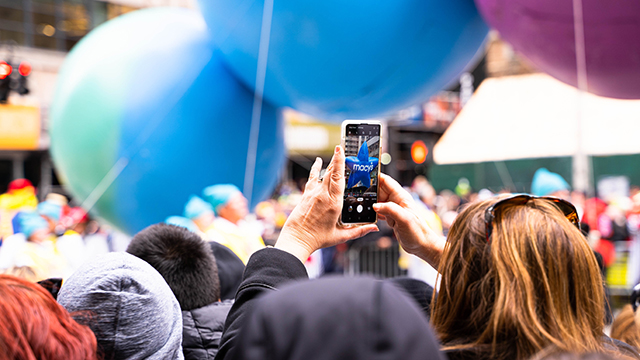 If you're visiting in late November, watching the Macy's Thanksgiving Day Parade is a quintessential NYC experience. To secure a good spot, it's recommended to get to the west side of Central Park West from West 75th to West 61st Streets by 6 a.m.
Obsess over the fall décor and eat your way through Eataly
Massive Italian food hall Eataly goes all out with their seasonal decorations. Visit here to experience cozy fall décor and enjoy high quality Italian food.
Make HI New York City Hostel  your home base for your NYC fall explorations. The property offers a range of affordable accommodations from dorm rooms to private rooms. Its prime Upper West Side location puts you just a short distance from many of the top NYC fall attractions including Central Park.
From free and low-cost activities to budget-friendly food options, the city offers plenty of opportunities for an affordable and memorable trip. So, pack your sweater and your sense of adventure and get ready to experience the magic of NYC in the fall.