One of the most important things you need to pack for your trip to HI Washington DC hostel is a pair of good walking shoes because there's simply so much to be explored using just your two feet. There is, of course, the entire National Mall with the White House, Capitol Building and the Smithsonian Museums that are must-dos for any first-time visitor, but once you've ticked those off your bucket list, you'll discover many off-the-beaten-path gems also within walking distance of the hostel. So, lace up those shoes and go check out some HI Washington DC-approved spots that'll get you seeing the city like a traveler, and not just like a tourist.
1. The National Postal Museum
While it is part of the free Smithsonian Museum group, the National Postal Museum is one of the more underrated exhibitions to visit. You'll be surprised at the fascinating history of America's postal service as you stroll through the galleries featuring historic stamp collections, displays of the evolution of mail transportation, and examples of how the postal service has continually adapted in the ever-changing world. There are also a number of rotating exhibits highlighting things like the intersection between the mail and national parks, and New York City culture through original stamp art. The museum is about a 20-minute walk from the hostel down Massachusetts Avenue.
2. The International Spy Museum
The International Spy Museum does not have free entry like many others in DC, but if you're into the intrigue and mystery of real live espionage then it's totally worth the cost of the $21.95 ticket. Learn about what it took for spies to go under cover, get lost in the fascinating collection of photographs, archival films and various intelligence objects like disguised weapons, and see how you'd do as an international spy at one of the interactive experiences. Keep an eye out for regular events like book signings and lectures. The museum's about a 13-minute walk to the Spy Museum, which is also on the way to the Postal Museum.
3. Franklin Square Park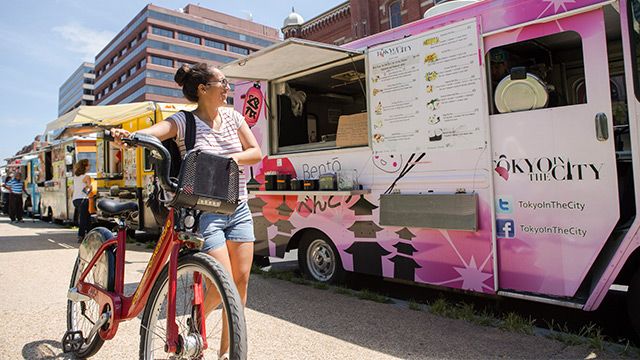 While you're exploring the streets of DC's downtown, make sure that wherever you are, you make a beeline for Franklin Square Park at lunchtime for the food truck rush during the week. Here you'll mix and mingle with local office workers and lazy lunchers as they line up for delicious Mexican, Mediterranean and American Southern eats to enjoy on a bench under a shady tree. Once you've had your lunch, take a stroll around and look for the historic statue of Commodore John and the fountain in the middle. It's just a 6-minute walk from the hostel to the park.
4. El Rinconcito restaurant
Fuel up after a day of exploring at this beloved local spot for tasty Mexican and El Salvadorian food, like belly-filling burritos and pupusas. El Rinconcito, which comes recommended by the in-the-know front desk staff at HI Washington DC hostel, is a small, nondescript eatery perfect for a hungry traveler since their big plates come at extremely reasonable prices, and it's a great place to try some new foods. Gather a gang of friends from the hostel so you can experience some authentic Latin American eats together. Deliciousness is just a 4-minute walk from the hostel up 11th Street.
5. Chinatown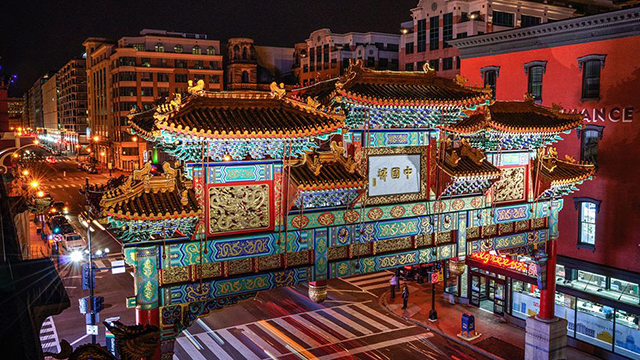 Sure, you can find a Chinatown in most major cities in the U.S., but you'd be hard pressed to find another one that houses the former site of a presidential assassination plot: the Wok & Roll, now a sushi and karaoke bar, used to be a boarding house and was where John Wilkes Booth and fellow conspirators met to plan Abraham Lincoln's assassination. You can stop at this and many other restaurants for cheap and tasty Chinese food, and be sure to check out the opulent "Friendship Archway," a traditional Chinese gate at the H street entrance. The Chinatown gate is just a 12-minute walk from the hostel.