There are giants in California. They jut out of soil dampened by fog rolling in from the Pacific and reach greater heights than any other living thing on the planet. They are the coast redwoods: the world's tallest trees. Many of them grow to be over 200 feet tall and the tallest soar to over 350 feet -higher than a 30-story building. Many have been around for centuries, or even millennia. When you're in the middle of redwoods and look up, you won't be likely to see the tops of the trees, and it's fascinating to realize there's a hidden world in the canopy above. For many people, being in the presence of these giants rouses feelings of reverence and awe for the Earth. So, where can you see these amazing trees in person? The coast redwood habitat extends from the southern coast of Oregon to California's Central Coast, and there are a number of national and state parks full of redwoods near HI USA hostels. Here are seven places in Northern California where you can experience the coast redwoods.
1. Muir Woods National Monument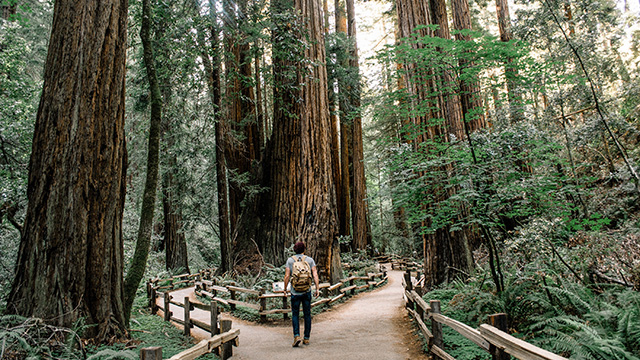 Named after John Muir, California's preeminent conservationist, Muir Woods is one of the state's most popular redwood groves. This old-growth redwood forest was established as a national park in 1908. The main path that visitors stick to is a gentle walkway filled with educational placards, but there are also a number of trails for longer, secluded hikes. Just 12 miles north of San Francisco, Muir Woods makes for a good day trip from the city.
2. Big Basin Redwoods State Park
In the hills that extend several miles inland between HI Pigeon Point Lighthouse hostel and HI Santa Cruz hostel, you'll find Big Basin, California's oldest state park and a California Historical Landmark. It covers 18,000 acres, filled with over 80 miles of trails and a large number of ancient redwoods. In addition to coast redwoods and several waterfalls, the park is home to a wide variety of animal species including deer, frogs, woodpeckers, banana slugs, coyotes, and bobcats. Across the street from the Highway 1 entrance to Big Basin is Waddell Beach, a popular spot for windsurfing and kiteboarding.
3. Butano State Park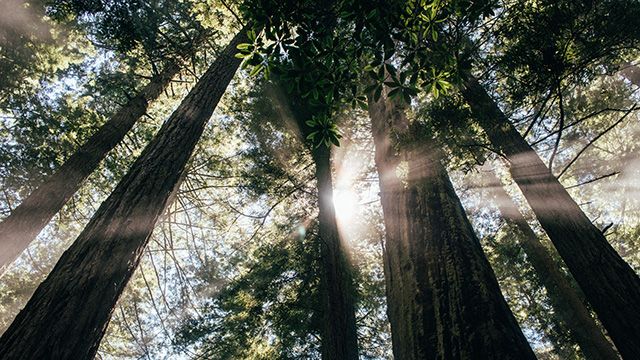 If you're looking for a peaceful walk through the redwoods, Butano State Park is a great option. About 6.5 miles inland from HI Pigeon Point Lighthouse hostel, this is a lesser-known park that's full of streams that flow year round. Its secluded location means there are often fewer crowds at this park. While you're here, try to find the Candelabra Tree, a redwood with five huge branches (each as big as trees themselves) protruding from its massive trunk.
4. Samuel P. Taylor State Park
13 miles away from HI Point Reyes hostel, Samuel P. Taylor State Park contains a combination of coast redwood forest and open grassland. This park is named after Samuel Penfield Taylor, a man who struck it rich in California's Gold Rush and invested his wealth in land and businesses in Marin County. There are a number of different types of landscapes and trails here, so if you're looking for redwoods, follow the Pioneer Tree Trail. Samuel P. Taylor also includes part of Lagunitas Creek where you can find salmon and trout spawning in the winter. In the park's grasslands, keep your eyes peeled for the springtime wildflower bloom.
5. Portola Redwoods State Park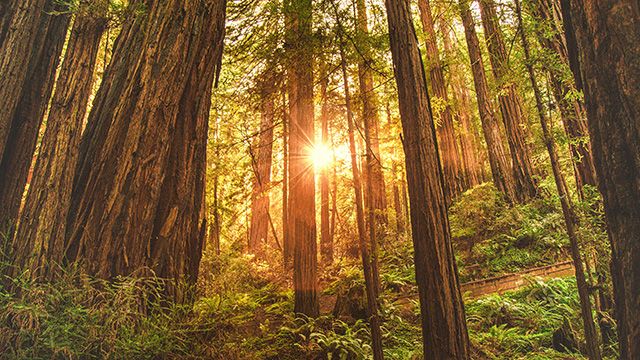 Tucked away in the hills east of Highway 1, near both HI Point Montara Lighthouse hostel and HI Pigeon Point Lighthouse hostel, Portola Redwoods State Park is another secluded and serene place to visit the redwoods. This park has 18 miles of trails that connect with four adjacent San Mateo County parks: Pescadero Creek Park, Memorial Park, Sam McDonald Park, and Heritage Grove. The Sequoia Nature Trail loop makes for an easy introduction to Portola Redwoods, though there are more challenging hikes here, as well.
6. Henry Cowell Redwoods State Park
Just 5.5 miles north of HI Santa Cruz hostel is Henry Cowell Redwoods State Park. This park is centered around a grove of old-growth redwoods, including trees that are 1,800 years old and 300 feet tall. You'll also find giant sequoias — the world's most massive trees –in this park. Beyond the main loop, there are trails leading to sandy beaches on the San Lorenzo River and overlooks that offer impressive views of Monterey Bay.
7. Wilder Ranch State Historic Park
Wilder Ranch provides a wonderful opportunity to visit both the redwoods and the ocean in one hike on the Pacific to Redwoods Loop. Starting just off of Highway 1, this challenging 12 mile hike will take you along the craggy cliffs of the Pacific coast and up into a redwood forest before bringing you back to the ocean. A little under 5 five miles away from HI Santa Cruz hostel, Wilder Ranch is also popular for its historic buildings and living history days.