A last-minute opportunity had presented itself: the chance to attend Outdoor Retailer, the largest outdoor industry trade show in North America, known for its amazing exhibits, floor parties and fortuitous deal-making vibes.
A work colleague had a sudden conflict, and that extra badge could be mine. As a partnerships manager in the travel space, I jumped at the chance, visions of slacklines, jam bands, and signed contracts dancing in my head. Then I looked up hotel rooms. All booked up. Unless I wanted to pay a fortune or post up an hour away, I was out of luck.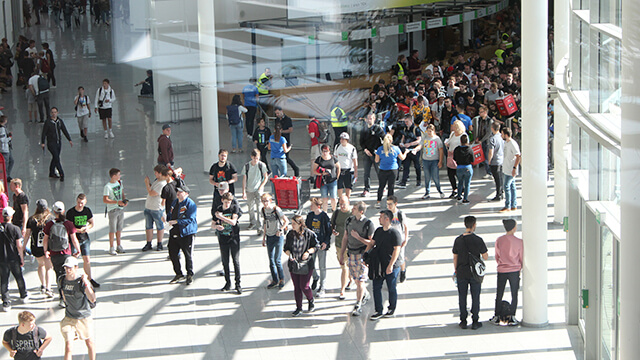 So, I turned to a tried-and-true method from my backpacking days: hostelling. Pretty quickly, I'd found a hostel bed near the convention center for a low, low price. But to be honest, I wasn't sure about staying at a hostel for a work trip. Hostels' laid-back vibes had fit the bill when I was younger and traveling for fun, but would their more casual accommodations set me up for convention success now?
I didn't want to blow my chance. I trusted my gut and booked the bunk.
In the end, not only did the hostel serve me right with a solid bed, a big kitchen for breakfast, and a relaxing place to unwind with global travelers at night, it gave me a great icebreaker story to tell while at the show: Staying at the hostel was a point of differentiation that helped me stand out on the crowded convention floor.
Hostels are like that: Different from the cookie-cutter feel of a hotel, and cheaper than service-charge-crazy Airbnbs (cleaning fees, amirite?). They have unexpected quirks and nuances, and can be surprisingly conducive to business trips, whether you're flying solo or traveling in a group.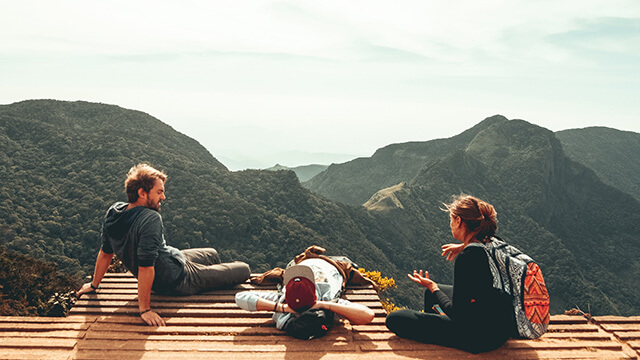 Richard Campbell confirms. He runs 10Adventures, an outdoor trip-planning company with a remote team that gathers annually to strategize and bond.
"Last year we brought our entire team to the Canadian Rockies and stayed at the HI Canmore, Alpine Club of Canada hostel for three nights," he says. "Each day was incredible."
The team followed a daily plan:
Set a topic for the day
Go hiking and let the conversation flow
Regroup in the evening to cook dinner at the hostel
Recap the day, then keep hanging out, playing cards and chatting into the early hours
The hostel brought the whole team together, Campbell said, "cooking, laughing and talking."
"It was also incredibly economical and easy for a large group to organize."
Hostel Stays for Work Trips – Pros & Cons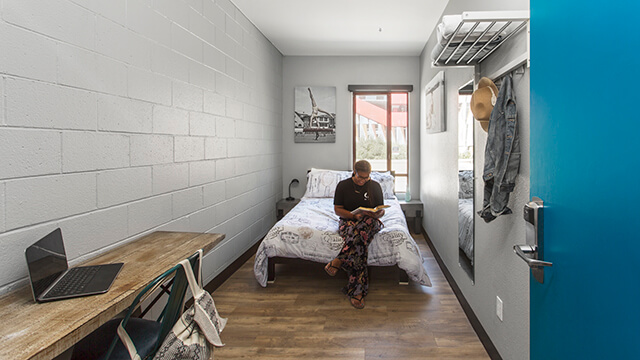 Not all work trips are the same. If you're considering staying at a hostel for work, weigh the pros and cons with your specific situation in mind.
Pro: Hostels are budget-friendly. With inflation running rampant and expense accounts tightening up, a hostel stay can make your finance colleagues smile. If you're bootstrapping a startup or juggling your own clients, that smiling face will be your own.
Con: Privacy can be a challenge. Will you need some dedicated solo space on your business trip? Want to practice a key presentation in the mirror, or make sure your fragile product samples are extra safe and sound? Be honest with yourself about your needs.
One option: some hostels have private or semi-private rooms available. Just note they can book up in advance. If you want the atmosphere of a hostel but the convenience of your own lock and key, explore this option.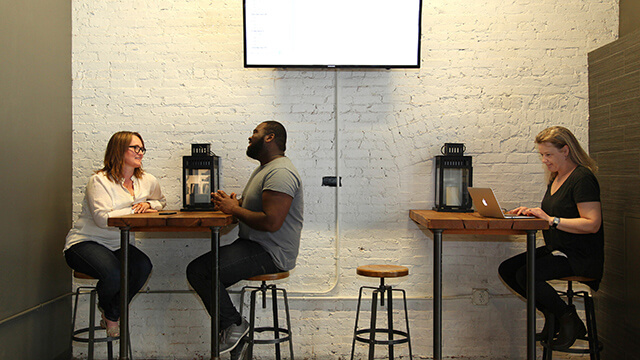 Pro: Strong Wi-Fi abounds. In the era of the digital nomad, hostels know the importance of strong internet connections for their guests. More and more hostels offer business amenities now too, like printers or dedicated quiet workspaces. The option to work in the hostel cafe or common area by day before turning to more social endeavors at night is part of hostels' unique work-life charm.
Con: Most likely, you'll share a bathroom. Plenty of hostels do have options for private rooms with private bathrooms, but if you're thinking about a luxurious soak in the tub after a long day of high-intensity meetings, a hostel might not suffice.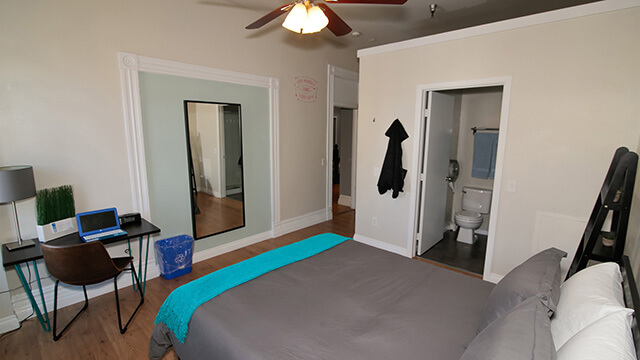 Pro: Hostels are conveniently located. You can rack at hostels in central business districts and by convention centers around the world. Walk to Comic-Con in San Diego, anyone?
Con: Parking can be hit or miss.
Pro: Highly social hostels are great for meeting new contacts. Sometimes you'll find fellow conventioneers staying at the hostel, too.
Con: They can get noisy. If you're writing a screenplay or key lines of code, carry some noise canceling headphones.
Pro: Many hostels offer access to group activities. Check to see if your hostel leads walking tours, pub crawls or pickup sports. All work and no play makes for a dull business trip!