We all have been part of groups that wondrously reveal an unexpected chemistry. Perhaps at work, on a sports field, or while on travel: personalities click, conversations soar, and energy fills the air. For a moment in time, you feel like you are part of something amazing.
That's what I found earlier this month at HI Chicago hostel, when I participated in the final day of the 2022 IOU Respect program with nearly two dozen young people from five different countries – Egypt, France, Germany, Lebanon, and the USA – who'd been strangers just two weeks before.
IOU Respect has its origins after September 11 as a response to the deep gulf of misunderstanding between Arabic and Western cultures. That DNA continues to shape the program to this day.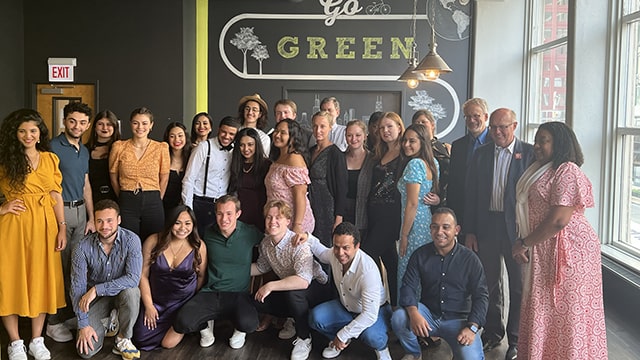 Mongi Baklouti, a visionary Tunisian business leader who served on the International Youth Hostel Federation board, was deeply concerned about the global divisions and felt like hostels should have a role to play. We conceived the program over lunch together in a Copenhagen restaurant: the program should be based at hostels; participating countries ought to be represented by their national hostelling association; and each national association ought to have an equal say in the program's delivery.
The idea received instant support from Angela Braasch-Eggert and Bernd Dohn, then leaders of the German youth hostelling association (DJH) and visionaries in their own right. As a program co-founder, DJH suggested "IOU Respect" as the name, and it was adopted by the collective. Egypt and France quickly joined, with Lebanon rounding out the six-country partnership.     
The first IOU Respect program was held in New York City in 2006, and has rotated annually among the countries since then, except for a two-year hiatus in 2020 and 2021 due to the pandemic.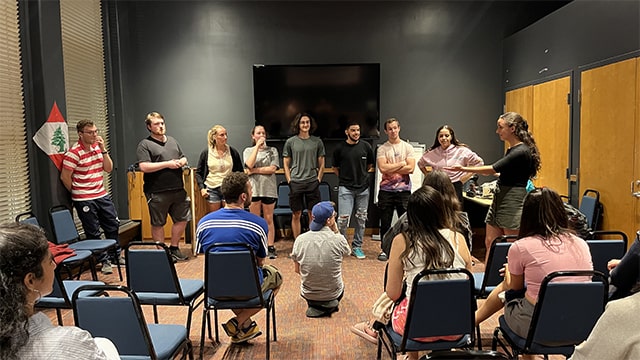 In Chicago, the 19 participants from five countries, ages 18-25, had all met for the first time just 13 days earlier (one of our founding countries, Tunisia was unable to participate this year, but will host 2023 activities). The hostel served as both their home and learning center, using a curriculum agreed to by the six countries several months before. HI USA's Senior Director of Education Candice Washington was front and center, creating a climate of belonging; developing an engaging, neighborhood-focused agenda; and enlisting a skilled dialogue session facilitator whose feet were planted in both Arabic and Western cultures.
By the time I joined up with them, the group seemed filled with mutual appreciation and shared laughter and practiced in tackling tough discussion topics. They drew amazing energy from each other that at times seemed refreshingly unharnessed. In a small group dialogue session, I found participants who each held their own opinion yet showed active respect for others'. They described the program as opening a new and unexpected door for self-discovery and spoke earnestly of the need for continued self-exploration when they returned home.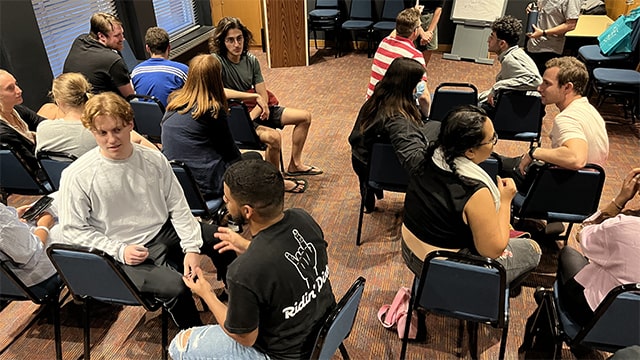 Participant feedback was enthusiastic:
"I loved the most to meet all the people here and sharing all the same experience, talking about all our experiences from different country and realized we are all in this together and made a family."
"It was a life-changing experience… during dialogue sessions, discussing the most controversial topics (gave) me the chance to learn more and say my opinion."
"Everyone was so loving and insightful, and it really felt like a family… Bridges were built and deep loving relationships were made."
"It changed the way I see things in a major and unexpected way."
When I walked onto the plane to leave Chicago, I felt both inspired and obligated. The program had delivered on its goals of building mutual respect, understanding, and tolerance. Now we must build support for expanding our program model to include more young people. I'll keep you posted!