Major League Baseball's Cleveland Guardians just finished up their 2023 season in Detroit after 162 games, and so did their biggest fan, Peter Knab. Peter, who has cerebral palsy and uses a manual wheelchair to get around, pulled off the impressive feat of attending every single Guardians game this season: that's each and every home game in Cleveland, and every last away game all over the rest of the United States. That means he didn't just show up for all 162 games this year: he planned the travel logistics to get to each of them, whether they were across town or across the country, racking up 28,000 miles of solo travel in the process.
Along the way, Peter has been staying at HI USA hostels in San Diego, Los Angeles, San Francisco, Chicago, Boston, and New York City. Staying in hostels has made it possible for Peter to afford such a long period of travel, he says, and the wheelchair-friendly amenities he's found at HI USA hostels – like ADA dorm rooms, roll-in showers, and elevators – have taken some of the stress out of planning accessible travel.
"That's one of the things I've noticed throughout HI USA hostels: it's not something I have to request, it's just there."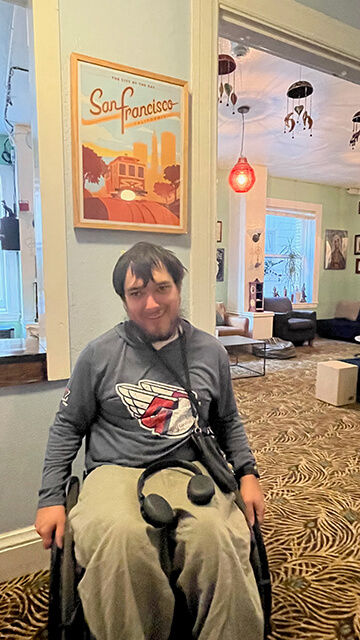 We've been checking in with Peter throughout the year, and got the chance to meet him in person during his most recent stay in San Francisco in September. Hanging out in the HI San Francisco Downtown hostel guest lounge between back-to-back nights watching the Guardians play the Giants at Oracle Park, Peter caught us up on what it was like to be nearing the end of an epic couple of months.
HI USA: Last year, you attended 129 Guardians games, and this year you're going to 162. How has this time around compared to last time?
Peter Knab: I think it is just a different level of grind on the body this time, just because by the end of this it's going to be over 28,000 miles this season. It's been intense but it's also been rewarding. My following has been growing; I've gotten great support on my GoFundMe. It's been exhilarating, exhausting, rewarding, all kind of combined into one.
HI USA: You're so close to the end of the season – how do you think you'll feel when this is finally all over?
PK: I know once I finish it it's going to feel incredible, regardless of how the season finishes. We (the team) are struggling a little bit, but regardless this will still be something I'll never forget. It's going to feel so good when I finish it up, which will be coming up in just a couple of weeks in Detroit. Actually the Detroit Tigers are going to recognize me during game 162, so that's pretty cool. I know they'll be doing something during the final home stand in Cleveland. I've been joking with the Guardians lead communications guy that he's essentially been my PR manager because he's helped to organize everything.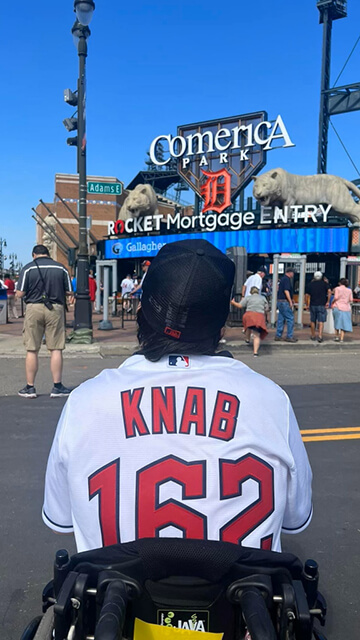 HI USA: It must have taken a lot of scheduling and planning – there are a lot of moving parts.
PK: Honestly by now I would have thought that I would have missed a few games. Obviously, the goal was 162 but I was kind of preparing myself for the reality that I might miss a few here and there just because of airlines and delays. But yeah, I haven't missed a game yet.
HI USA: Sounds exhausting!
PK: I just keep on traveling so many miles, it's just been incredible. But I've gotten so used to it. You know how they say, "Show up two hours early for a flight"? I like to say that's only if you don't know what you're doing at the airport. You're probably not gonna believe this, but on Sunday night when I was flying out of LAX, I showed up at the airport 20 minutes before boarding. I know pretty much every airport in the country at this point.
There are days when I'm going, going, going, and then there are days when I'll be pretty lazy. I create off-days for myself because there are very few in the schedule.
HI USA: What's been the most unexpected thing to happen this season for you?
PK: One of the craziest experiences of the season happened in Chicago as I was getting on the CTA train. I usually go backwards to get on the train, and I've done it many times, but I ended up falling backwards this time. This chair I'm using right now is actually a backup chair because my other chair broke when I fell backwards; that was in July after a Sunday night game.
I was able to get back to HI Chicago with my handlebars from my chair kind of dangling on the ground. I was flying the next morning, so I was like, "I just gotta get to the airport." And luckily, I was still able to get to O'Hare with the chair in that condition. Probably in the off season I need to get a new chair, because not only have I been to 162 games but so has my chair. I put my chairs to good use, that's for sure.
HI USA: What about some of your favorite things that have happened this season?
PK: When I was staying at HI Los Angeles Santa Monica hostel, I was able to rent a beach wheelchair that I found out about from Roll with Cole & Charisma at Perry's Café and Beach Rentals in Santa Monica. This thing was like a tank! It was the first time I've ever actually been on the beach. I saw the sunset. I went up and touched the water. I might go back to Santa Monica in December because the (Cleveland) Browns are playing – I might come just to use that beach wheelchair!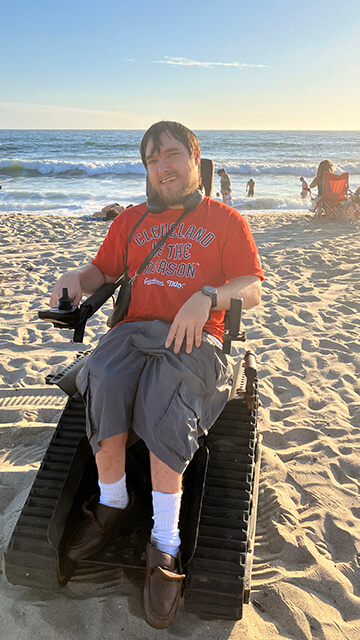 HI USA: Your game schedule is so packed – do you ever have time to actually explore the cities you're visiting?
PK: It's crazy how familiar I've become with other cities. I've been to Chicago probably 10 times at this point over the last several years, and even here in San Francisco, I've been here three times now. I've been to LA four times now. I've been to Boston several times. So, I know those cities very well. It's funny, in Chicago, some of the restaurants know what I want to order – I'm a regular in Chicago, which is weird. But I guess that's what happens when you do the MLB schedule.
One of my favorite things to do in Chicago is the architecture boat tour. I've done that like five times now – every time I go to Chicago I do that because I really enjoy it. I was in Chicago three separate times this year. There were some times at the beginning of the year where I wanted to go out more but because of bad weather earlier in the year, I just stayed in – I was also just trying to pace myself.
HI USA: Do you think you'll do the whole season again next year?
PK: I've already been looking at our 2024 schedule and I can almost guarantee I'm not going to do 162 games in 2024 unless I get some kind of massive sponsorship. But there are a couple of ballparks I want to get to. I only have four ballparks left (that I've never visited) – I've been to 26 of the 30. I just need to get to Atlanta, Miami, Milwaukee, and Philadelphia; that's it. So, I'm gonna try to do that next year.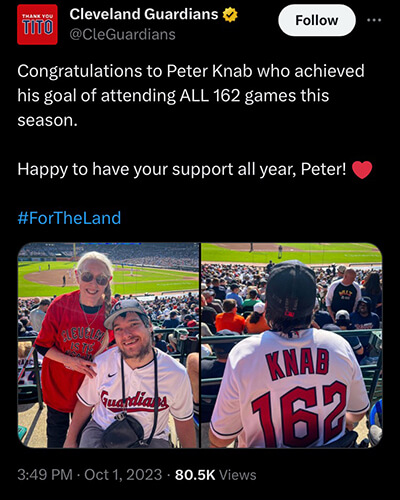 HI USA: What's it been like staying at HI USA hostels for so many of your trips this year?
PK: Honestly if I could do an entire 162 schedule at HI USA hostels, I would. If that happened, I'd do 162 again in a heartbeat.
HI USA: We're really thrilled we could be a part of your journey.
PK: My bank account is glad that you were a part of it, too!
HI USA: What are you going to do with all your free time once the baseball season is over?
PK: I need to travel somewhere during the winter just because it feels weird not to travel. I'm also gonna check the Cavaliers schedule, the Browns schedule. There's gotta be some sporting event involved.
HI USA: So, not really taking a break, then?
PK: A down year for me would be if I did 100 games!