Peter Knab, a Cleveland Guardians super fan who's following his favorite baseball team on the road for the entire 2023 season, will attend over 80 away games across the country this season (as well as every home game). While that's impressive on its own, what's even more amazing is that he's doing it all from a wheelchair.
Peter's staying at HI USA hostels in major cities along the way, and we'll be keeping up with him throughout his travels, bringing you his perspectives on trip planning, hostelling, and navigating solo travel from a wheelchair. To kick things off, Peter took some time to talk with us about accessibility at hostels. When we reached Peter, he was enjoying his second stay at HI Boston hostel while attending Guardians vs. Red Sox games at Fenway Park.
HI USA: Your first HI USA experience was staying at HI Boston back in 2019. What surprised you about your stay at the hostel?
Peter Knab: There were three things that surprised me and impressed me:  One: Location, particularly relative to public transportation. Two: Price (I had, and in many ways still have, a very tight budget to work with when I travel). And most important, for me, was the focus on accessibility that was obviously embedded in HI Boston from the moment I arrived. The very obvious ramp at the door (not shoved off to the side), the automatic door button at the top of the ramp to get into the lobby area, the staff making sure I had a bottom bunk before I'd even mentioned it.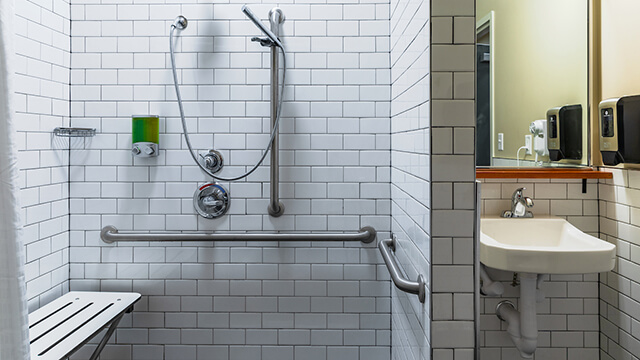 Then, to top it off, when I got to my floor and went into the restroom, I was blown away by what I just saw in the shower area. I have never been to a place that has roll-in shower with benches standard on every floor. Normally at a hotel, I'm lucky to get one of those after requesting it three times. So, seeing that at HI Boston, and subsequently at other HI USA locations, is something that I am extremely grateful for. It is a huge thing to know that I will have that kind of shower without having to jump through hoops, or seem like an inconvenience to the staff: instead it's just normal, it's just there, and that's a big thing. That's what makes me excited to go back, not only to HI Boston, but to other hostels throughout the network.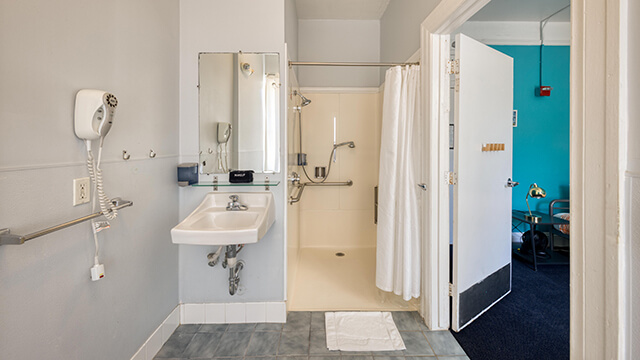 HI USA: Your schedule has you spending a lot of nights in hostels this year. What makes HI USA hostels an appealing option vs. hotels or home rentals when you are spending that much time away from home?
PK: Again, I will go back to price: HI USA is a huge reason why I was able to attend 129 games last year, and it will be a huge reason why I will be able to attend 162 this year! Also, all the other things I've mentioned above, as well as just getting to meet interesting people from a wide variety of cultures and backgrounds that I normally wouldn't get to meet in a standard hotel setting.
HI USA: Can you tell us about your experiences staying in dorm rooms at HI USA hostels?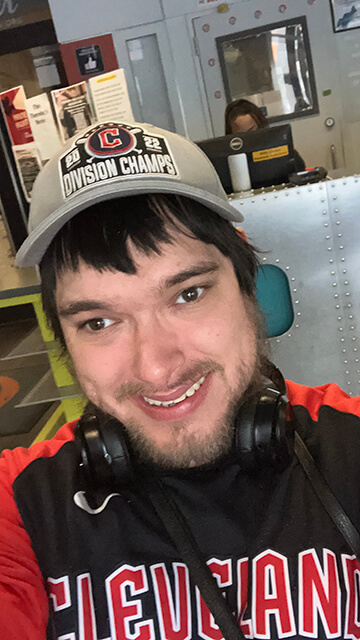 PK: Yes, the dorm set up has been able to accommodate me. I was a little surprised the first time, because I wasn't sure if it was going to work. But as I mentioned, the staff has always been great about ensuring that I have a bottom bunk, which is obviously huge for me. Beyond that, most of the time, I am able to put my chair up against the wall in a way that doesn't impact my roommates, and my roommates have largely been very considerate and helpful about that. If there is ever an issue, the front desk is always very helpful in figuring it out.
HI USA: You put a lot of time and effort into understanding a new city's public transportation system before you visit, and have gotten quite good at navigating new systems. Do you have any tips for other travelers with limited mobility who are interested in using public transportation while traveling?
PK: My biggest tip would have to be using the "wheelchair accessible" filter on Google maps transit; that is certainly a tool that helps a lot. Especially in certain cities where accessibility is still lacking, such as NYC for example.
HI USA: When you're planning a trip, what kind of research do you do in advance to determine where you'll stay?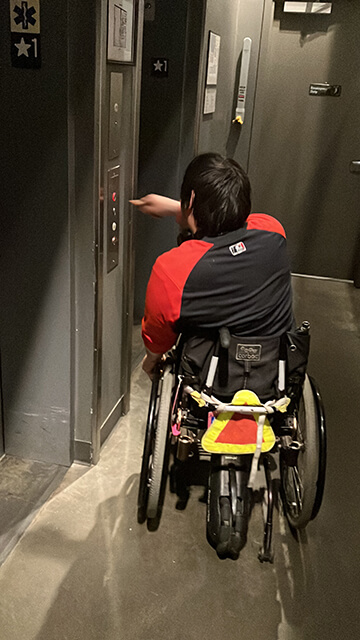 PK: As I mentioned, sometimes it can take a lot of work just to get a shower in my room that I can easily use, but at HI USA the ADA showers come standard, which I love. I try to do a ton of advance research about the local area right down to Google Street view so that I know what I'm getting into from my physical standpoint. And I always have to double check for even the most basic things, like elevators. It takes a lot of research, but I enjoy doing that research to make it work.
HI USA: What would you say to someone with limited mobility who is trying to decide whether or not to stay in a hostel for the first time?
PK: I would say, particularly at HI USA, you have a place that is going to accommodate you as a standard, not as some sort of awkward special request. There are so many options out there available to you! Yes, it requires a lot of research and planning, but there are so many opportunities out there, and HI USA has been a big part of (that adventure) for me.