Cleveland Guardians superfan Peter Knab is seriously committed to his favorite Major League Baseball team. This year, he plans to attend all 162 of the team's regular season games, including a whopping 81 games on the road, following the team's own hectic travel schedule all over the United States. Peter's doing all of this – working at "the grind" as he calls it, before laughing and acknowledging that it's "a fun grind" – because he loves baseball. He's doing it because he loves travel. But most of all, he's doing it because he knows he can.
Peter was born in 1996 with cerebral palsy and uses a manual wheelchair to get around. He's always been a fan of his home team, and growing up, he'd attend games in Cleveland with his dad, who'd help him navigate to and around the stadium.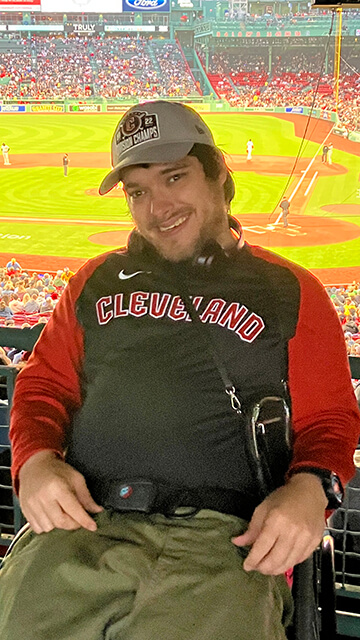 But in 2016, Peter's dad got sick, and Peter was left with a choice: stop going to games, or figure out how to attend them on his own.
"In the middle of the 2016 season, that was when I had to out of necessity become more independent," Peter says. "So, I started going down to the ballpark more and more here in Cleveland, going to a ton of games."
By the end of the 2016 season, he'd become so confident getting to and around Cleveland's Progressive Field that he thought he'd take the next step and try some away games. His first ones were close to home: Detroit, Cincinnati – cities he could take a bus to. By 2018, he'd started experimenting with train travel, hopping on Amtrak to see the Guardians play in Chicago.
You could say it snowballed from there.
"I just kind of realized how my love of baseball and my desire to travel independently intersect, because baseball has so much travel in its schedule," Peter explains. Over the course of 2021 and 2022, he attended well over 200 Guardians games, both at home in Cleveland and on the road. This year, he's going after his most ambitious attendance record yet, which will include every game his team plays on the road. The season will take the Guardians, and Peter, all over the country, from New York City, to Boston, to San Francisco.
How will he do it? One of his top travel hacks will be staying at HI USA hostels wherever possible.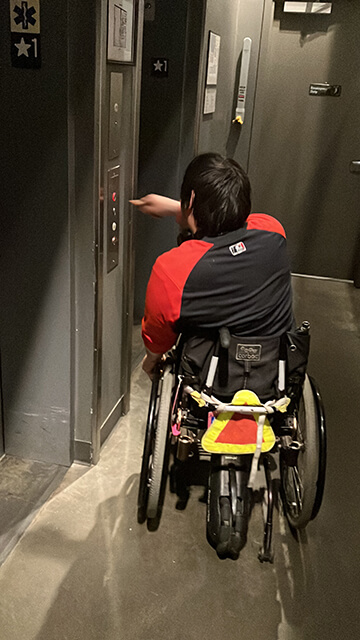 "HI USA has been a fantastic ally in my ability to travel more," Peter says. "Both from a financial standpoint and an accessibility standpoint, it's definitely made it all possible."
Over the course of the 2023 season, Peter will stay at HI New York City, HI Boston, HI Chicago, HI San Diego Downtown, HI Los Angeles Santa Monica, and HI San Francisco Downtown while attending Guardians away games.
We'll be keeping up with Peter throughout his travels, bringing you his perspectives on accessibility, trip planning, hostelling, and navigating solo travel from a wheelchair.