Updated May 2023
Los Angeles is the city of stars, lights, and dreams. So many people visiting LA have fantasies of running into their favorite celebrity, or being discovered by a talent scout in Hollywood, Beverly Hills, or Venice. But in a county of over four million people, there's so much more to do than exploring just the most touristy spots. If you want to get to know off-the-beaten-path Los Angeles, spend some time checking out a few of this local's favorite less-touristy areas.
Editor's note: The geography and classification of all the places making up "Los Angeles" can get pretty confusing. There's LA County, the City of Los Angeles, many other independent cities with different names that are nonetheless considered a part of Los Angeles, and individual neighborhoods within each of those cities. While this post covers all of the above, we won't get bogged down in the details of city vs. county vs. neighborhood. It's all LA, so get out there and explore it!
Culver City
If you're looking to take a romantic stroll at night, enjoy a beautiful sunset, and eat some of the best food LA has to offer, consider visiting Downtown Culver City. It's 10-minute walk from the Culver City stop on the Expo Light Rail from Santa Monica to Downtown LA to the newly designed Culver City Town Plaza, with outdoor tables, chairs, and great views of downtown from atop the Culver City Steps. Local artists perform live music in front of the area's outdoor restaurant seating, so you get a meal and entertainment! Here you can find every type of food: Southern, Jamaican, Italian, Indian, Irish, Mexican, French, Chinese, and more cuisines are all within about four blocks of each other.
North Hollywood
North Hollywood, or Noho as we locals like to call it, is the home of young artists: think musicians, actors, dancers, sound producers, writers, and other creatives. Most everyone who moves to LA in hopes of "making it big" will end up living here at some point. Not surprisingly, a big draw here is the Arts District area. My favorite place to visit in the Arts District is the Television Academy — I take my brother's dog for a walk there often, as they have many grassy areas perfect for running around or even just enjoying the LA sun. Much of the museum of the TV Academy is located outdoors, so you can read about the history of some of the most prolific people in TV over the years even before even entering the Television Academy. I've gone to many screenings here as well that are usually free.
Not interested? No problem! Noho has lots more to offer on Lankershim Blvd., including plenty of restaurants and a great nightlife scene. The best part about Noho is that it feels incredibly safe, even for a solo female. There are always people out and about and it's a great time.
Local secret: There's an apartment building called The Lofts at Noho Commons that was painted by a French Artist, Thierry Noir. Some think it's really cool; some think it's a bit unsettling. Check it out and decide for yourself!
Marina Del Rey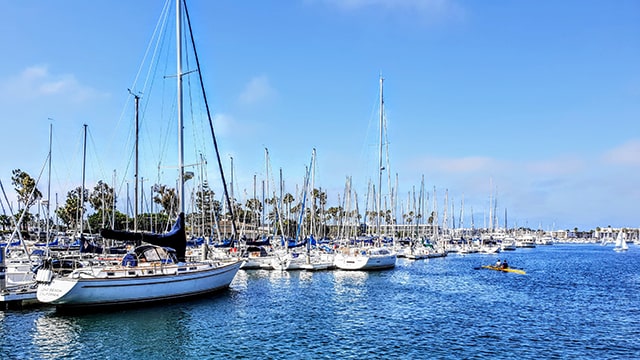 When it comes to beach cities, Marina Del Rey takes the cake for me. It's less touristy than Santa Monica or Venice (though you can get there by bike from HI Los Angeles Santa Monica hostel in about 20 minutes), and I always get such a serene feeling walking through town. Take a stroll along the dock and see all the expensive boats, or take in a movie at one of my favorite theaters. I always enjoy seeing a show at the AMC Marina Dine-In 6 because you can order food while watching the latest movie. They have free parking and it's in a popular shopping area.
Marina also has a lot of dog-friendly parks that are great for picnics and other outdoor activities. Rent a bike or e-scooter and ride along the Ballona Creek path for a beautiful view of the Pacific Ocean with unique wildlife along the way.
Echo Park
Calling all Hipsters! Okay, just kidding. Echo Park could be stereotyped as the place for hipsters, but it's incredibly fun for anyone. The Echo Park neighborhood is close to Downtown LA, so an Uber over is super simple. The neighborhood's named after the park it surrounds, as is Echo Park lake in the center. If the weather's nice (and it pretty much always is in LA), grab a friend and rent a two-person paddle boat shaped like a swan to explore (it's a great non-touristy thing to do in Los Angeles). The middle of the lake has a large fountain that's beautiful to look at both during the day and at night. A stroll around the lake is equally satisfying and will give you enough time to have a deep conversation with your walking buddy.
For all of my baseball fans, Echo Park is also home to Dodger Stadium, where our very own Los Angeles Dodgers play their home games. After the game, see who's performing at the Echoplex.
If you're looking for the perfect Instagram spot in the area, head over to Elysian Park. The whole park looks like it could have been a filming location for Jurassic Park. There's also rope swing that offers a popular photo-op for an iconic overview of LA. Influencers, you're welcome!
Pasadena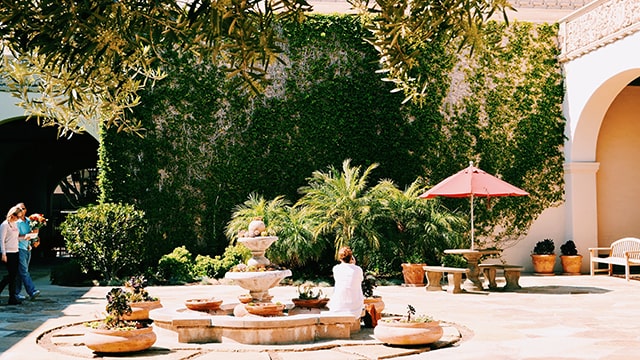 I think Pasadena is one of the most slept-on cities in LA. It's filled with such rich culture, but I feel like people forget about it because it's kind of out of the way. To get there from LAX would be a hefty Uber bill, but I would argue it's so worth it. Take a walk around Old Town and immerse yourself in a fusion of cuisines from around the world. Enjoy a show at the Rose Bowl or spend all your extra cash thrifting and shopping at the Rose Bowl Flea Market, which happens the second Sunday of each month. Pasadena is absolutely beautiful, but make sure you have extra money to spend because it can get pricey.