When I moved to Los Angeles, I was certain I would need a car. This is a driver's city, famed for freeways and traffic jams. It is a sprawling metropolis, covering 469 square miles of varied terrain. "Massive" doesn't begin to describe it. So, do you need a car in Los Angeles?
I'll let you in on a secret: despite its size, you can still get around LA without a car. The Metro system gets a bad rap, but it's a robust web of trains, buses, and bikes that serves over 227 million people annually. Yes, a set of wheels helps, but I have lived and worked in Los Angeles for three years without a car, and I am in no hurry to change that.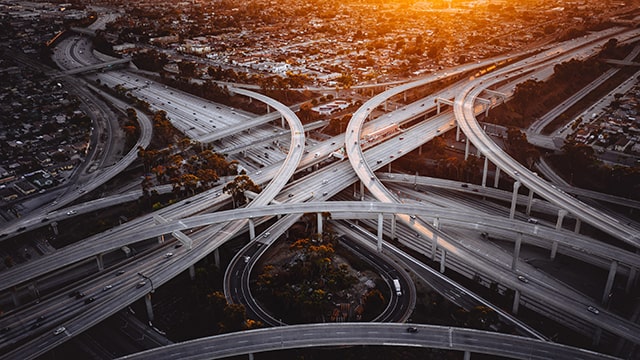 What about tourists, though? It is one thing to spend every day in the city, committing bus schedules and bathroom locations to memory. It is another thing entirely to show up for a week with no sense of where anything is. Working the front desk at HI Los Angeles Santa Monica Hostel, I am regularly asked questions like: "Can I do Venice Beach, Rodeo Drive, the Walk of Fame, and Griffith Park in one day?"
This is usually when I pull up Google Maps, turn my computer screen toward the wide-eyed traveler, and break down how to get around LA successfully without a car – i.e. how to not exhaust yourself and/or get lost while still experiencing the best of the city. Here are my go-to tips.
Make a plan and keep it simple
I am all for traveling without a plan and getting lost in a new city – most of the time. But Los Angeles is not the place to do this. It is too big, with too many neighborhoods that are not very walkable, for that to be an enjoyable experience.
This is the first piece of advice I give to the car-less tourist: pick a region for the day and stick to it. It can take a long time to get from Point A to Point B, so you will most likely want to start your day early so you can get to your destination with plenty of time to explore. Then you should stay in that general area for as long as possible so you don't have to worry about getting to the other side of the city – a journey that could possibly take a couple hours by bus or train – by a certain time.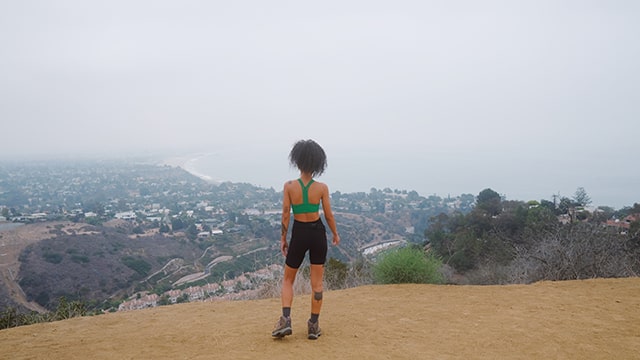 You want to see Venice? Make it a beach day, exploring Venice and Santa Monica by foot, bike, or bus. The Santa Monica Pier, Venice Boardwalk, Venice Canals, and Abbot Kinney Boulevard can easily fill an entire day's itinerary and are all in the same general area.
You want to see the Walk of Fame? Make it a Hollywood and hike day. Unless you really want to go to Madame Tussauds et al, the tourist traps of Hollywood Boulevard will take up only a fraction of your time. This gives you ample time to hop on the Red Line to Los Feliz and catch the shuttle to Griffith Park (and maybe stop for brunch at a cute café). At Griffith, you will almost certainly wear yourself out exploring the trails and wandering the grounds by the Observatory.
Get to know the LA Metro System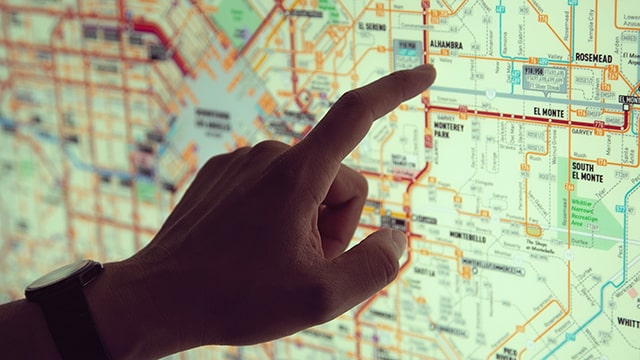 The other thing you need to know is there are numerous options for getting around LA via public transit. Make sure you purchase a Tap Card and load money onto it ASAP when you get here. You can register the card on your phone and use it on any mode of transport.
Light rail and subway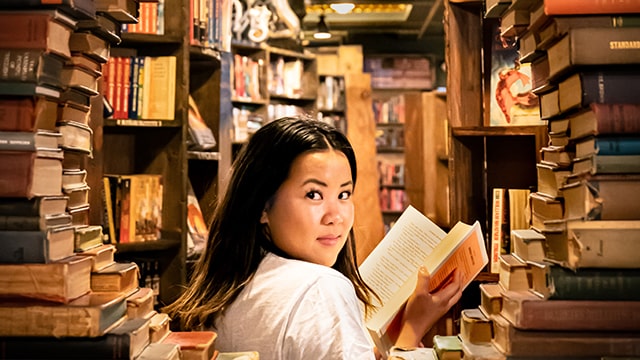 If you are staying at HI Los Angeles Santa Monica, you are conveniently located two blocks from the Downtown Santa Monica train station. Here, you can catch the Expo Line, which will take you through such prime neighborhoods as Culver City and Westwood, all the way to the LA transit hub of Downtown Los Angeles (also known as DTLA). It's a straight shot and an easy hour ride on the train to all the amazing sites of DTLA, like The Last Bookstore, Grand Central Market, and Little Tokyo.
Bus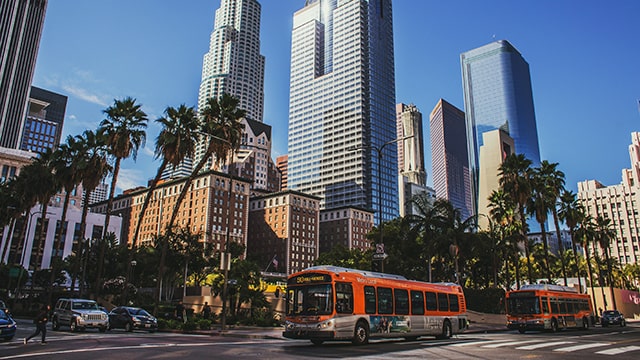 One thing local bus riders learn quickly is that most destinations require at least one bus transfer to reach, and transfers add time. However, there are some must-see locations that you can get to with just one bus. For example, the 534 bus goes straight to Malibu from Santa Monica and gets you there in under an hour. Multiple buses run straight through Beverly Hills, so you can save a little money to spend on Rodeo Drive.
By foot or by bike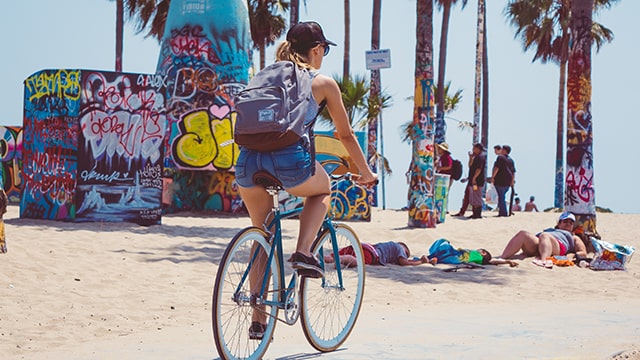 The walkability of LA's neighborhoods is hit or miss, but the beachside communities of Santa Monica and Venice are ideal for a stroll in the sun. The hike-and-bike path known as the Strand starts at Will Rogers State Beach, just north of Santa Monica in the gorgeous Pacific Palisades, and extends all the way to Torrance, past the Redondo Beach Pier. Covering 22 miles, the path will take you to such iconic sites as the Venice Boardwalk and Marina del Rey. Bike rental options abound in these neighborhoods – or you can simply put on your walking shoes and go.