Is Boston worth visiting in the winter? While chilly Boston might not inspire the same kind of excitement as warmer destinations, don't be quick to dismiss Boston from your list of winter vacation contenders. With its illuminated trees set against a backdrop of historic brownstones and cobble-lined sidewalks dusted with snow, Boston from November to February undergoes a winter wonderland transformation that most US cities only dream of recreating.
Seeing snow for the very first time is enough of a draw alone for some bucket-list travelers. But if you find the frigid temperatures challenging, not to worry: we've included a packing list at the end of this article with everything you need to keep yourself warm and comfortable while you're out exploring. And when you're ready for a rest, you're sure to find a cozy spot right in front of the fireplace at HI Boston hostel.
Still wondering if Boston is worth visiting in the winter? Here are 10 great things to do that will make you love Boston in the winter!
1. Go ice skating on Boston Common's Frog Pond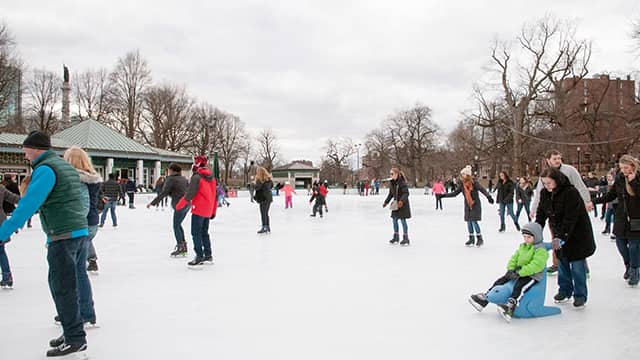 Lace up those skates and join the merrymaking with locals and visitors of all ages at Frog Pond. Whether you're a first-time skater or a seasoned veteran on the ice, gliding around one of the best outdoor rinks in the USA, in the country's oldest public park, never loses its charm. The rink is open daily from December to March with ice skates and lockers available for rent. Order some hot cocoa to warm you up between laps.
2. Chill out in an illuminated igloo at The Lookout Bar
Thanks to the growing popularity of "pop-up" experiences around the country, Boston's winter nightlife offerings have never been hotter. Starting in early November, the Lookout Rooftop Lounge on top of The Envoy Hotel in Boston's Seaport District is outfitted with its famous "Ice Boxes." These LED-lit plexiglass igloos can hold up to six people and come with their own thermostats and complimentary blankets. Sip on their winter-inspired seasonal cocktails while soaking in a sweeping view of a glittering skyline and Boston Harbor.
3. Tour around the Taza Chocolate Factory
Chocolate enthusiasts will delight in a multisensory tour of Boston's very own chocolate factory. Taza Chocolate is a social enterprise producing stone-ground Mexican chocolate, a grittier dark chocolate quite unlike the processed sweets found in most grocery stores. This hour-long tour gives you an inside look at the company's chocolate-making wizardry, highlighting everything from their ethically sourced cacao beans to their iconic disk-shaped bars. And did we mention they don't skimp on their free samples? Get ready for some toothsome fun that won't break the bank.
4. Hitch a ride on Boston's Old Trolley Tour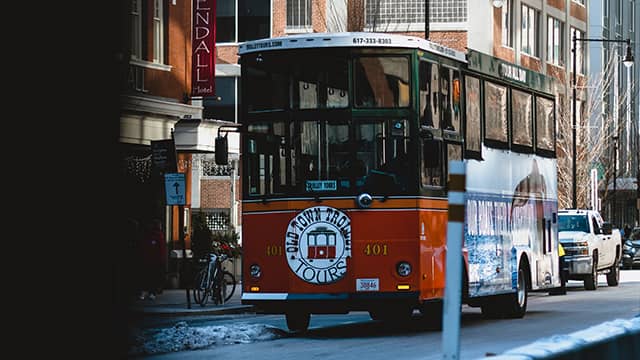 Keep the cold at bay while taking in the city's historic gems on the hop-on, hop-off Old Trolley Tour. The vintage trolley car operates year 'round, rain or shine, and is fully heated. The full tour showcases 18 of Boston's top attractions with engaging commentary from the trolley conductors, which is especially helpful if you're visiting Boston for the first time and want to cover the most ground without having to walk or take the subway. And if you want to get off and take time savoring a particular stop, each ticket allows unlimited re-boarding.
5. Sample a taste of Boston's best brews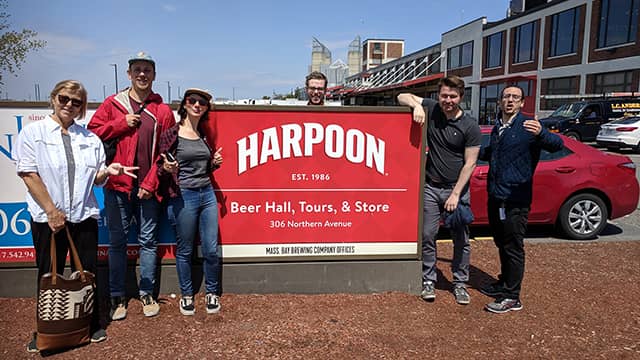 The Boston brewery circuit is synonymous with good times. $5 at Harpoon Brewery and Beer Hall in the Seaport District nabs you unlimited samples of Mass. Bay Brewing Company's range of libations. At the beer hall, don't forget to order their pillowy, fresh pretzels, made with the brewery's leftover beer grains. For those who like things a little more mainstream, visit the Sam Adams Brewery in Jamaica Plain. Named after one of America's Founding Fathers, it offers visitors a free tour of its factory operations. Just make sure to reserve ahead of time as the free tour is in high demand.
6. Become a whisky connoisseur at Boston Harbor Distillery
Beyond the standard brewery tour awaits a more refined sampling experience at the Boston Harbor Distillery in Dorchester. Situated in a historic warehouse on the waterfront, women-owned Boston Harbor Distillery stocks barrels of whiskey varieties and has even created a whiskey made from aged Sam Adams beer.
7. Root for your favorite team at a TD Garden game
In this world-class sports city, nothing is more Bostonian than catching a Boston sports game. The winter sports calendar is the prime time to score reasonably priced tickets to see the Boston Bruins hockey team and/or the Boston Celtics basketball team in action. The two teams play at TD Garden on an almost daily basis in the winter and every game is fully indoors. Plus, nothing gets the heart pumping as much as being surrounded by a crowd of Boston sports fans, who are in a league of their own thanks to their brazen attitudes and colorful language.
8. Sip on innovative cups of hot chocolate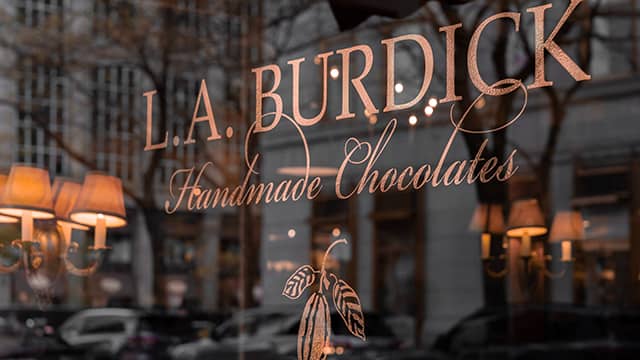 Nothing will thaw you faster than a piping hot cup of hot chocolate. Lucky for you, Boston has no shortage of great cafes featuring not-so-average mugs of hot cocoa. Try the famous Drinking Chocolate at L.A. Burdick's Chocolate Café ordered either dark, milk, white, or spicy. Gâté Comme des Filles counter-only service in Bow Market carefully concocts Parisian-style hot chocolate served with a thick dollop of whipped cream. Get your dark hot cocoa fix at Curio Coffee, utilizing local Taza chocolate that pairs like a dream with their liege-style waffles. And if you like hot cocoa on the bolder side, visit Flour Bakery for their fiery hot chocolate spiked with chile and cayenne pepper for that extra heat.
9. Support small businesses at an indoor market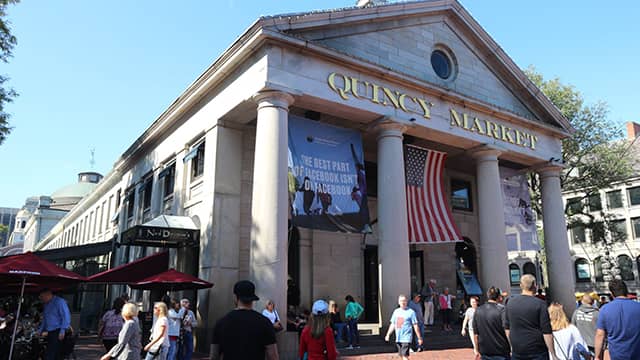 Of the many things to do in Boston during the winter, nothing provides more respite from the cold than visiting its indoor marketplaces. The most popular with tourists is Faneuil Hall and Quincy Market, but a stone's throw away is the lesser known Boston Public Market. Located right next to the Haymarket subway stop, this food hall is home to 30 New England culinary small businesses, each offering artisanal goods and a gourmet spread of the region's best ingredients. In Union Square, the recently opened Bow Market is a haven for independent creative retailers with a vibrant community feel. You can get everything from adorable stationery to Korean bibimbap bowls. If you're more into eccentric purchases, the five-story Cambridge Antique Market never fails to impress with its vast array of vintage finds.
10. Experience holiday fun Boston-style
Around the holidays, there are some delightful seasonal experiences that add to Boston's magical winter quality. Year after year, the Boston Ballet enchants with its annual performance of the holiday classic, The Nutcracker.
If you're a fan of DIY holiday light installations, enjoy the Illuminations Tour around Somerville to support local businesses while admiring the electric frivolity of facades decked with lights, ornaments, and tinsel. Situated northwest of Boston's Downtown, Somerville is another city part of the Greater Boston area and can easily be reached by subway (or "T") on the red line. The Illuminations Tour has been traditionally run as a trolley tour but was converted into a walking tour in 2020 in response to the pandemic. A digital map is available online for you to follow.
Now in its sixth year, the 2021 SoWa Winter Festival brings the revelry of Europe's Christmas market traditions to Boston. From December 3 to 13, scour the 100 vendors on display for the perfect souvenir, holiday gift, or tasty treat.
What To Pack for Your Visit to Boston in the Winter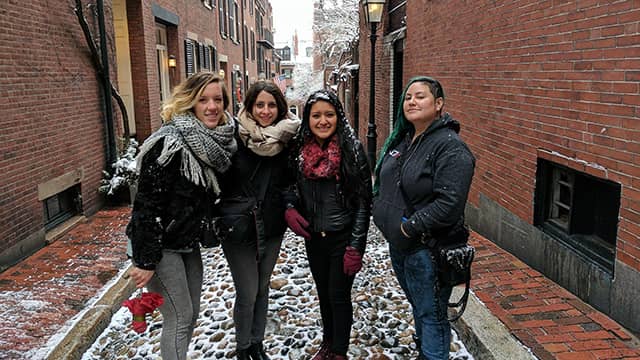 When in doubt, layer up. Invest in heattech undershirts to hide beneath chunky knit sweaters. Bring a puffer jacket that's water- and windproof to keep you extra toasty.
Winter accessories are essential to fighting wind chill: don't forget gloves, a scarf, and a warm beanie or earmuffs to keep those ears warm. Last but not least, sturdy, waterproof shoes or boots with good grips are the best when combating sidewalks covered in snow, puddles of slush, or even black ice. And make sure your feet are extra insulated with warm socks. If I know I'm going to be walking around for a long time, I'll wear long john trousers underneath my jeans too. One can never be too prepared for extreme weather in Boston, especially during winter.