It is totally possible to take your job on the road – in fact this is a great way to keep up an income during long-term travel, or just have the flexibility to travel more. Of course, not every job is conducive to remote work, but plenty are: freelance writing, web design, graphic design, tutoring or teaching English online, virtual assistantships, and so much more!
Personally, I work as a freelance writer, and I often continue to work when I travel. And because I often stay in hostels, I have perfected the art of working remotely from hostels. You might think that due to the social natures of hostels, this would be a bit challenging. In reality, though, I love the social co-working environment that hostels can provide.
Here's how you can also be a productive digital nomad while staying at a hostel.
1. Make sure the hostel has free Wi-Fi before you book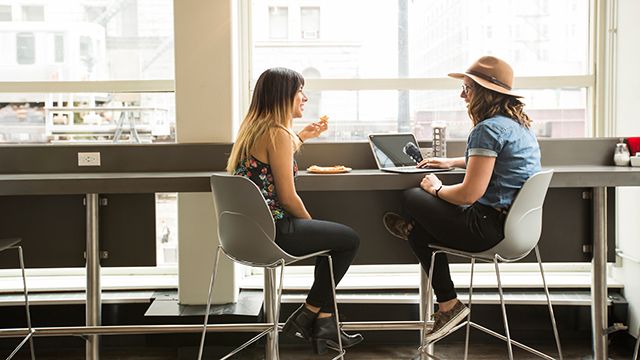 For most remote workers, internet is essential! There is nothing more frustrating than a sputtering connection when you have an important email or deadline to meet. Many hostels these days offer free Wi-Fi, but you should always confirm prior to booking. If you have a particularly important deadline or Skype meeting, call the hostel to ask about their internet, look at online reviews, or make sure free Wi-Fi is clearly noted on the hostel's own website. Before your trip, you can also purchase portable Wi-Fi hotspots to save you just in case the internet goes out (wherever you are).
2. Choose your work space wisely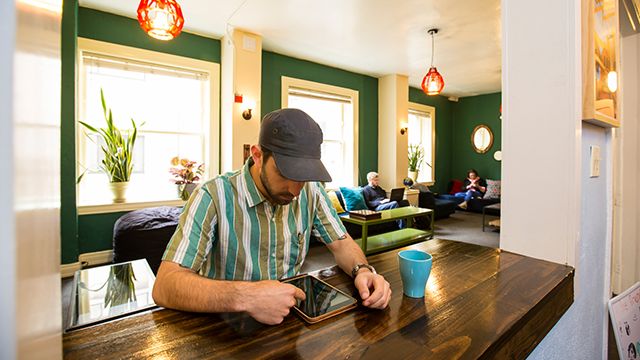 I work best when there is a certain level of background noise, so I love working from hostels that have cozy common spaces where other travelers are hanging out. However, you should always take your own style into account. If you think you'll be distracted in a hostel common room, or if you have important calls to take, opt for somewhere more private. You can always book a private room and work from there, or ask your hostel about quiet rooms or areas designated for people working.
3. Wear headphones if you don't want to chat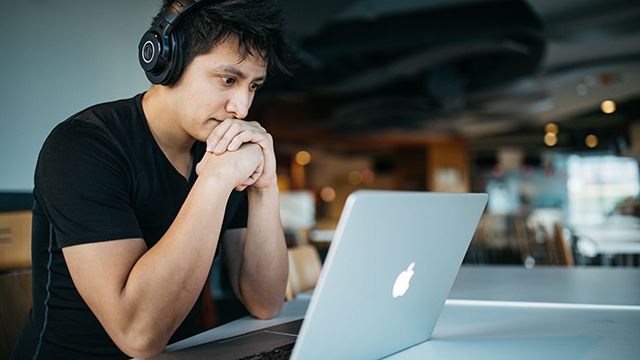 If you choose to work in the hostel's common space, be aware that someone might come and chat with you. After all, hostels are social spaces! In most cases, though, if you are looking particularly focused or wearing headphones, this is a signal that you don't want to chat. Most people will respect this. If you are looking to socialize though, the common space can be a great place to meet and network with other remote workers!
4. Stay organized
Whether you're working from a hostel or not, staying organized is essential if you're planning to work and travel. My recommendation is to choose organizational tools you can access online, which will make packing easier! I use Google Calendar to keep track of deadlines, and Google Drive for editorial calendars, documents, and spreadsheets. I also love Trello for tracking the process of projects, and working with individual clients. Mint is great for budgeting and tracking income and expenses.
5. Try the Pomodoro technique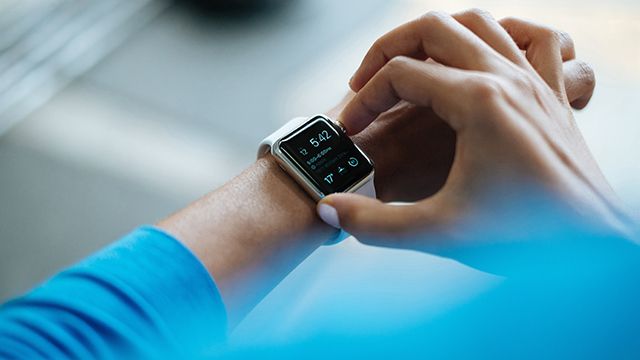 Struggling to focus from the hostel common space? Try the Pomodoro technique! This technique involves focusing solely and completely on one project for 25 minutes. After this time, you take a five-minute break. Then, you work for 25 minutes again. After four "pomodoros," you can take a longer break. This really helps break down intimidatingly large tasks into achievable chunks! Keep track easily with your phone's timer or your watch.
6. Schedule work for "lull" hours
Most hostels experience a "lull" of activity in the middle of the day: by about 11:00 a.m., most current guests have woken up and left for their day's activities, and future guests haven't yet arrived for check in. This means the hostel and its common rooms will be quiet and very conducive to working for a stretch of several hours! I find I'm most productive when I schedule my work for these "lull" hours.
7. Leave time for fun activities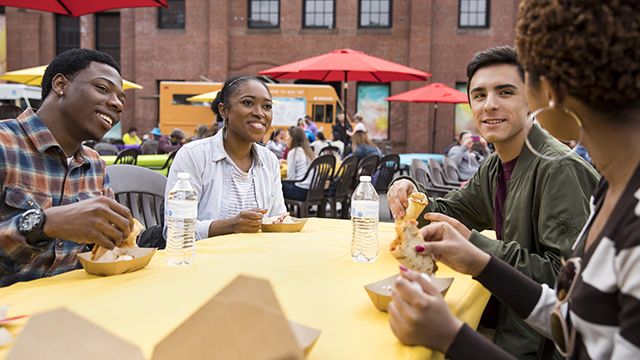 Of course, one of the most important aspects of working during travel is balance. After all, if you wanted to spend all your time working, you would've just stayed home. I love to work from hostels because they often organize activities and outings, so I can spend more time working and less time planning excursions or itineraries. I just work from the hostel, and I'm already right there when a fun activity or excursion starts!