Updated May 2023 
The California road trip is probably one of the most iconic adventures you can take in the United States. Locals and international travelers alike are drawn to the sense of freedom, wonder, and awe that a journey along the Pacific inspires. While it's possible to do the drive from San Francisco to Los Angeles in one (long) day, it's totally worthwhile to take the time to discover the hidden treasures and well-loved stops of this route. This guide to the ultimate West Coast road trip features great stops, super scenic overlooks and, of course, the perfect overnight locations to rest and dream about the next day's adventure.
San Francisco to Pescadero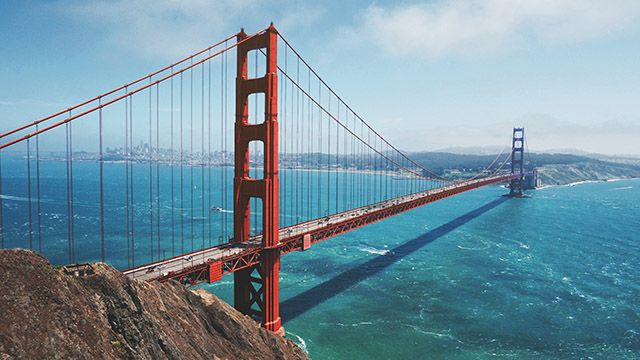 The good times start at HI San Francisco Downtown hostel, where you're in the heart of the city so you can do plenty of exploring before you head out. There's a car rental spot right across the road from the hostel, or, if you're taking your own car, you'll find parking is easier when you stay at HI San Francisco Fisherman's Wharf hostel.
Since Pescadero, the closest little town to HI Pigeon Point Lighthouse hostel, is only about an hour's drive away on the famous Highway 1, you can set off a little later in the morning. Once you hit Highway 1, take your time winding along the tree-lined way that eventually transforms to flat, green farmland on one side and sparkly blue ocean on the other. You'll go past the town of Half Moon Bay and past HI Point Montara Lighthouse hostel, where you can take a peek at the historic lighthouse.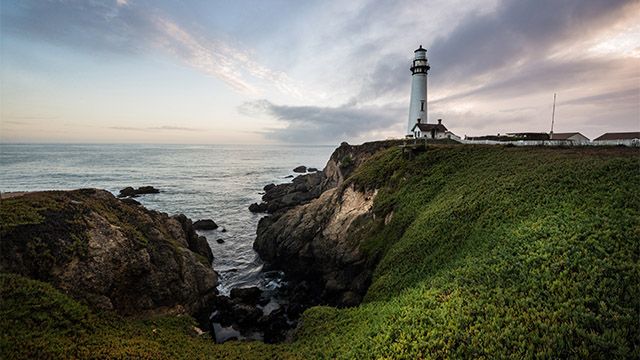 Keep going and you'll get tempted by the colorful roadside farm stalls heavy with seasonal fruits and vegetables – stock up here and get off the highway to Stage Road in Pescadero for a stop at Arcangeli Grocery, where it's kind of mandatory to pick up a loaf of their signature steamy artichoke bread. Enjoy your picnic wares at Bean Hollow State Beach, which has two sheltered coves perfect for watching the waves, and afterwards, take a rather incredible mile-long walk to Pebble Beach. The trail is perfect for getting a close look at the undisturbed native coastal landscape, tide pools and colonies of birds and harbor seals
From here, it's only a few more miles to HI Pigeon Point Lighthouse hostel, your first stop of the trip. As soon as you check in, be sure to book your half-hour slot in the famous hot tub at the edge of the water. Check out the lighthouse and the fog signal building, where you can also see the impressive Fresnel lens that once cast the light out into the sea. If you'd like to stay a bit longer and explore more of what the area has to offer, it's quite easy to spend two perfect days at Pigeon Point.
Driving Distance: 50.7 miles
Pescadero to Santa Cruz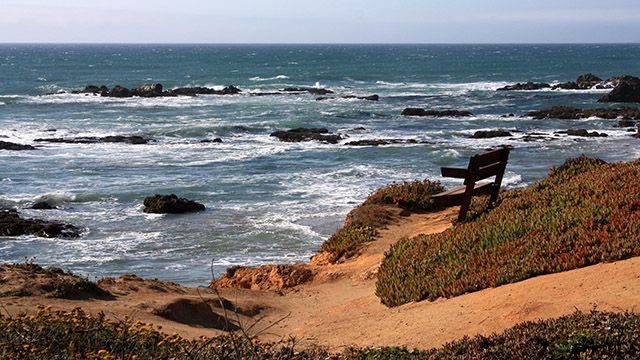 The next leg of the journey is about 45-minute drive to laid-back Santa Cruz, so once again, you can enjoy a relaxing morning taking in the scenery before you head out. A bounty of charming little towns and unbelievable beaches await on the road ahead, so even the though the drive is fairly short, you'll be making plenty of stops to take photos and simply marvel. Don't miss Davenport, which is a blink-and-you-miss-it sort of place that also happens to have a stunning beach peppered with fascinating rock formations, making it a favorite of photographers.
Then, just before you get to Santa Cruz, there's Natural Bridges State Park, a beach area named after the huge arched rock that sits just beyond the shore. This is also another excellent spot for tide pooling, but you may be more drawn to the local monarch butterfly preserve and plethora of birds.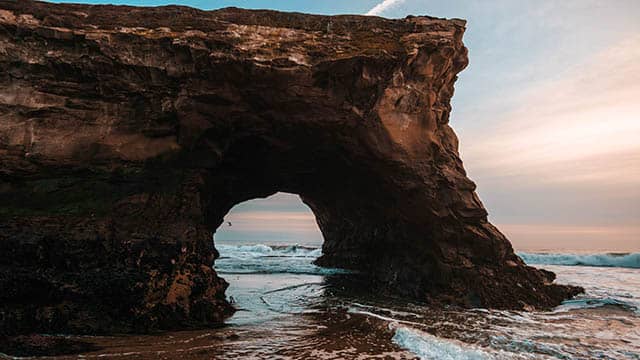 Once you're in Santa Cruz, it's totally worth making a stop at the boardwalk amusement park, which is the oldest surviving one in California. After you've had your fill of old-school Americana, fun rides, and fair food, keep going towards Moss Landing, another quaint beach town with an incredible marsh alive with local birds and wildlife. Take time to hike along one of the trails and then grab a drink or a snack at one of the many restaurants with great views. There's also the option to spend the night at HI Santa Cruz hostel, which is perched at the top of the Beach Hill neighborhood.
Driving Distance: 35.3 miles
Santa Cruz to San Luis Obispo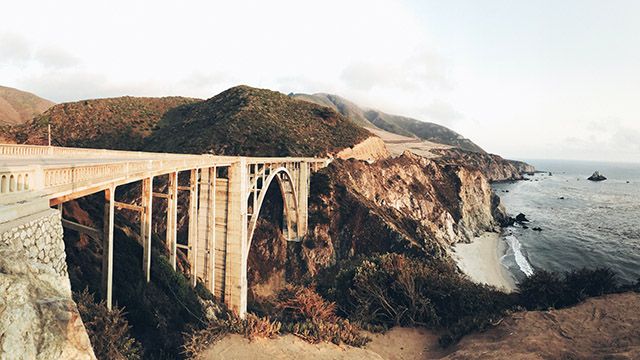 Follow Highway 1 south and take in what's probably the most photogenic part of the Pacific Coast Highway, mainly because of the Big Sur coast with its dramatic cliffs and breathtaking vistas. The first iconic must-see is the Bixby Bridge, which arcs over a huge rocky canyon and into the ocean, and along the way there are other stop-worthy beaches, including McWay Falls in Julia Pfeiffer Burns State Park, and Partington Cove. This drive is the longest stretch so far, and will probably take even longer because of all the stops you'll want to make for photos, so be prepared!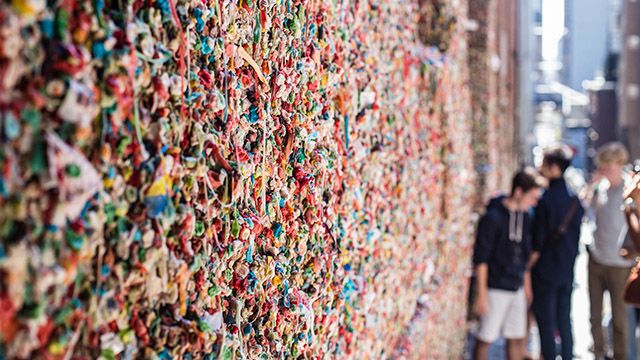 This next stretch leads you to San Luis Obispo, a quirky-cool college town with a lively downtown. A must-visit is germaphobe's nightmare Bubblegum Alley. It's become a bit of a tradition to add your own gum to this wall, so chew away then leave a piece of yourself behind. Along with great beaches, this corner of California has excellent farmers markets and great hikes. Just ask the folks at HI San Luis Obispo hostel to point you in the right direction no matter what you're in the mood for.
Driving Distance: 177 miles
San Luis Obispo to Santa Monica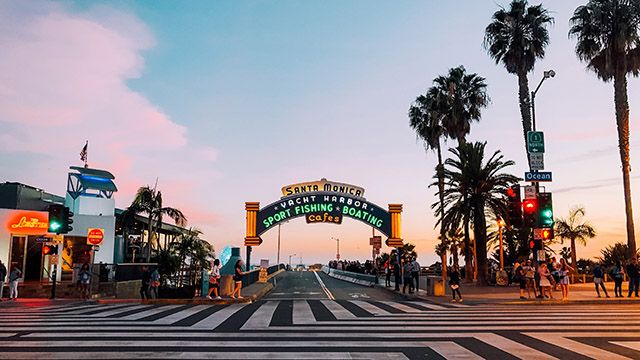 It's the final leg! This part of Highway 1 doesn't hug the ocean for the first half, so you can make a straight shot for Santa Barbara and your first taste of Southern California life. Wander around Stearns Wharf, a favorite spot for locals and visitors to eat, shop and take magnificent photographs of the Pacific and the remarkable mountains on the other side. As is par for the course along this coast, there are lots of awesome beaches to stop at for breaks and picnics before you get to your final destination!
HI Santa Monica hostel is ideally located right in the heart of LA's trendy west side. You'll be within easy walking distance of the beach and the iconic Santa Monica pier, and hostel staff recommendations will give you an insider's taste of the city of Los Angeles. And once you've experienced it all, you can tick the California road trip off your bucket list, and resist the urge to turn around and do it all over again!
Driving Distance: 207 miles