Updated May 2023
It's no secret that San Francisco is one of the most diverse metropolitan cities in the U.S. Since the Gold Rush of 1849, thousands of immigrants have come to this city by the Bay and made it their home. San Francisco is truly a city where you can't walk down the street without hearing another language — not a surprise considering that people of color comprise 58% of the overall population of the Bay Area. Even just from walking up and down the city's iconic hills from one neighborhood into another, you'll find yourself getting transported to countries near and far. Here's where you can explore many of San Francisco's global cultures, all just a short trip away from HI San Francisco Downtown hostel.
Chinese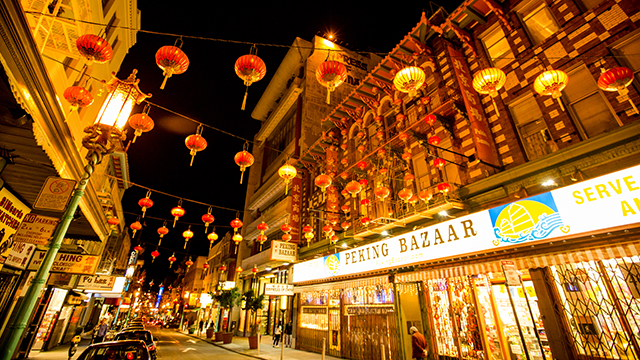 Since San Francisco was the port of entry for the first Chinese immigrants back in the 19th century, its Chinatown boasts a long and storied history. Not only is San Francisco's Chinatown the oldest in the country, it is also one of the largest. A walking tour is a great way to see the restaurants, temples and shops that make up this vibrant neighborhood. SF City Guides host free walking tours of Chinatown every Monday, but you can always wander around on your own. Start with a snap at the Dragon Gate, on the corner of Bush and Grand Avenue. From there, make your way up the street and explore the herbal apothecaries, tea shops, and jade jewelers. Don't forget to treat yourself to some bites along the way: Eastern Bakery, the oldest bakery in SF's Chinatown, for lotus mooncakes; Golden Gate Bakery for its egg tarts; and Good Mong Kok Bakery for dim sum.
Italian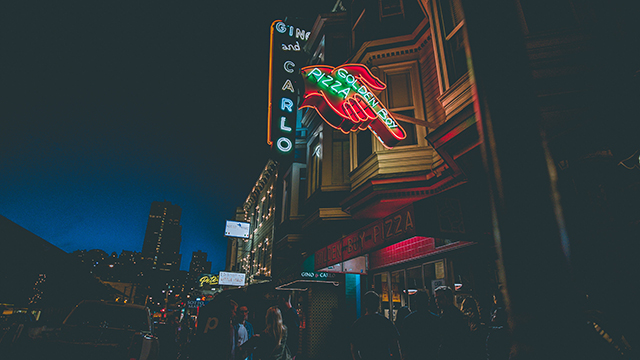 Just north of Chinatown is where you'll find San Francisco's Italian district, North Beach. Italian immigrants first moved into this neighborhood after the 1906 earthquake, and many Italian restaurants, delis, and cafes still line the streets today. North Beach is known for its dynamic nightlife, but there's still plenty to do during the day. Treat yourself to a snack, like a cannoli from Stella Pastry and Café or a gelato from Lush Gelato, and people watch at Washington Square Park. You can also pay a visit to the Italian Cathedral of the West (Saints Peter and Paul Church) just in front of the square. It's an iconic location for Italian Americans, considering it was where Italian American baseball legend Joe Dimaggio married his first wife and took wedding photos with second wife, Marilyn Monroe. If it's around lunch time, grab a slice from Tony's Pizza Napoletana, some fresh pasta from The Italian Homemade Company, or a sandwich from a traditional Italian deli like Molinari Delicatessen. And if you're around at night, Broadway east of Columbus Avenue is lined with bars and clubs with live music — the Saloon is a great spot for some blues.
Japanese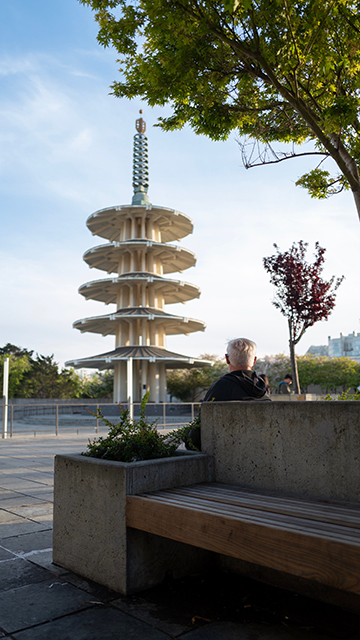 First settled in the early 1860s, San Francisco's Japantown (Nihonmachi) is one of the only three remaining Japantowns in the United States. Located in the Western Addition neighborhood of San Francisco, this neighborhood saw its first influx of Japanese residents arrive after the Great Earthquake of 1906 destroyed their enclaves in Chinatown and South of Market. Whether you're setting your eyes on The Japantown Peace Pagoda in the center of the plaza; walking through the shops selling Japanese items like kimonos, manga, and ceramics in the Japan Center mall; or slurping a piping hot bowl of noodle soup Marufuku Ramen, visiting today will still feel like you're walking around a little piece of Japan. Be sure to treat yourself to some Japanese snacks, like a matcha soft serve at Matcha Cafe Maiko, takoyaki balls at the Takoyaki Yama-chan stand at Japan Center mall, or mochi at Nippon-Ya. If you happen to be in town in April, be sure to visit Japantown during its annual Northern California Cherry Blossom Festival, which features cultural performances and live music.
Mexican and Latin American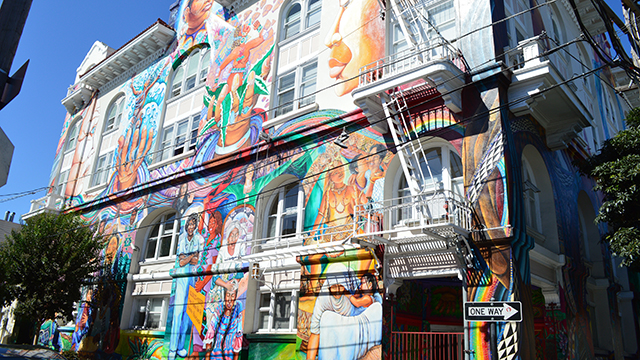 The Mission District, the oldest neighborhood in San Francisco, has long been the city's center of Mexican culture. Just pay a visit to the corner of 24th St. and Mission, El Corazón de la Misión (The Heart of the Mission) and you'll immediately see its Latin American influences. Filled with taquerias and bodegas, historic Mission Street is usually the host of the city's annual Día de los Muertos and many other Latinx cultural events throughout the year.
Spanish settlers first arrived in the 1700s when the area was still part of Mexico, and established the Mission San Francisco de Asís. Now better known as the Mission Dolores, today the district's namesake is one of the city's oldest surviving buildings. But don't confuse it with another popular spot, Mission Dolores Park. This hillside park is the perfect place to people-watch, as many locals come to walk their dogs, play sports, or just lounge with friends on a sunny day. The district is also the home of the Mission burrito, so be sure to check out classic establishments like El Farolito and La Taqueria to get your fill.
Southeast Asian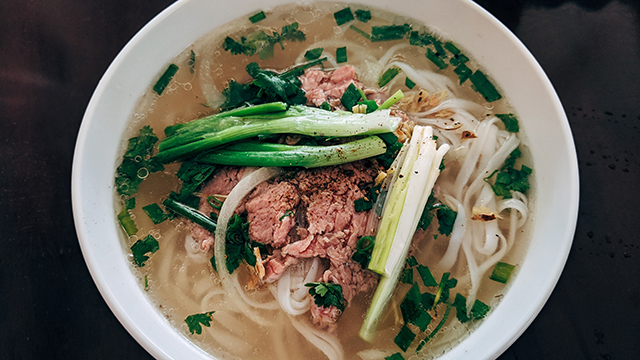 After the Vietnam War in the 1970s, San Francisco welcomed a number of Southeast Asian refugees. The ethnic Chinese from Vietnam, the Khmer from Cambodia, and the Hmong from Laos were among those who found a new home in the city's Tenderloin neighborhood. Today, the district has become a Southeast Asian hub filled with Vietnamese shops selling bánh mì and iced coffee, ethnic grocery stores, and family-run Southeast Asian restaurants. In 2004, San Francisco even recognized Larkin St. between Eddy and O'Farrell streets as Little Saigon, where more than 80% of the businesses in the two districts are Vietnamese-owned. Some culinary standouts include Hai Ky Mi Gia with its egg noodles and braised duck, Turtle Tower with its signature phở ga (rice noodles with chicken broth), and one of the city's classic Thai establishments, Lers Ros.