If it's your first time visiting New York City, you may already be considering walking across the Brooklyn Bridge or spending some time in Williamsburg, the ultra-hipster enclave just one stop from Manhattan on the subway. But dig deeper into the city's most populous borough, and you'll be rewarded with a smorgasbord of cultures, languages, foods, architectural styles, and authentic local experiences. Here's part one of our guide to the best things to do and see in Brooklyn the next time you're staying at HI NYC hostel (you can read part two here).
Brighton Beach and Coney Island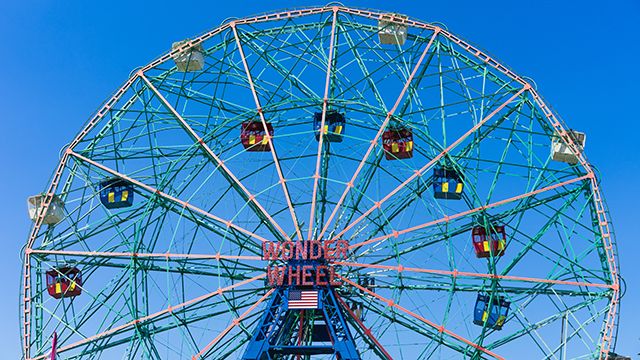 It's a long subway ride down to the southernmost tip of Brooklyn, where you'll find Brighton Beach. But a visit to this neighborhood is worth the trip for so many reasons. Brighton Beach is also known as "Little Odessa" for its huge Russian and Eastern European population, so it's an unparalleled spot to soak up the cultures, foods, and languages of the region. Adjacent to Brighton Beach you'll find Coney Island, a beachside neighborhood most famous for its eponymous amusement park, which offers the ultimate experience in Americana: this has been New Yorkers' favorite place to eat hot dogs, take thrill rides, marvel at a sideshow, and sunbathe on the beach for well over a century. The park is open from May through October.
Still not convinced it's worth the time to get there? Consider this: partway through your train ride, your subway car will transition to an elevated track, giving you a local's-eye view of the off-the-beaten-path neighborhoods. If you take the F train back into the city, be sure to hop off the train in the Gravesend neighborhood for dinner at L&B Spumoni Gardens, an old-school pizzeria serving square Sicilian-style slices and house-made ice cream at outdoor tables.
Park Slope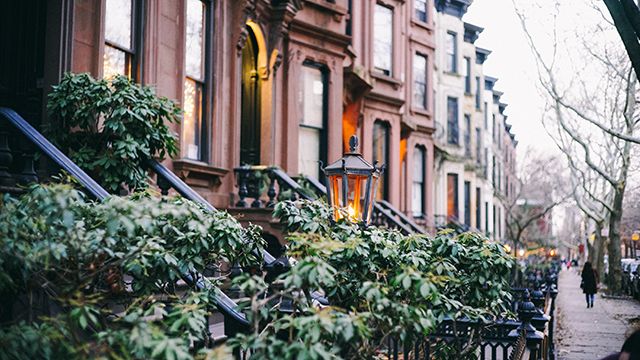 This residential neighborhood in Brooklyn has plenty to occupy intrepid travelers for a full day or more. It's located along the edge of Prospect Park, which was planned by Frederick Law Olmstead (of Central Park fame). The park offers walking and biking trails, picnic areas, a zoo, and a band shell that hosts free outdoor concerts in the summer. But Park Slope holds wonders beyond its green space: think picture-perfect brownstone homes, an endless array of cute shops, and bakeries, restaurants, and bars serving some of the city's best food and drink. For more brownstone Brooklyn, walk east to nearby Gowanus, Carroll Gardens, Boerum Hill, and Cobble Hill.
DUMBO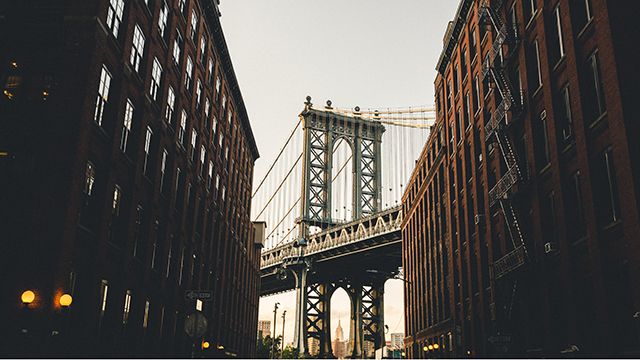 The name DUMBO stands for "Down Under the Manhattan Bridge Overpass," which, admittedly, doesn't sound very scenic. But we promise, this neighborhood offers some of the most spectacular views you'll find on your visit to NYC. If you've ever seen a photo on Instagram geo-tagged "DUMBO," it was likely taken on Washington Street, which boasts the IG-friendly trifecta of cobbled streets, red brick buildings, and a perfectly framed view of the Manhattan Bridge.
But DUMBO's also the entry point for Brooklyn Bridge Park, where you'll get gob-smacking views of both the Brooklyn and Manhattan Bridges, the city skyline, and the East River. During the warmer months, there's plenty of lush green lawn to relax on while you take in the scenery; when it gets cold out, catch the views from the East River Ferry, which will take you from DUMBO all the way back to midtown Manhattan.
DUMBO is also home to a world-class art scene; you'll see evidence of it everywhere you turn in street murals and art galleries. The first Thursday night of every month, many galleries stay open late and offer free wine to visitors. It's a great opportunity to meet the locals!
Greenpoint
This historically Polish neighborhood just north of Williamsburg used to be known mostly for its pierogis, its unreliable subway line, and the deserted warehouses that lined its riverfront. Then came the Greenpoint-set TV show "Girls," a surge of development in neighboring Williamsburg, and improvements to the G train, and boom: Greenpoint became a destination in and of itself. It's still a fascinating neighborhood to visit for the strong influence of Polish culture (you'll hear the language everywhere and see it on shop signs; and those pierogis are still as tasty as ever), the old-school Brooklyn architecture, and the trendy bars, restaurants, and shops now dispersed throughout the neighborhood. Greenpoint's waterfront has been revitalized, too, and offers jaw-dropping views of downtown and midtown Manhattan.
Brooklyn Heights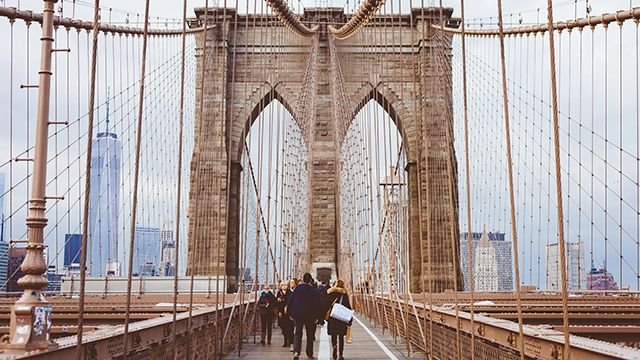 The iconic Brooklyn of postcards and classic movies, Brooklyn Heights is a beautiful place to explore for an afternoon before walking across the Brooklyn Bridge. Pop down almost any residential street in the neighborhood and you'll find quaint, tree-line sidewalks and elegant brownstone homes. The neighborhood's real star, though, is its long waterfront promenade, which offers panoramic views of the Statue of Liberty and the Manhattan skyline.
Ready for more? Check out part two of our guide here.