Move over, Manhattan! In the past decade, the borough of Brooklyn has gone through an urban renaissance, claiming its status as one of America's great destinations. However, a lot of first-time visitors to New York City only breeze through Brooklyn when they walk from lower Manhattan over the iconic Brooklyn Bridge, stopping only for a quick slice of pizza in the Dumbo neighborhood on the other side.
But this borough of 2.6 million residents has plenty of star power in its own right. The borough that gave us Spike Lee, Bernie Sanders, Barbra Streisand, and The Notorious B.I.G. is more popular than ever, as people from around the world come to celebrate and share in its diversity, creativity, and one-of-a-kind spirit.
First-time visitors wondering where to go and what to see in Brooklyn can easily feel overwhelmed by its scope. Like Manhattan, Brooklyn is its own collective of neighborhoods, each with its own history and culture, and each is worth a visit. Here's part two of our guide to the Brooklyn neighborhoods you need to visit during your next visit to HI New York City (you can check out part one here).
Columbia Waterfront, Cobble Hill, and Carroll Gardens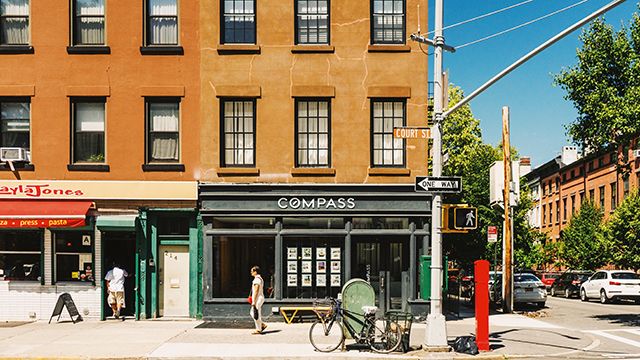 Downstream from the Brooklyn Bridge is the Columbia Waterfront; head a bit inland to Cobble Hill and Carroll Gardens and you'll find a high concentration of bars and restaurants. Strolling along the main drags of Smith Street and Carroll Street can lead you to the kitschy Tiki bar Zombie Hut, or the classier joint Brooklyn Social.
Red Hook
Years ago, many New Yorkers thought of Red Hook only for its difficult-to-access IKEA. But this neighborhood, too, has gone through a renaissance (and these days, you can access it easily by using ride-shares or the city's regular ferry service). This hook of land juts out into the Hudson River and offers a view of the Statue of Liberty. It's also home to Hometown Bar-B-Que, once deemed the best BBQ in New York City, and Brooklyn Crab, a three-level restaurant beach house with multiple bars and a miniature golf course in the backyard.
Sunset Park and Industry City
There's a Chinatown in Manhattan and a Chinatown in Queens, but Brooklyn also has a Chinatown at the crossroads of brownstones and dim sum. You can have plates of it served Cantonese cart style at Pacificana. Just down the river from here is an industrial warehouse district reborn: Industry City, a complex of refurbished factory buildings that's now home to many innovative start-ups and makers, some of which you can actually tour with HI USA partner Urban Adventures. With people now coming to visit and work in this transformed "city," new restaurants and bars have also sprouted up. Japan Village is one of them; it's a grocery and food court where you can find most every kind of Japanese cuisine besides sushi.
Fort Greene, Clinton Hill, and Bedford-Stuyvesant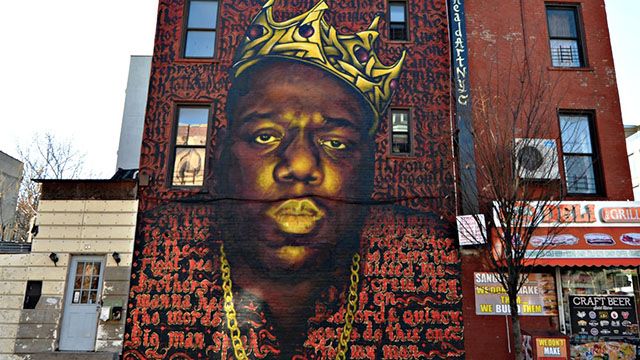 When The Notorious B.I.G. rapped about his turbulent Brooklyn past, he referred to his upbringing in Clinton Hill and Bedford-Stuyvesant. The neighborhoods have since gone the way of gentrification (in fact, Biggie Smalls' childhood "one room shack" sold for $825,000 in 2013 and is now a $4,000-per-month rental). But you can still find nods to the area's past today. A mural at the corner of Bedford Avenue and Quincy Street immortalizes the Brooklyn rap icon, and another one lies above the Lafayette Avenue subway stop in neighboring Fort Greene, where restaurants and cafes have sprouted up in B.I.G.'s former stomping grounds.
Gowanus
Named after the canal that runs through it, the Gowanus neighborhood has recently become an "adult playground." As a district of former factories and storage warehouses, its wide-spaced buildings now house activity centers like rock climbing gym Brooklyn Boulders; the Brooklyn location of the Kick Axe Throwing chain, where beer somehow mixes safely with throwing axes; and popular performance venue The Bell House.
Greenwood
For a surprisingly picturesque plot of greenery, make your way to Green-Wood Cemetery, which is more than the burial grounds of New York's dearly departed dating back to the early 19th century. The cemetery is meticulously landscaped beyond its grand Gothic entry gate, and is actually a great place for peaceful daytime strolls and picnics. On some nights, there are even performances amidst its shadows. On the nights when there aren't, you can always check out the nearby Greenwood Park, an indoor/outdoor beer garden.
Williamsburg
Hipsters largely contributed to the Brooklyn renaissance of the early 21st century, and they have often been associated with Williamsburg, the northern waterfront neighborhood where artists of the 1990s unknowingly paved the way to the gentrification of today. Now with inflated real estate prices, most young starving hipsters have been priced out of Williamsburg, leaving a hodgepodge of old pre-war buildings juxtaposed with sleek hi-rise condo complexes, fancy hotel rooftop bars, and luxury chain stores. However, amidst the restaurant and bar scene of Williamsburg's streets – as well as those of the adjacent Greenpoint neighborhood – you can still find pockets of its working-class Italian, Polish, and Latino immigrant roots. Both neighborhoods are also now home to flashy new waterfront parks with excellent views of Manhattan's skyline.
Bushwick
When priced out of Williamsburg, much of Brooklyn's young hipster set shifted to Bushwick, another warehouse district reborn. Beyond its hip bars and restaurants, there's The Brooklyn Mirage, an outdoor club pulling in hot EDM DJs; and House of Yes, a wild, indoor dance club with nightly themes that inspire costumes and acrobatic performances from the ceiling.