Know before you go: Want to visit the places recommended in this article? With local regulations changing frequently, it's a good idea to check the web site of any attraction or business to make sure it's open before you go.
New York has always been an immigrant city — a beacon of hope for the "huddled masses yearning to breathe free," as the inscription on the Statue of Liberty says — and many of the city's neighborhoods continue reflect this collective diversity today. If your goal in visiting NYC is to get to know what makes the city so great, you really have to experience some of these ethnic enclaves, with unique cuisines and cultures from around the world. Here's a round-up of some of them, for a tour of New York's global culture — all just a walk or a subway ride away from HI New York City hostel.
Russian
Russians have been immigrating to NYC since the 19th century. Many ended up in southern Brooklyn, and the Russian and Ukrainian enclave in and around Brighton Beach ultimately got the nickname "Little Odessa." Here, you can stroll along the boardwalk (a less hectic extension of the one in Coney Island) and stop in for a bite at Tatiana Grill for some good Russian fare with a view of the Atlantic. For a look at raw ingredients and other Eastern European treats, head to the market stalls of Brighton Bazaar. You can walk off the food across the photogenic blue Ocean Avenue footbridge into neighboring Sheepshead Bay, where you'll find more shops of a post-Soviet era. If you ever tire of all that walking, have a relaxing soak at the Russian Baths of Brooklyn.
Korean
Koreatown (or "K-Town") in midtown Manhattan may be just two-by-one city blocks in size —most of it on 32nd Street between Broadway and 5th Avenue —but don't let the small geographic area fool you: many of its establishments aren't on street level. You'll find Korean restaurants, bars, and lounges on second or even seventh floors of neighborhood buildings, accessible by stairwells and elevators, making exploration potential in K-Town much greater than it appears on a flat map. Most Korean BBQ joints, where you grill cuts of meat right at your table, are open until very late, if not 24/7, like miss KOREA. This means there's always an opportunity for a good meal in between shopping, drinking among the cargo nets at favorite Korean pub Pocha 32, or belting out your favorite tunes on the mic of a karaoke lounge, like Gagopa.
Italian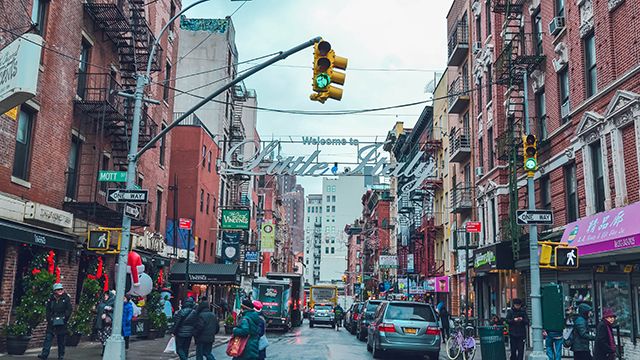 Italians have long been associated with old-timey New York. Movies and some guidebooks may sway you to Little Italy in lower Manhattan —home of the Feast of San Gennaro each September —but the Italian community has spread out to fill in other pockets of the five boroughs. The Bensonhurst neighborhood, in southern Brooklyn, is where you'll find L&B Spumoni Gardens, one of the best pizzerias in NYC for Sicilian-style square-shaped pies. And the likes of DeNiro and Pesci know the real Little Italy is in the Bronx (where they met) in the Belmont neighborhood in and around Arthur Avenue. Here, Italian and Italian-American families still prepare food the old-fashioned way, from the award-winning handmade mozzarella at Casa Della Mozzarella, to the custom cannoli at Artuso Pastry Shop, to the dried meats of Calabria Pork Store, home of the famous (and very Instagrammable) "sausage chandelier."
South Asian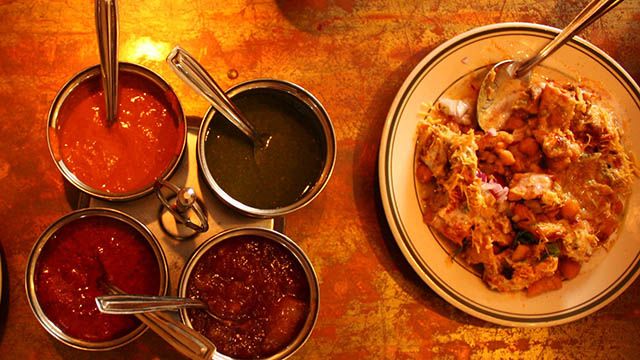 Immigrants from the countries of the Indian Subcontinent —Indians, Pakistanis, and Nepalese to name a few —thrive in the community of Jackson Heights, Queens, affectionately nicknamed "Little India." Here, explore stores like India Sari Palace for Indian garments, the numerous stores selling Bollywood films, or Patel Brothers, the bustling Indian supermarket. If you're hungry, try the award-winning momos (Himalayan dumplings) at Nepali Bhanchha Ghar, or Indian cuisine at the famous Jackson Diner. Don't let the restaurant's Anglo name food you: it's been a culinary institution serving northern and southern Indian fare since 1980, attracting even politicians and celebrities to its humble space.
Latino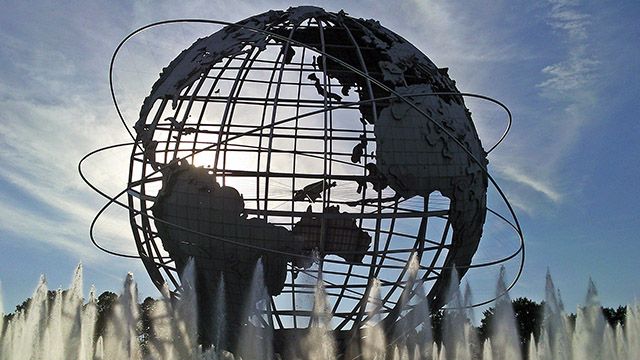 It's often said there are more Puerto Ricans in NYC than there are in the American commonwealth they hail from. "Nuyoricans," as they call themselves, obviously aren't the only Hispanics in NYC. There's a friendly rivalry among Puerto Ricans and another large Caribbean Hispanic community, Dominicans, but they live harmoniously, along with Mexicans, Cubans, and other Latinos in concentrated areas of the south Bronx, Corona in Queens, and in Manhattan in Washington Heights and East Harlem, a.k.a. Spanish Harlem or "El Barrio." In fact, El Museo del Barrio (an easy walk from HI NYC on upper Fifth Avenue) in Manhattan is a museum that celebrates these heritages that bring Latin flavor to New York.
Further uptown, north of Washington Heights, La Casa del Mofongo is a 24/7 restaurant serving Dominican fare, but as their name would suggest, they also serve mofongo. This quintessentially Puerto Rican dish starts with a base of plantains that are mashed, fried, and topped with various meats or seafood. If you're in town the second Sunday of June, you'll find a full-on Nuyorican experience at the Puerto Rican Day Parade, one of New York's largest. Dominicans hold their own parade on the second Sunday of each August.
West Indian
Non-Hispanic Caribbeans —including Jamaicans, Trinidadians, Haitians, and Guyanese —make up a large part of NYC's collective immigrant community, bringing with them their culture of food and music. Jamaican-inspired Negril Village in Manhattan's Greenwich Village offers both in their two-level venue: one level is for dining on pan-Caribbean (but mostly Jamaican-centric) cuisine; the other is for soaking up the reggae playing in its Rhum Lounge.
You can find an authentic Indo-Caribbean experience in and around the Queens neighborhoods of Ozone Park and Richmond Hill (a.k.a. "Little Guyana"), where eateries like Singh's Roti Shop showcase Caribbean cuisine with (South Asian) Indian influence. The West Indian experience is spread out across many outer-borough neighborhoods, including Flatbush and Canarsie in Brooklyn, and Queens Village and (of course) Jamaica in Queens. But everyone gets together to parade through Brooklyn's Crown Heights neighborhood at the big West Indian Carnival Parade — a spectacle with lavish costumes, dancing, and food —each September on Labor Day.
Chinese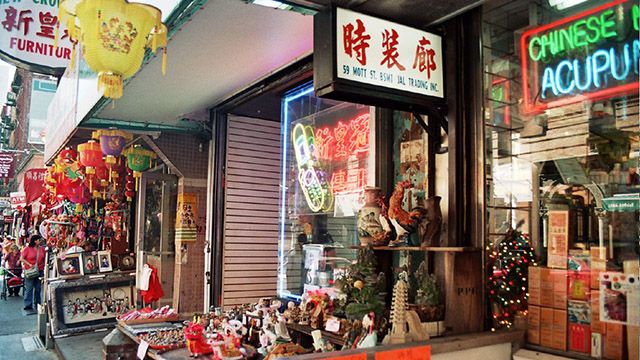 Would you believe there is more than one Chinatown in New York City? The original one in lower Manhattan may get all the attention, but as the Chinese population overflowed, immigrants flocked across the East River to the Sunset Park neighborhood of Brooklyn. "Brooklyn Chinatown's" main drag, 8th Avenue, is filled with markets and shops like Xin Fa Bakery, known for its egg tarts. For a classic Cantonese dim sum experience, head to the banquet halls East Harbor Seafood Palace or Pacificana, where you select platters and bamboo trays from wandering steamer carts. There's even more shopping and dining to be had in Queens' Chinatown in Flushing, where the New World Mall food court serves up regional Chinese cuisines. Each August, Flushing also hosts the Hong Kong Dragon Boat Festival, which has held team races for three decades.
Polish
Greenpoint, the most northern neighborhood of Brooklyn, is home to a large Polish community, where immigrants and their descendants have made a neighborhood spawning from the main drag, Manhattan Avenue. Stop in at the Old Poland Bakery for a Staropolski loaf (an old-style rye), or, for a heartier traditional Polish meal of kielbasa, stuffed cabbage, and more, Krolewskie Jadlo (you'll recognize it by its medieval suits of armor out front). While many former Polish banquet halls have recently been converted to hipster music venues, there's one, the Warsaw, "where pierogis meet punk," that still pays homage to its Polish roots in name and concessions.
Filipino
While some modern Filipino restaurants in lower Manhattan are putting Filipino cuisine on the mainstream map, you can find a truly authentic experience in "Little Manila," an enclave of Woodside, Queens, where many people hailing from the Philippines live. Nothing's more authentically Filipino than eating with your hands —known as kamayan — and that's encouraged at utensils-optional Ihawan, which serves staples like pancit (noodles) and BBQ pork. On a hot day, the traditional shaved-iced treat halo halo, with red beans and condensed milk, is a must. You can get it at the Filipino fast-food chain Jollibee, with its iconic bee mascot out on the sidewalk.
Greek
While Greek immigrants have been coming to America since the early 20th century, it wasn't until the 1960s that Astoria, Queens became known as "Greektown, USA" for its big influx of people coming from the Mediterranean country. These days, Astoria's easy access to Manhattan has paved the way for gentrification to chip away at the once-dominant Greek culture of this outer-borough area. But Greeks have very much made a lasting mark on the neighborhood, as evidenced by the presence of Hellenic Orthodox churches like the Saint Demetrios Cathedral, which hosts a big fat Greek festival each mid-May featuring traditional live music and dancing. You'll notice the Greek alphabet can on the packaging at two neighborhood markets selling Greek ingredients, Titan Foods and Mediterranean Foods, which are interesting to wander through. In terms of prepared food, it's not just familiar staples like gyros or souvlaki here; with a home country of many islands, Greek cuisine in Astoria is almost synonymous with great seafood. Telly's Taverna and Taverna Kyclades both dish out platters of grilled fish and octopus, in addition to classic mainland dishes.
Jewish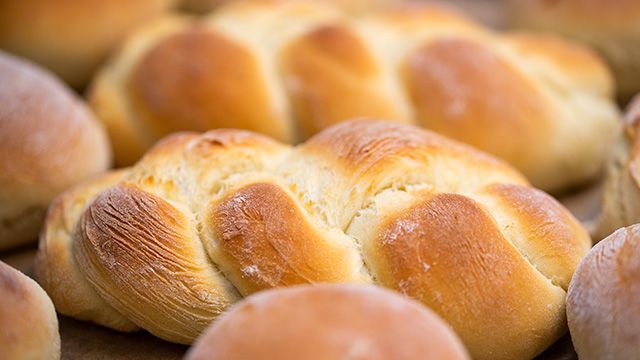 New York City has the largest Jewish population outside Israel, and you'll find evidence in the city of a wide variety of Jewish cultures, from that brought by Eastern European Ashkenazi Jews to Middle Eastern Israelis, with religious devoutness ranging from secular to the ultra-Orthodox. A good place to sort through it all is The Jewish Museum on Manhattan's Upper East Side. Across Central Park, the Upper West Side (made famous on the TV show Seinfeld) is a neighborhood of synagogues and Shabbat dinners often featuring items from Zabar's, the movie-famous neighborhood market specializing in traditional Jewish favorites such as smoked fish, challah, babka, and the quintessential New York delicacy: the bagel.
Bagels are an anytime food for any New Yorker, and they are a part of a complete breakfast or brunch at Jewish culinary institution Russ and Daughters on Manhattan's Lower East Side. In contrast, an Israeli brunch is a lot more Mediterranean and Middle Eastern: for a can't-miss brunch, try shakshuka at Miss Ada in Brooklyn's Fort Greene, Reunion in north Williamsburg (differentiated from south Williamsburg, which is an enclave of devout Hasidic Jews), or Miriam in Brooklyn's Park Slope. If you want to feed a need for a history lesson, head over to lower Manhattan and the Museum of Jewish Heritage, A Living Memorial to the Holocaust.